If you want that extra crispy cauliflower, an air fryer is the way to go. It sears the cauliflower quickly and provides a lovely crust. It also cooks rapidly and cleans up rather easily.
The fact that you get the "fried" crisp taste and texture of cauliflower without actually frying it in oil is why I enjoy this air fryer cauliflower recipe so much. It just calls for a fraction of the oil you'd normally use, and it's extremely nutritious.
It is ideal to consume this crispy cauliflower as soon as possible after it comes out of the air fryer, while it's still warm and the breading is crisp.
Read on as you learn more about cooking cauliflower in an air fryer. I also included some excellent tips to guide you through.
Cauliflower Nutrition Facts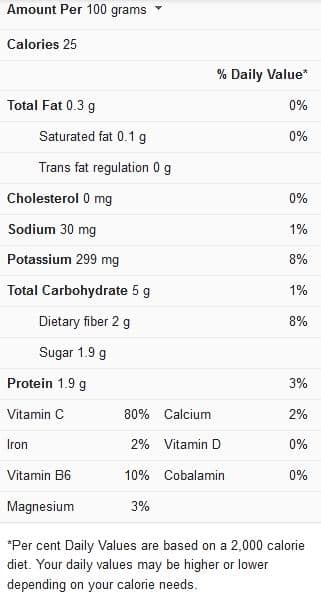 Tips on How to Cook Cauliflower in Air Fryer
Cauliflower size – I recommend you to use a whole head of cauliflower since I believe it is fresher. However, you can also buy florets in a bag. Keep in mind that your florets' size will affect the amount of time it takes for your cauliflower to cook – smaller florets = faster air fryer cauliflower.
Cutting the cauliflowers – Breaking down a complete head of cauliflower will become very quick and simple once you know where to start. In these three simple steps, here's how to do it the right way:
The leaves should be removed. Trim the green outer leaves using a sharp knife.
The cauliflower should be peeled and cored. Make sure you remove the tough inner core of the head after cutting it into quarters.
You should remove the florets one by one. To separate the florets, you must lay each quarter on its flat side and chop the stems. Then slice the florets in half through the stem and gently pull them apart if they are greater than 2 inches in diameter.
However, when you are short on time, you may buy pre-cut cauliflower florets in the produce area in your local store.
Breading – If you merely fry or bake cauliflower without any breading, it will get a little crispy, but a light breading is necessary to get it very crispy. You will need to toss the cauliflower with spices, then dip it in an egg mixture and breadcrumbs. The breadcrumbs will help to keep the spices on the cauliflower while also adding to the crispiness of the outer layer.
Furthermore, if you don't fancy breading the cauliflower, you can toss it in olive oil with spices. Air frying to create crispy edges is still an option. You can still coat the cauliflower in gluten-free breadcrumbs or cornmeal if you're gluten-free.
Oil – Cooking cauliflower without any oil is not recommended. It only takes two teaspoons to coat roughly 5 cups of cauliflower florets evenly. This can be cut down to 1 tablespoon or sprayed with nonstick frying spray.
Avocado or safflower oil has a higher smoke point and is ideal for air frying. You may also use olive oil, but you'll want to keep your cooking temperature below 375°F.
Garnish – This vegetable goes well with any protein, such as pan-seared chicken or pork chops. Crispy cauliflower is my favorite; as a hearty appetizer with a quick hot blue cheese dip. It is also a terrific addition to an appetizer buffet because the tastes complement each other.
View this post on Instagram

How to Cook Cauliflower in Air Fryer
Step 1: In a medium mixing basin, combine all of the ingredients for the blue cheese dip. Refrigerate until needed.
Then prepare the cauliflower by cutting it into florets. It is fine to have a variety of sizes, but no florets should be more than 1½ inches in diameter.
Step 2: Next, toss the cauliflower florets with salt, chili powder, and garlic powder in a medium bowl. Then whisk together the eggs and water in a separate small bowl.
Proceed to toss the cauliflower in a large mixing bowl with the egg mixture. Then add the cauliflower with the breadcrumbs after it has been coated with the egg mixture.
Step 3: Spray the basket of an air fryer with nonstick spray, then go on and add as many cauliflower florets as will fit in a single layer in the basket.
Return the basket to the fryer and cook for 7 minutes at 350 degrees F. The florets are then flipped and fried for another 7 minutes. Make sure you continue until all of the cauliflower is cooked.
Step 4: You can serve the cauliflower right away once all of the batches are finished or as the batches come out of the fryer. Cauliflower tastes finest just after it's been fried.
Therefore, serve immediately as an appetizer or side dish with the blue cheese dip.
How Long to Cook Cauliflower in Air Fryer
Preparation Time
Cook Time
Total Time
10 minutes
15 minutes
25 minutes
Print
Air Fryer Cauliflower Recipe (4 Servings)
---
---
Instructions
In a large mixing bowl, proceed to whisk together two tablespoons of olive oil, ¾ teaspoon of kosher salt, ½ teaspoon of dried thyme, ¼ teaspoon of garlic powder, and ¼ teaspoon of black pepper.
Half a cauliflower head and remove the rough core. Proceed to cut the florets into 1 – 1½ inch pieces, i.e., 6 to 7 cups.
Then go ahead and toss them in the basin until everything is equally coated.
You can now preheat the air fryer to 400 degrees Fahrenheit. In the basket or tray of a five ½-quart or larger air fryer, proceed to arrange the cauliflower florets in an equal layer.
Go on and air fry for 15 minutes – flipping every 5 minutes – until the cauliflower is soft with browned and crispy edges.
Thanks to the air fryer, they come out wonderfully crispy on the outside and soft and tender on the inside without becoming mushy. The cauliflower is "fried" in the air fryer using circulating air. It's a countertop convection oven, essentially.
You can watch this video recipe to learn more about cooking cauliflower in an air fryer.