Cauliflower Wings in the Air Fryer! Are you looking for vegan wings? These cauliflower air fryer wings are a must-try!
This Crispy Air Fryer Cauliflower is made with only 5 ingredients and is perfect as a side dish for any meal or snack for the whole family. Suitable for Keto, Paleo, Gluten-Free, Low Carb, and Vegan diets.
Cauliflower Air Fryer is a quick and easy technique to get your cauliflower crispy without having to deep fry it. I prefer traditional sauce, but we've also made honey BBQ sauce, smoky Habanero sauce, and a more mild Asian Chili sauce. On crispy, crunchy cauliflower wings, they're all delicious!
Cauliflower Nutrition Facts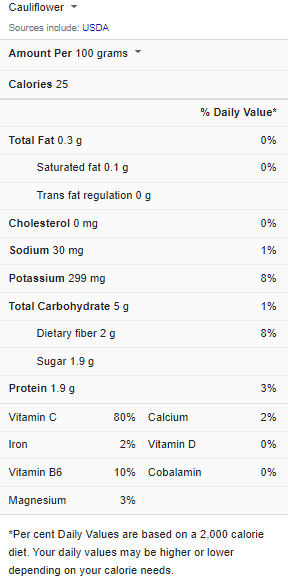 In the Air Fryer, how long do cauliflower wings take to cook?
To be honest, I tested this recipe nearly 15 times, largely to ensure that the timing was correct. After all, these are far easier to overcook than cauliflower wings cooked in the oven and subsequently in the skillet. Six to seven minutes is the ideal time for producing a crunchy outside while still preserving some of the cauliflower's firmness.
What should you serve alongside these cauliflower wings?
The typical accompaniment for cauliflower wings is blue cheese dressing, but I like my homemade ranch dressing. Made with vegan mayo, soy milk, fresh chopped parsley, dried dill, and garlic powder, it's the perfect accompaniment for spicy, saucy cauliflower wings.
To serve, pile wings onto a platter with celery sticks, carrots, and ranch dressing. These air fryer vegan cauliflower wings are a must-try. They're the greatest when they're crispy and saucy.
Print
Cauliflower wings in air fryer
---
One whole cauliflower cut into small or medium-sized florets
Marinate:
Yogurt

2 tbsp

Ginger and garlic paste: 1 tbsp
Paprika: ½ tsp
Cumin powder: ½ tsp
Garam masala: ½ tsp

One tbsp

olive oil
Salt: as per taste
---
Instructions
Mix all the marinate ingredients and marinate cauliflower wings in the paste, toss until evenly coated.
Keep aside for 30 min.
Put them in the air fryer for 20 min at 180 degrees.
Make sure to open the air fryer and shake the frying basket 2-3 times to turn the cauliflower.