When we make roasted recipes, the one thing we desire is for the meat to be tasty and juicy, which is why many people use different methods or techniques to prepare their meat recipes. The most basic one would be grilling, but baking in an oven is a convenient and equally satisfying method. When you bake Pork chops in an oven, the heat is evenly distributed in the meat, giving a nice caramelized look.
When it comes to baking roasted meats, there are different temperatures people bake at, each having a different estimated cooking time. If you're baking at 350° F, this article will help you know the exact way to go about it and some great tips to consider when making your pork chop recipe.
Pork Chops Nutrition Facts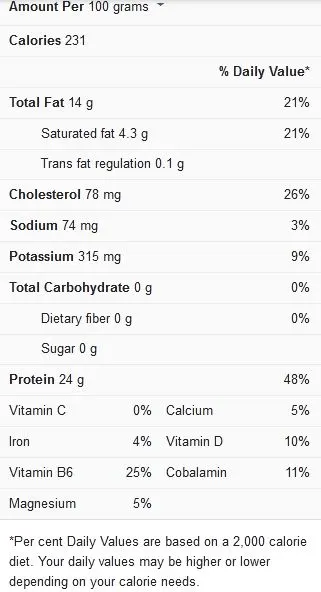 Tips to Note When Making Pork Chops
Here are some beneficial cooking tips to note when making your pork chops in an oven:
Brine or salt the pork chops- salting the fresh meat before cooking helps it become softer, producing a juicy and flavorful result; if you'd also like, you could bring the fresh pork instead of salting them directly chops in saltwater for 20-30 minutes.
Brine, season, and broil- for a pork chop to have that juicy texture and delicious taste, you should bring it in salted water or salt it directly, season with spices, and broil in the oven for about 10 minutes for an extra crisp and brown texture.
Use a rack to bake your pork chops- placing a cookie rack or any elevated rack available on top of your baking sheet with the pork chops on top allows an even distribution of crisp heat texture, preventing the meat from getting soggy unless that is something you'd want.
Work with a meat thermometer- having a meat thermometer while you cook is important; it allows you conveniently check for doneness in your recipe without having to cut the meat. The pork chop should reach an internal heat temperature of 145° F when you check with your thermometer, and you don't have to bother if the middle of the pork is a little pink.
Remove extra moisture from wet chops before baking- for you to get a well-caramelized pork chop, it is necessary to have a reduced water content on the meat, pat them dry with a paper towel if wet and if the meat cut is frozen, let It sit for an hour before cooking it.
Use thicker Pork chops- thicker Pork chops are known to retain moisture, tenderness, and flavor when cooked, so when shopping, go for a thicker one between 1- 1 1/2 inches. Also, when you shop, it is advisable to buy pork chops that have the same size so they can all cook evenly within the estimated time.
Use oil or butter to add juiciness to your meat- most people worry about making a dry Porkchop, so to avoid this happening, rub some oil of your choice suitable for cooking or butter on the fresh meat before baking.
View this post on Instagram
Cooking Time for Pork Chops in an Oven
The table below contains the estimated cooking time for pork chops in an oven at different temperatures.
| | |
| --- | --- |
| Cooking procedure and temperature | Cooking time |
| Baking pork chops at 350° F in an oven. | 35 minutes (prep time not included). |
Print
Juicy Oven-Baked pork chop (4 servings)
---
4

boneless pork chops 3/4″ thick
Vegetable Oil or melted butter
Barbeque sauce

4 tablespoons

brown sugar

1/2 teaspoon

garlic powder

4 cups

water

1/4 cup

kosher salt

1 teaspoon

peppercorns
Equipment
Oven
Tongs
Meat thermometer(optional)
Bowls
Measuring spoons
---
Instructions
The first step would be to brine the meat, this step is optional because it takes some time, if you don't have enough time just skip to seasoning your pork chop but if you do then go ahead and bring it.
To brine your pork chop, mix the 1/4 cup kosher salt, 2 tablespoons of brown sugar, 1 teaspoon peppercorns, and 4 cups water in a saucepan and heat it, once the salt and sugar are properly dissolved remove the saucepan from the heat and let it cool.
In a bowl, place your pork chops and pour the cooled brine over it, refrigerate for about 30 minutes to an hour or more.
You could use just salt too if you don't have all the brine ingredients, use 3/4 to 1 teaspoon Kosher salt per pound and 1/2 to 3/4 teaspoons table salt per pound to run on all sides of your meat.
Go ahead and preheat the oven to 350° F
After brining, remove the pork chop from the liquid and pat them dry with a pepper towel. If the pork has some fat, remove the fatty sides if you don't need them in your recipe. (Note that meat fat also adds its delicious flavor to recipes).
Mix 2 tablespoons brown sugar, 1/2 teaspoon garlic powder, 1/2 teaspoon mustard powder, 1/2 teaspoon paprika in a bowl and use it to rub on all sides of the pork chop on a baking sheet. Feel free to incorporate the seasoning you like in your recipe.
After seasoning, rub some oil of your choice or melted butter on the pork chop, this helps with giving extra juiciness to the meat.
Put the baking sheet in the oven and bake for about 20 minutes. After baking turn on the broil option and do this for 10 minutes or until they reach 140°F internal heat temperature to get that crispiness on the outer layer of your pork chop.
Remove from the oven and rub some barbeque sauce on your pork chop and let it sit in the oven for another 5 minutes.
Remove from the oven when the time is up and let it cool for some minutes then serve.
If you'd still want more ideas and inspirations on how to use an oven to make a juicy Pork chop recipe, then you should check out this video recipe