Cooking, or rather the process of frozen chicken patties in an air fryer is probably the finest way to get wonderfully crispy and juicy chicken patties.
They are wonderful when air-fried, plus they don't become soggy and fry up quickly. You will fancy this one, and it will undoubtedly become a new favorite.
It is easy and quick to make frozen chicken patties in the air fryer. These crispy patties are perfect for making a quick sandwich, adding to a wrap, or serving with vegetables.
Chicken Patty Nutrition Facts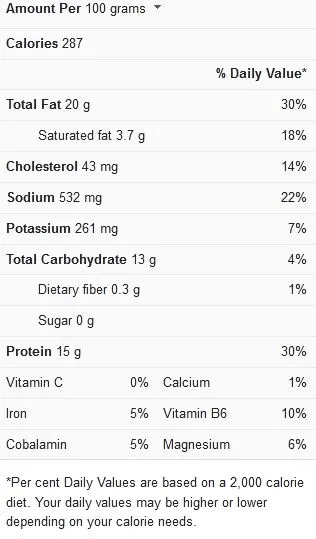 Tips on How to Cook Frozen Chicken Patty in Air Fryer
Benefits of cooking frozen chicken patty in the air fryer – Here are a few reasons why you will adore this air fryer recipe:
Frozen chicken patties don't require a meal plan or a shopping list. You can walk into a store, purchase a box, and be ready to go.
No thawing. Fortunately, you can air fry frozen chicken patties without thawing them.
Air frying is a time-saver. Air frying frozen chicken patties takes roughly 16-17 minutes. That's less time than baking in the oven.
Clean-up is a breeze with my air fryer trays because almost nothing sticks to them. There's no need to scrub; I just need to clean the tiny air fryer tray.
Depending on how you put your meal together, you can make something more nutritious than a McDonald's McChicken Sandwich or a Popeye's chicken sandwich. Instead of presenting your chicken patty in bread, you can make a salad with it to beat McDonald's chicken sandwich at home.
How to Cook Chicken Patty in Air Fryer
Your first step should be to preheat the air fryer for 5 minutes at 400 degrees F.
Then, place frozen chicken patties in the air fryer basket and air fry for 5 minutes without touching. Flip and air-fried for another 5-7 minutes until cooked through and golden brown on the outside.
Using raw chicken patties rather than pre-cooked chicken patties, ensure that they reach a safe internal temperature of 165 degrees Fahrenheit with a meat thermometer.
Until the chicken patties are done, turn them in every 5 minutes.
You can top the cooked air fryer patties with cheese slices, and air fried for an additional minute at 350 degrees F. Proceed to remove the chicken patty from the air fryer and top with chosen toppings.
You can go ahead and serve with any additional toppings you desire.
Toppings – There are plenty of excellent choices. Toppings and condiments like mayo, mustard, bbq sauce, dijon mustard, or your favorite dipping sauce can be added. You can consider using potato buns, wheat buns, or brioche buns to top the burgers with red onions, avocado, bell peppers, and sautéed onions.
Melted cheese – You can place a slice of cheese on top of the cooked chicken – while it is still in the air fryer basket – if you want to add some extra flavor. Make sure you place the basket back into the air fryer and turn the machine off for about 20 seconds. The extra heat from the fryer will aid in melting the cheese.
Toasted buns – If you want a toasted bun, you can lightly butter it and toast it in the air fryer at 350 degrees for 1-2 minutes. However, there is no need to add butter to reduce calories.
Oil – Since the chicken is already pre-cooked with oil before it's frozen, there's no need to add any more.
In any case, this recipe does not call for any additional oil.
However, if a recipe calls for oil, apply it with a pastry brush or a paper towel as specified. When using an air fryer, you should keep in mind that you should never spray aerosolized cooking spray directly on the appliance.
Storage and Reheating – If you don't use all frozen chicken patties fried in your air fryer, you can put them in an airtight container in the refrigerator. Notably, chicken patties can be kept in the fridge for 3 to 4 days if properly refrigerated.
When it's time to use them, reheating them in the air fryer is quick and easy, eliminating any sogginess. You can cook them for 3 to 5 minutes in an air fryer basket at 350°F (175°C), prepare the buns, and decorate.
How Long to Cook Frozen Chicken Patty in Air Fryer
Cooking times may differ based on the type of air fryer used. When you are making frozen chicken patties in an air fryer for the first time, you should check them every few minutes at the end of the cooking period.
You can add 2-4 minutes to the cooking time if you want the chicken patties to be extra crispy.
Preparation Time
Cook Time
Total Time
5 minutes
8 – 10 minutes
13 – 15 minutes
Print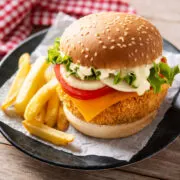 Frozen Chicken Patties In Air Fryer (2 Servings)
---
---
Instructions
Start by preheating the air fryer to 390°F (200 degrees C).
In the air fryer basket or on your air fryer trays, you can place two chicken patties.
Check the patties after 8 minutes of cooking. If you desire, you can flip and crisp for 2-3 minutes.
If desired, you can toast the buns after removing the chicken patties from the air fryer. It only takes a minute or two to crisp up the buns slightly.
You can add the cheese slice and top with the top half of the bread to melt the cheese slices without falling off or flying away. Return to the air fryer and melt the cheese with the remaining heat.
Place each chicken patty on a hamburger bun and top with the condiments and toppings.
This chicken in the air fryer is best served on a toasted bun with your favorite toppings.
You can watch this video recipe to learn more about cooking frozen chicken patty in an air fryer.