Chicken patties cooked in the air fryer are perfect for a light, nutritious meal, and they're also really quick and easy to prepare. When chicken patties are cooked this way, the results are juicy and tasty, and they're so adaptable that you can eat them with different side dish options.
If air-fried chicken patties are one of those recipes you've had in mind to try for a while now, you can get started by following all the instructions in this article. Our helpful tips and cooking guidelines will also ensure that you end up with the best possible results at the end of your cooking.
Chicken Patties Nutrition Facts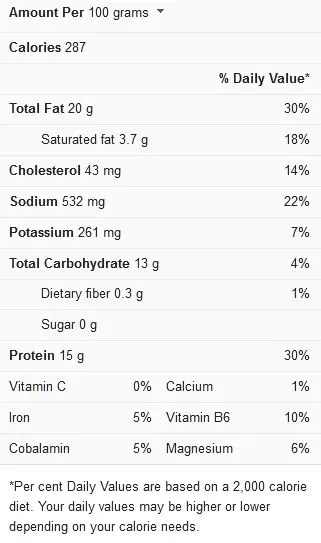 Tips for Cooking Chicken Patties in the Air Fryer
The following tips are necessary to keep in mind when cooking chicken patties in the air fryer:
Mix patties with your hands – It's better if you can toss the patties together with your hands. It's a little messier, but the contents of the mixture will blend much better this way. If you always prefer to keep your hands clean during the process, try putting on some tight-fitting plastic gloves.
Avoid overcooking your patties – Patties should never be overcooked, so whatever you do, keep this in mind. The patties take around 10 to 15 minutes to cook completely (depending on their thickness and the air fryer model you're using). It's possible that overcooking will cause them to dry out, so avoid it.
Making the recipe ahead – Chicken patties can be prepared ahead of time and stored in the refrigerator for up to and sometimes more than 4 days (you can then reheat in the microwave or bring the patties to room temperature before assembling them) or frozen for up to a month.
If using a sauce in your recipe, it can be prepared ahead of time and stored in the refrigerator for four days. If serving with buns, the buns can be toasted upfront, about several hours ahead of time, and then served when ready. Before serving, you can then assemble the burgers according to your preference.
Dealing with frozen chicken patties – Uncooked chicken patties can be frozen for up to three months if you purchase them and plan to use them later. Before freezing, use small squares of paper to layer the burger patties, making them much easier to detach while frozen. Afterward, store the patties in a freezer-safe container or a Ziploc bag.
When you prepare to cook your frozen patties, keep in mind that they don't necessarily need to be defrosted before air frying. Place the frozen patties in the basket of the air fryer, then air fry at 360°F/ 180°C till the thickest section of the patties reaches 165°F/ 74°C.
Cooking durations will probably last longer than when working with unfrozen patties, depending on your air fryer model and the size of the patties. Begin with 15 to 20 minutes and ensure they've achieved the desired temperature with an instant-read thermometer before eating the patties.
Storage and reheating tips for leftovers – Use any leftover chicken patties within three days after storing them in an airtight container in the refrigerator.
The chicken patties can be reheated in the air fryer for 3 to 4 minutes until they are fully warmed. You can also reheat the chicken patties in the microwave for 1 to 2 minutes on a high setting.
View this post on Instagram

Cooking Time for Chicken Patties in Air Fryer
The ideal cooking duration for chicken patties in an air fryer has been described in the table below:
Cooking Procedure
Cooking Time
Cooking chicken patties in an air fryer at 360 degrees Fahrenheit/180 degrees Celsius
10 to 15 minutes
Print
Air Fryer Chicken Patties (2 Servings)
---
½

lb of ground chicken/ 225g of chicken mince

Two teaspoons

of chicken seasoning

½ cup

of panko breadcrumbs
One egg

½ teaspoon

of salt

¼ teaspoon

of ground black pepper
For breading (optional)
One egg

Two tablespoons

of flour

½ cup

of panko breadcrumbs
---
Instructions
Making the chicken patties
Combine the chicken mince, spices, breadcrumbs, egg, salt, and pepper in a mixing bowl.
To blend, whisk everything together thoroughly.
Arrange the chicken mixture to form two evenly sized ½-inch thick patties.
Breading the patties
Inside a large shallow dish, pour the breadcrumbs. In a separate large mixing bowl, combine the flour and the chicken patties, gently tossing them to coat properly.
Pour the egg into the mixing bowl together with the chicken patties, separate the egg yolk, and toss the patties to bathe them in the egg.
Turn both chicken patties in the breadcrumbs to completely cover them with it. Place the patties on a plate and massage the bread crumbs into them to help them cling better to the patties.
Cooking the chicken patties in the air fryer
Adjust the air fryer's temperature to 360 degrees Fahrenheit/180 degrees Celsius and let it preheat.
Place the chicken patties in the air fryer basket. Make sure they're not touching each other.
Cook chicken patties for 10 to 15 minutes in an air fryer at 360°F/ 180°C until the patties develop a golden brown color and have an internal temperature of 165°F/ 74°C when a meat thermometer is placed in the thickest portion.
This recipe for air fryer chicken patties is quick and easy, and the results are satisfying. Feel free to serve the cooked patties between delicious buns or serve them with any other sides of your choosing.
If you want to see more ideas that you can explore with air fryer chicken patty recipes, you may need to check out this video recipe.
Notes
Season your patties with salt and pepper to taste. Jerk seasoning, Cajun seasoning, and barbecue seasoning are all excellent choices you can also try.
If your air fryer's basket is prone to sticking, spray it with olive oil before putting the patties in.
Cooking times are simply estimates. Cooking time varies depending on the size of the chicken patties and the speed and load of your air fryer. Before eating, make sure the chicken patties have reached an internal temperature of 165°F/74°C in the thickest section.