There are numerous paths to take when preparing a chicken dish. Whether you choose to grill, stir-fry, barbecue, roast, or bake the chicken, it always accompanies a mouthwatering flavor and aroma when ready. Another method of preparing the tasty chicken dish is air-frying. Although it is a fast, healthy, and efficient means of cooking chicken and other recipes, not everyone is familiar with this technique.
The air fryer could be complex, especially when it's your first time using it. If you are among the people who do not know how to work their way around an air fryer, there is no need to panic; this article has got you covered. You need to pay close attention to the tips, directions, and guidelines needed to prepare your tasty air-fryer fried chicken.
Chicken Nutrition Facts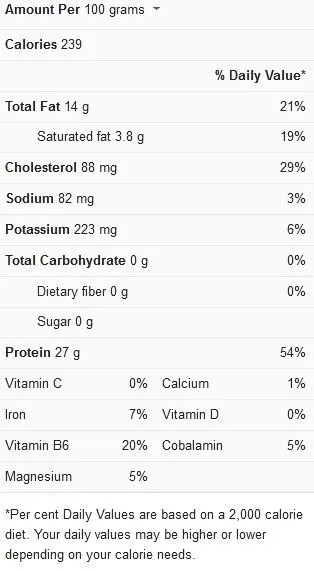 Tips for Cooking Fried Chicken in Air Fryer
You should note the following tips when making your own air fryer fried chicken, especially if it's your first time using a technology similar to an air fryer:
Be sure to read the instruction manual for your air fryer: You need to read the instruction manual for any equipment you own, and the air fryer is no exception. The manual contains important safeguards, operating instructions, user maintenance instructions, and so much more necessary for using an air fryer.
It also contains suggested recipes that could be prepared with an air fryer. The manual instructs you on operating the equipment if you've never used it before. If the manual that comes with your air fryer is no longer accessible, you could always download another copy of the instruction manual online.
Know the type of chicken to purchase: You can generally use any chicken for this recipe. But if you're in a hurry to cook up those babies, it is more advisable to utilize unfrozen chicken as it does not need defrosting. You can also purchase bone-in and skin-on chicken for a tastier and moist dish.
Breading your chicken: This is coating your chicken in flour and eggs for a more mouthwatering taste. While this proves to be very easy, you might want to be careful not to overcoat your chicken by dipping it too much in the flour. This makes it difficult to hydrate all that flour in the air fryer, which results in floury patches that haven't been properly cooked.
We recommend soaking your chicken in buttermilk or kefir to make it tender, then rolling it once into a zip-lock bag or bowl of well-spiced all-purpose flour. This provides a nice breading layer for the chicken without having too much flour on it that'll disrupt the texture of the fried chicken.
Reheating your fried chicken: If you have leftovers from your fried chicken dish after a meal, there is no need to feel dissatisfied about eating cold leftovers! You can reheat your fried chicken using your oven, just set it to 300 degrees Fahrenheit. Layout the pieces of chicken on a baking sheet, and bake them in your oven until they get warmed up enough. This retains the crust's crispness and warms all areas of the chicken evenly. Reheat for 8 to 10 minutes.
Don't overcrowd your air fryer basket: For a satisfactorily spread out texture and taste, we recommend that you do not place your air fryer basket with all the chicken, but place at least three pieces of chicken in one cooking and at most four pieces. It would be much easier for them to cook when there was enough room to hydrate in the air fryer basket.
View this post on Instagram

Cooking Time for Fried Chicken in Air Fryer
Follow the guidelines in the table below if you plan to cook a tasty and crispy fried chicken dish in your air fryer:
Cooking Procedure
Cooking Time
Cooking fried chicken in an air fryer at 390° F.
20 to 25minutes.
Print
Air Fryer Fried Chicken (4 Servings)
---
---
Instructions
Place all seasonings in a bowl and mix them thoroughly. Set this aside for later.
Make a mixture out of the buttermilk and hot sauce. The buttermilk aids in maintaining the succulent insides of the chicken, while the hot sauce adds flavor to it. If you're the type that doesn't like spicy foods, don't worry because the chicken won't be spicy. Pour this mixture on your chicken, mix well and allow to marinate in the refrigerator for an hour or longer.
Take the combined seasonings and mix them into flour. We recommend you use a whisk for proper seasoning of the flour.
Take a pair of tongs and remove a piece of chicken from the buttermilk and hot sauce mixture, allow it to drain off a bit, and place it in the seasoned flour mix. Use the tongs to turn it into the mix to ensure the chicken piece is fully covered in a light layer of flour. Repeat this process for all the chicken pieces.
Place a piece of parchment paper in the air fryer basket so the chicken does not stick to the bottom of the air fryer. Place your coated chicken on top of the parchment paper. Remember not to overcrowd the air fryer basket for easier hydration of the chicken pieces.
Close the air fryer and set the temperature to 390 degrees Fahrenheit, and the timer should be set to 25 minutes. After about 12 to 13 minutes, open your air fryer basket. Your chicken would be partly fried and still exhibiting some flour patches.
Use an oil spray bottle and spray over your chicken. Flip it to the opposite side with a pair of tongs and spray on that side as well to cover all flour patches. Close the air fryer again and resume cooking. Once the cooking is done, your chicken will produce a crisp golden texture, and it is equally just as tasty.
If preferred, you can have it with another meal as a side dish, or you can eat it that way with some good old iced Coca-Cola.
It's not that difficult to cook fried chicken using an air fryer once you've followed the abovementioned instructions. This recipe is sure to leave your mouth watering and taste buds happy. It is very easy to follow and will be ready to eat in less than half an hour.
If you need more insights or suggestions for cooking your fried chicken using an air fryer, we suggest you check out this video recipe.