Everyone enjoys a delicious deep-fried snack, but most people do not fancy how much oil is typically used in preparing them. When this is considered, you'll find that air frying is one of the most terrific ways to make your favorite fried snacks, such as air fryer fried pickles.
The air frying method removes the use of heated oil and even the batter required to prepare pickles. In any case, saving time and calories and avoiding all the greasy mess is always a benefit.
In this article, you'll learn how to make fried pickles using an air fryer and get the best results during the cooking process. We'll also provide you with quite useful tips to ensure that you're doing the right thing and guarantee amazing-tasting results.
Tips for Making Fried Pickles in Air Fryer
The following tips, guidelines, and recommendations are necessary to keep in mind when making fried pickles in an air fryer, so we advise that you pay close attention:
The best type and slices of pickles to work with – Air fryer pickle recipes tend to work best with dill pickles. It is also pertinent to make sure that the pickle slices you're working with are not too thin to get the best results. These are some variations you could work towards achieving:
Pickle spears– Because the pickles are thicker this way, they'll have the most pickle-y taste and tend to end up the juiciest.
Pickle chips– Snacking on pickle chips or rounds is a terrific idea. Make sure to cut your pickles by yourself to ensure that they're thicker if you're making these.
Sliced pickles– These pickles will typically have a higher crust to pickle ratio, which we're sure you'll enjoy. You can also make sure to get thicker pieces by slicing the pieces from bigger pickles.
Ingredient variations to try – WIth air fryer pickles, there are some ingredients to explore if you're interested in switching things up a bit. Consider the following:
Pickles: Pick your favorite dill pickle shape (as suggested above). Spears or thick slices might be your favorites.
Bread crumbs: Typically, Panko bread crumbs are used to lend a nice crunch to the results of this recipe, but seasoned bread crumbs should generally suffice in the absence of Panko breadcrumbs.
Low-carb variant: You can replace the flour in your recipe with some almond flour. Panko bread crumbs can also be replaced with a mixture of crushed pork rinds and almond flour (make sure to season them, however). Because eggs are keto, you can proceed with using them as directed in the recipe you're following.
Don't overcrowd the air fryer – You must prevent your pickle slices from touching each other in the air fryer during the cooking process. They'll be damp in contact locations if they touch each other. Ideally, the hot air in the air fryer should be able to move all the way freely around the pickle slices. If necessary, cook the pickles in batches to allow for enough room to get crispy results.
Storage and reheating tips – The best way to consume air-fried pickles is right out of the air fryer. When stored, they tend to develop a soggy quality. However, leftovers can be a good thing if the air fried pickles are stored and reheated properly, so keep the instructions below in mind to get the best results with leftovers:
Storing: Refrigerate air fryer pickles for up to 3 days in an airtight container.
Reheating: To achieve as much crispiness as possible with your remaining air-fried pickles, reheat them at 400 degrees for 2 to 3 minutes in the air fryer. You may warm them using your oven, although it may take longer.
View this post on Instagram

Cooking Time for Fried Pickles in Air Fryer
Ideally, the time measuring guidelines in the table below should be adhered to when making fried pickles in the air fryer to arrive at desirable results:
Cooking Procedure
Cooking Time
Cooking pickles in the air fryer at 400 degrees Fahrenheit
14 to 20 minutes; 7 to 10 minutes per side
Print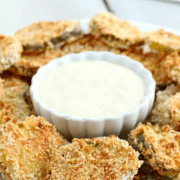 Air-Fryer Pickles (makes 32 slices)
---
---
Instructions
Adjust the air fryer's temperature to 400 degrees and leave it to preheat. In the meantime, leave the pickles to sit on paper towels for about 15 minutes or until the liquid has nearly completely evaporated.
Meanwhile, mix flour and salt in a shallow basin. Whisk eggs, cayenne pepper, pickle juice, and garlic powder together in another shallow basin. In a third small bowl, combine the panko and dill.
Shake off excess flour after dipping the dried pickles in the flour mix on both sides. Dip the pickles first in the egg mix, then in the crumb mix, patting them to ensure the coating sticks.
Afterward, arrange the coated pickles in a uniform layer (in batches) on a greased tray in the air-fryer basket.
Cook the pickles in the air fryer for 7 to 10 minutes, or until they develop a golden brown color and a crispy quality. Turn the pickles over and sprinkle them with cooking spray. Cook them on the other side for another 7 to 10 minutes, or until the other side also turns golden brown and crispy.
Serve the air-fried pickles right away, with ranch dressing on the side if desired.
This recipe for air-fried pickles yields really tasty and healthy snacks, so feel free to try it out with your loved ones. If you'd like to see more recipe ideas for cooking pickles in the air fryer, you may be interested in this video recipe.
Notes
Allow as much moisture as possible to drain out of the pickles to make them extremely crunchy. To prevent moisture from soaking into the breading, pat the pickles dry before you coat them, then only coat them as soon as you're ready to cook. Another option for added flavor is to toast the bread crumbs before using them to coat the pickles.