Cooking veggies in the air fryer is a great way to have your family consume and appreciate vegetables more often. Asparagus, in particular, is one of the best vegetable selections for the air frying process. You won't only get incredibly crispy spears, but they also cook pretty quickly in the air fryer. However, if asparagus is not cooked properly, it can become overly firm or an unappealing mound of green mush.
If you're looking for the correct way to cook asparagus spears in the air fryer, pay attention to all the instructions in this article. Also, please take note of our helpful tips and recommendations to ensure that you get the best possible results.
Asparagus Nutrition Facts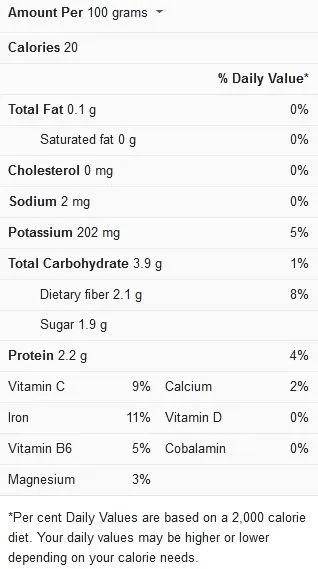 Tips for Cooking Asparagus in Air Fryer
To achieve the most desirable results with your coking, keep the following tips, guidelines, and cooking instructions in mind when cooking asparagus in an air fryer:
Pick the best asparagus you can find – Picking and cutting asparagus spears so that they turn out perfectly is the first step in making the best possible air-fried asparagus. When picking asparagus, keep the following in mind:
The right texture: Asparagus stalks should have a strong texture and stand erect. Stalks that seem wilted or limp should generally be avoided. Asparagus tips should also be tight and closed, rather than spreading or mushy.
The right color: An excellent asparagus bunch will typically have a deep green color that fades to a white quality at the stalk's bottom. You'll know that an asparagus spear is past its prime if its color has faded. It's okay to use if the tips are dark green or purple.
The right size: Asparagus comes in various sizes, from little to large. Any size you pick should be tasty as long as they're fresh. The bundle you choose must be of uniform length and thickness. This cooking and preparation will be more constant than if you're working with spears of different sizes.
How to trim – When preparing asparagus for air frying, there is an easy technique to trim it.
Remove any debris from the asparagus by rinsing it under cold water. Trim the bottom of each spear with a sharp knife or kitchen shears. Make sure during this process to get rid of the woody, whitish-colored section towards the bottom.
It's also quite easy to snap the ends off the asparagus spears using your hands; the stalk of the asparagus should break naturally where the spear's tough section begins. Continue to prepare after composting or tossing the ends.
Ingredient variations to try – Only three ingredients are needed for air fryer asparagus: asparagus, garlic parsley, salt, and parmesan! These ingredients make up a fantastic dish, but there are a few changes you may want to try to spice things up in your recipe:
A smidgeon of lemon juice: This dish can be brought to life with a touch of lemon juice. Asparagus with a lemony flavor is a summertime favorite.
Salt for seasoning: Sprinkle your favorite seasoning salt on your air fryer asparagus if you absolutely must. It's, however, important to avoid piling on too much salt over the parmesan, which already tends to have a salty quality.
Pepper: If you're one to enjoy a little heat, your air fryer asparagus can benefit from a pinch of pepper, especially if it is freshly ground.
Smoked paprika: Asparagus and smoked paprika always make for a tempting meal option, so feel free to try this out.
Avoid overcrowding – Make sure the air fryer basket isn't too full while cooking. Keep the asparagus spears in one layer to allow for proper hot air circulation and crispness on the outside.
Working with leftovers – If, after serving, you end up with some leftover asparagus, store it in a shallow, airtight container or keep it securely wrapped in thick aluminum foil or plastic wrap in the refrigerator. Cooked asparagus should stay in the refrigerator for 3 to 5 days if stored correctly.
Reheating roasted asparagus is also quite simple, but avoid using the microwave; else, the results may be mushy. Instead, broil the leftovers for a few minutes in the oven or use a toaster oven.
Alternatively, you can reheat it in the air fryer at 350°F (175°C) for 3 minutes, or just until it's warmed and crispy.
View this post on Instagram

Cooking Time for Asparagus in Air Fryer
The ideal timing guidelines to follow when cooking asparagus in an air fryer have been outlined in the table below:
Cooking Procedure
Cooking Time
Cooking asparagus spears in the air fryer at 450 degrees Fahrenheit
7 minutes
Print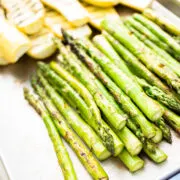 Air Fryer Asparagus (4 Servings)
---
---
Instructions
Begin by snapping each asparagus spare's end Ideally, and it would help if you got rid of these ends because they are chewed. Take off about 1 to 2 inches from the bottom.
Drizzle the avocado oil over the trimmed asparagus pieces on a rimmed baking sheet, Then add the garlic clove, either in crushed or grated form.
Now season the asparagus spears using salt and pepper; afterward, toss them until they become evenly covered.
Cook the seasoned asparagus in the air fryer basket for 7 minutes (450 degrees).
Serve the air-fried asparagus spears warm with any sides of your choosing.
This recipe for air fryer asparagus is quick and easy. If you typically don't appreciate the taste of greens, you'll find that this is quite a nice way to enjoy asparagus. It is, however, important to pay close attention to the cooking instructions to arrive at desirable results.
If you'd like to see more ideas and inspiration for cooking asparagus in an air fryer, we recommend checking out this video recipe.