Why buy a package of chips when you can make your tortilla chips in the air fryer and season them to your liking? When you make chips in the air fryer, you get tasty and crispy chips with less fat. You can even serve it with a variety of dips.
Your favorite Mexican fried tortilla chips are made healthier with no oil using an air fryer! You may use them to make nachos and dip them in guacamole and salsa.
There are only a few basic steps to follow when preparing the tastiest tortilla chips in the air fryer. Your jaws will drop when you realize how simple it is to create homemade chips, and I promise you will want to do it repeatedly.
Tortilla Chips Nutrition Facts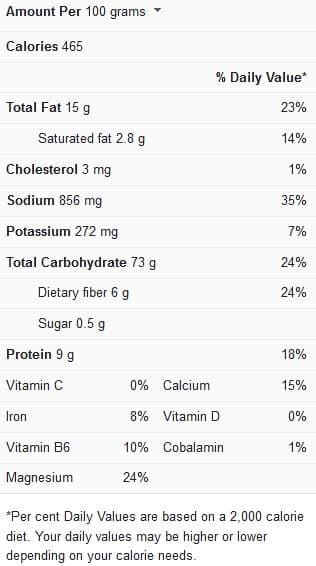 Tips on How to Make Tortilla Chips in Air Fryer 
You can use these tips and guides to help you cook tortilla chips in an air fryer to your desired perfection.
Yellow corn tortillas – The yellow corn tortillas produced the crispiest chip out of my test with yellow corn, white corn, and flour tortillas.
White corn tortillas, wheat-based, and whole wheat tortillas are all examples of yellow corn tortillas. Any type of tortilla wrap can be used to generate crispy chips. Next, you can choose a gluten-free tortilla or a high-fiber, low-carb tortilla brand based on your food allergy or taste preference.
Flour tortillas instead of corn – Yes, I prefer corn tortillas because they produce crispier chips. The chips were more chewy than crispy when I tested flour tortillas, and they were air-fried in 4-5 minutes. They did burn quite quickly. So keep that in mind if you're making these chips with flour tortillas.
Cooking correctly – Some air fryers require preheating, while others do not. Make sure to read the handbook that came with your air fryer. Mine doesn't need to be preheated. This might be why the recipe didn't work for you if the food ever burns or doesn't cook.
You should also avoid overcrowding; make sure the basket isn't too full. Some foods will not cook correctly or completely.
In addition, you don't need so much oil. One of the major reasons air fryers are so popular is that food needs very little oil – only a modest amount.
Furthermore, since avocado oil has a high smoke point, it is the best oil for air fryers. It signifies it's a stable oil at high temperatures, which means it's healthier.
Flavor the chips – If you want to take it to the next level, you can try these flavor combinations:
Spicy Lime
Brush the tortilla with oil before cooking.
Sprinkle ⅛ teaspoon of taco spice per tortilla.
Drizzle it with fresh lime juice.
Zesty Ranch: Brush the tortilla with oil before cooking, then sprinkle on about ⅛ teaspoon of ranch seasoning per tortilla.
Sweet Dessert: Brush the tortillas with oil, about ½ teaspoon of maple syrup, and maybe a touch of cinnamon before frying, and then serve it with a cream cheese dip.
When the air-fried chips are still hot, I recommend adding a flavor boost. Extra seasoning can be sprinkled on top of the hot tortilla chips.
You can serve it as a soup garnish – Tortilla chips are a great addition to any soup as a garnish. To add texture to each mouthful, you should top your bowl with a few broken-up pieces. This maneuver is essential in Mexican tortilla soup, but it also works in simple tomato soups or chili.
Storage – Wait until the chips are totally cold before transferring them to an airtight container or bag. You should allow it to cool to room temperature before using it later. After roughly a day, they begin to go stale, although they can be securely stored for up to ten days.
 

View this post on Instagram

 

How to Make Crispy Tortilla Chips in an Air Fryer
You can start the recipe by cutting six triangles out of basic white corn tortillas from the grocery store. Yellow corn tortillas – rather than white – are my preferred choice because the flavor is more delicate and reminds me of restaurant-style tortilla chips.
Preheat your fryer for 3 minutes after that. Then you can toss the corn tortilla triangles with oil – avocado or olive oil, not canola oil. Then add salt and a pinch of chili powder to a large mixing dish.
Pour them all in the frying basket but be sure not to overlap the triangles too much for more even cooking.
You can cook at 370 degrees for 4 minutes, removing the basket to flip the chips midway. Rearrange them evenly because they get tossed around in the air fryer while cooking.
When the cooking time is up, remove the fryer basket and transfer the chips to a plate coated in paper towels. Then allow about 5-10 minutes for tortilla chips to crisp up completely.
How Long to Make Tortilla Chips in Air Fryer 
Depending on the air fryer you are using, the cooking times will vary. If the given settings do not work for you, you must make the necessary adjustments.
Preparation Time
Cooking Time
Total Time
3 minutes
5 – 7 minutes
8-11 minutes
Print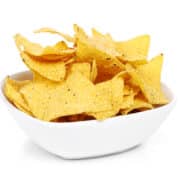 Easy Air Fryer Tortilla Chips – Flour or Corn (4 Servings)
---
Description
This quick, easy, and wholesome air fryer homemade tortilla chip recipe is ideal for improved snacking. The tortilla chips are crispy and flavorful, and they're easy to make with only a few ingredients.
---
Flour tortillas (8 inches)

One teaspoon

of olive oil

¼ teaspoon

of sea salt
---
Instructions
Start the recipe by preheating the air fryer to 350 degrees Fahrenheit (180 degrees Celsius).
To make around eight chips per tortilla, you will have to cut the tortillas into triangle, chip-sized pieces.
Meanwhile, go on and brush the tortilla on both sides with oil and then season with salt.
Then carefully place the sliced tortillas in a single layer in the air fryer basket.
Proceed to cook for a total of 4 to 5 minutes.
Then open the air fryer near the end of the cooking time to check on the chips.
You can set a trivet lightly on top of the chips if your air fryer blows them around. It will allow air to circulate while keeping them essentially stationary.
Moreover, you have to make sure you remove any chips on the verge of burning before they burn and continue to cook any that require a bit more time.
You can watch this video recipe to know more about making tortilla chips in an air fryer.