A pork steak has everything an amateur cook or a professional chef wishes. It is delicious and easy to prepare, it is also very affordable, and the size is pretty good. These make pork steak a favorite for many recipes, so you should not be surprised if you find yourself or someone close to you cooking pork steaks shortly.
As an amateur cook who is new to pork steaks, you may not be too sure about how long you need to cook this meat, but luckily for you, we are here to help you achieve the most delicious and tender pork steak. I've also included a table to tell you how long you need to cook this steak to get the best results in this article.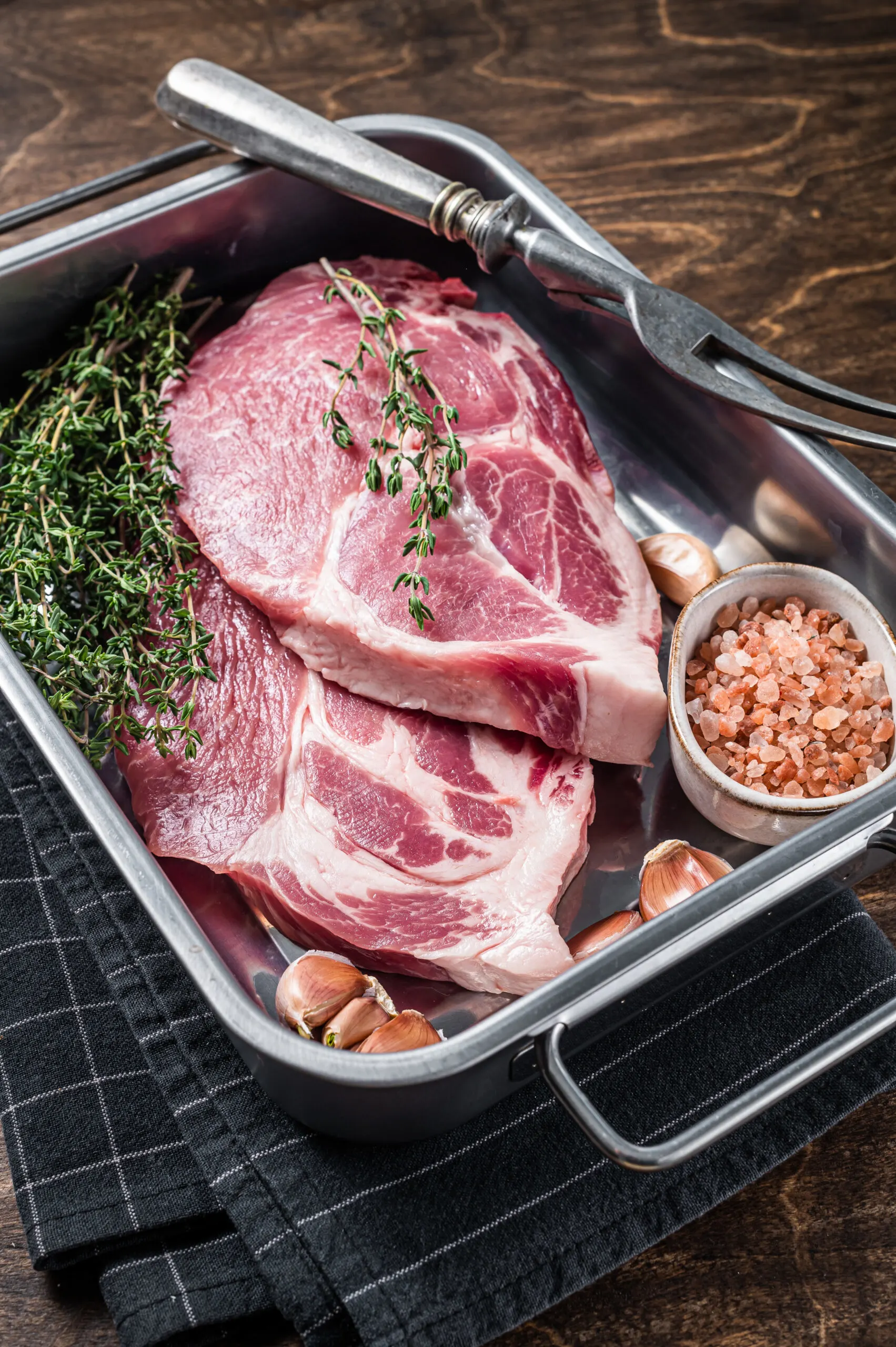 Pork Steak Nutrition Facts
Tips to Get a Better Pork Steak
Buying the right pork steak – Before you head to the supermarket to pick up some pork steaks, it is good to know the kind of steak needed for your recipe. There are different types of pork steak cuts like the pork shoulder steak and the pork loin steaks, but in the supermarket, you may only get the options of thick or thin pork steaks. If your recipe involves a short cooking time like stir-fry recipes, you should opt for the thinner pork steaks, while if you need to cook the steak for a longer period, then the thicker option would do just fine.
Storing pork steaks – If you just bought some pork steak from the supermarket, but you are not in urgent need of it, you should properly store it to avoid contamination. The best place to store pork steaks is in your fridge, not just any part of the fridge, but at the bottom where the temperatures are very low. The pork should be placed in a sealed container or wrapped in a food bag and stored at 5°c or lower.
Prepping your steak before you cook – To make your steaks even more tender, you could do a little preparation before the actual cooking. Whenever I get pork steak, I sprinkle a small amount of kosher salt immediately after getting home (you could use any other salt), wrap it up with a food bag, and keep it n the fridge. I normally leave it to sit in the fridge for about an hour and take it out 30 minutes before I start cooking. What salt does to raw meat is that it draws moisture to the surface of the meat; this is essential if you want your meat to be tender and easily rip when you bite into it.
Use a thermometer – If you are not cooking meat without a thermometer, you are not cooking meat the right way. It is important to cook every part of pork steak to the same temperature, so whenever you flip over the meat, check the temperature of the cooked side to ensure it matches the other side. If your recipe involves boiling the meat, you should always check the temperature of the liquid.
View this post on Instagram

Cooking Time for Pork Steak
The table below provides a time guideline to help you cook the perfect pork steaks. Make sure you follow the table when you want to prepare pork steak.
| | |
| --- | --- |
| Cooking method | Cooking time |
| Grilling pork steak | 6 – 7 minutes per side |
| Boiling pork steak | 30 minutes – 1 hour ( depending on the texture) |
| Frying pork steaks | 8 – 10 minutes per side |
Print
How Long To Cook Pork Steaks
---
---
Instructions
Cut the pork steak into thin straight pieces, you should cut out the edges of the steak to get a much straighter pork steak. The aim is to get as many boneless pieces as you can, so if your pork steak comes with a bone, you should remove that with the help of electric meat saw. When done, cover the meat properly.
Squash 4 cloves of garlic and chop them into fine pieces. Also, slice the onion into rings, you should also separate the different layers of rings. The onion rings would provide the aesthetics for this dish. Chop another set of onions for the marinade.
Now place the meat in a bowl and add the chopped garlic, also add the second chopped onion to the bowl, some black pepper, and a generous amount of soy sauce.
Also, squeeze the juice from half a lemon, and let the pork steak sit in this liquid for about an hour to completely absorb as much liquid as it can. Make sure you keep flipping the meats from side to side to ensure it is properly marinated in the soy sauce.
Add some vegetable oil to a pan and add set to medium heat. Add your slices of meat, cover the pan, and allow to fry until they become slightly golden (do not allow the meat to burn). Flip them over and repeat the same process for the other side. You can keep flipping your steaks until you get an even color and temperature.
Remove the meat from the pan and set it aside to drain the excess oil. Next, put the steaks in the pan again, without the vegetable this time. Pour in the remaining marinade, add half a cup of water and allow to boil.
Reduce the cooker to low heat and simmer until the meat becomes tender. Make sure you also keep flipping the meats from side to side for them to cook evenly.
Add your onion rings at this point and simmer for another 3 minutes. Your food is ready.
Transfer your steaks to a serving plate together with the onions and sauce, and enjoy a delicious pork steak.
This mouthwatering pork steak recipe is quick to prepare and it delivers a delicious flavor every time. To get the best results make sure you follow all the guidelines provided above. If you'd like to see more recipe ideas, we recommend that you check out this video recipe.