Many are used to steak dishes, from ribeye to filet mignon, and believe they've had it all. But pork steaks offer a juicier and more convenient alternative to an exquisite menu. Sadly, not everyone is familiar with pork steaks, and most who do aren't certain about how long it should be cooked. So, it's excellent news that we've provided the answers to these questions here.
Pork Steaks Nutrition Facts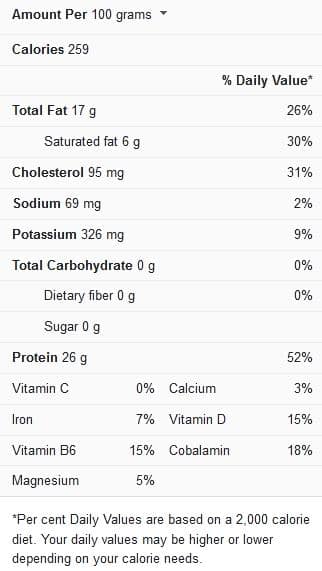 Why Cook Pork Steaks in the Oven?
You may feel that learning about the cooking time for pork steaks in an oven is pointless. But this cooking method is a splendid way to prepare such meat. And here are a few reasons why;
It's Quick: The total cooking time for this juicy pork steak is no more than 30 minutes, making it a quick steak recipe you can use to surprise guests.
It's Easy: The recipe and technique are pretty straightforward, from mixing the marinade to cooking the steaks.
It's Cheap: Not only are pork steaks affordable, but the marinade ingredients are probably items you already have in the pantry. So, you'll get much more with very little effort and resources.
It's Downright Delicious: The combination of flavours blend with the juiciness of the pork steaks to give you a delicious dish at every turn.
Steps for Oven Pork Steaks
Before jumping to the cooking time for pork steaks, let's first touch the basics of how it's made in the oven. Each step is as crucial as the other if you want the best results with these super juicy slabs of tastiness.
 

View this post on Instagram

 

Prepare the Marinade
One exciting thing about pork steaks is their tasty flavour derived from a blend of simple flavours. And the key is a delicious marinade made from commonly known seasonings, spices, and herbs around you. This mix combines the sweetness of honey with the nutty yet somewhat neutral taste of olive oil, and it then infuses the earthiness of dried herbs like oregano and parsley.
A robust aroma and mild sweetness are contributed by minced garlic, followed by the smoky hint of paprika and gentle heat of black pepper. And every flavour is finally housed by the rich nuttiness and umami of soy sauce.
Marinate the Pork Steaks
Boneless pork steaks are the best for oven roasting, and they're mixed in a bowl with the rich marinade. Afterwards, the steaks are left in the marinade for as little as 30 minutes to 24 hours. Note that the longer the steak sits in the marinade, the more flavours its tissues will soak. But if you can afford the wait, we recommend two hours for sufficiently flavoured steaks.
And after the meat has been marinated to satisfaction, you should bring it out at least 15 minutes before you cook so that it can come to room temperature on the countertop.
Cooking Time for Oven Pork Steaks
Following the recommended cooking time for oven pork steaks is essential; otherwise, the meat will overcook and become tough. And one handy way to do it is by deciding which temperature to cook. Most cooks consider 365F a sweet spot, but we love to round up and recommend that you start at 400F. And whichever you choose, the pork steaks should take around 25 to 30 minutes to cook thoroughly.
You want the steaks to cook to final doneness of 145F, and because this pork cut cooks quickly, start checking for the internal temperature from 15 minutes into the cooking time. You'll have to invest in a meat thermometer for this purpose, as it's the most accurate way to decide how far your recipe has cooked. Of course, the issue of overcooking still comes to mind, so take the pork steaks out at five degrees below the final doneness. And when it rests, the carryover heat will cook it to the approved temperature.
 

View this post on Instagram

 

Resting Tips
Meat tissues contract and force moisture to their exterior when it's roasted. And when it's carved too early, the juice runs on the plate, leaving you with tough meat to chew.
It's why you need to rest the pork steaks in a foil tent for at least five minutes before slicing it up for serving, so the juice redistributes back into the tissues.
Print
Oven Pork Steaks (4 Servings)
---
Four boneless pork steaks
Marinade
One-third cup light soy sauce

Two tablespoons

honey

One tablespoon

olive oil
Half tablespoon freshly chopped garlic

One teaspoon

paprika

One teaspoon

dried oregano

One teaspoon

black pepper

One teaspoon

dried parsley

One teaspoon

fennel seeds, crushed
A pinch of salt
---
Instructions
Pour the marinade ingredients into a jar, and give it a thorough shake, to mix. Then, arrange the pork steaks in a large bowl and pour the marinade over it. Mix evenly, so every surface of the steaks is covered in the marinade. Then, seal the container with cling film and keep it in the fridge for 30 minutes to 24 hours.
Take the bowl out at 15 to 30 minutes to cooking time, and let it sit at room temperature. Then, move the pork steaks to a baking dish and arrange them in one layer. Then, pour the marinade over the steak and bake the mixture in a 400F preheated oven for 20 to 25 minutes.
Take the steaks out at 145F, and rest them in a foil tent for five minutes. Then, serve the pork steaks with any desired sauce, side dishes, or toppings.
Find more help in this video.