A burger is an all-American staple; It is super cheap, fitting any budget. The ideal scenario for homemade burgers would be at a barbecue with friends. Still, you could also enjoy burgers at home all by yourself without necessarily having to grill your patties.
Most homemade burgers are made using a grill, but you could also use your incredibly versatile oven to make delicious burgers that compete with one from Mac Donald's.
In this article, I've listed tips and guidelines to get the best homemade burgers; I've also included a timing guideline for cooking burgers at 425°F in the oven
Burger Nutrition Facts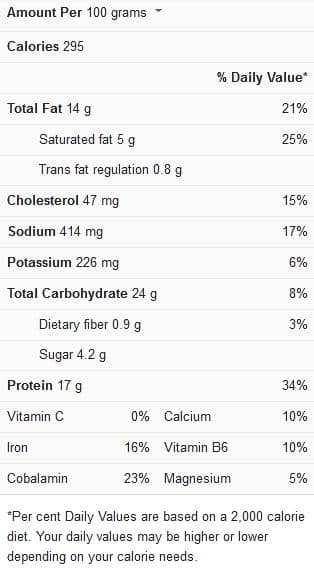 Tips and Guidelines to Get the Perfect Burger with an Oven
Pick high-quality meat – To get a high-quality burger, you need high-quality ingredients, including meat. Going to the butcher shop to pick up beef and having them ground before your eyes would be the best thing to do, but this may take longer, so just like many people, you may opt for the supermarket version. When getting ground meat from the supermarket, look for one with enough information on the pack; you should be able to know the particular beef cut and the fat content. The fattier the meat, the better, and experts recommend one between 80/20 or 70/30.
Add a binder – When you put the patties in the oven, they may break, especially if the meat lacks enough fat content. The best solution for this problem is to add an egg during the meat seasoning to work as a binder; you will not taste the egg in the final product; it just holds the meat together throughout the baking process.
Wrap your baking tray – To make things more convenient, try wrapping your baking pan with foil; this helps you easily eliminate any grease that would spill when you bake the meat. Using aluminum foil also means you don't have to do any cleaning afterward; you grab the foil, fold it in itself and dispose of it easily.
Do not make oversized patties – If you are used to grilling hamburger patties, you will know that the patties become much smaller in size after they are cooked; well, it is different with the oven. The patties remain almost the same as when you first throw them in; if there is shrinkage, it will be very insignificant, so it is best to mold your burger patties into the size you want them to be.
Surround your patties with salt – Beef is greasy when you bake it at a high temperature like 425°F; it releases more liquid and makes your baking pan very greasy. To combat this problem, you should sprinkle some salt on the sides of the patties; you should avoid adding the salt directly on the patties because you have already seasoned the meat. The excess grease means the meat will smoke a lot when you put it in the oven, but it would only smoke a little bit with the salt all around the patties.
Use a small grill – To make things a lot easier, you should place a small grill on your baking tray; this will help ensure that your meat does not sit directly on the salt you've sprinkled on the baking sheet. It is essential to keep the salt off the meat because salt draws moisture from the meat resulting in a chewy beef that feels similar to sausage.
View this post on Instagram

Cooking Time for Burgers in the Oven at 425°F
Below is a table illustrating how long it would take to properly cook burgers in an oven when the temperature is set to 425°F. Make sure you follow this table to get the best results when baking burgers with an oven.
Cooking Method
Cooking Time
Cooking burgers in an oven at 425°F
15 to 17 minutes
Print
Quick Oven Baked Hamburgers (1 serving)
---
---
Instructions
I normally preheat the to about 350, but for this particular recipe, you can preheat to about 425
Take out your ground beef and completely drain out the blood if it has any.
Next, you want to start seasoning your ground beef, use about one tablespoon of seasoned salt, one tablespoon of minced onions, and half tablespoons of meat tenderizer.
Knead your meat to mix all the seasonings you just added properly. If you do not want to touch the meat with your hand, you should get a glove.
Wrap your baking tray with aluminum foil to make your clean-up process quicker and easier.
Start working your seasoned meat into patties. Start by shaping them with your hands to get a circular shape, then flatten them out with both hands (you can also place them on your baking tray and flatten with a spoon or another utensil.
Put the baking tray in the oven with the patties on top, bake for about 13 minutes, take it out and place the cheese slice on top; bake for another 2 minutes.
Take out your patties.
Get your burger buns prepared by adding butter and quickly toasting them on a pan over a medium heat cooker; this should take just about 20 to 40 seconds
The way you choose to stack your Burger is all up to you, but I would recommend putting the lettuce at the bottom to avoid the bottom bun becoming too soggy.
This quick and simple cheeseburger recipe works like a charm every time, and it doesn't matter whether you make it on a grill or in an oven; one thing is for sure- it will always come out tasting great. If you'd like to see more recipe ideas, we recommend checking out this video recipe.