Delicate and deeply seasoned pinto beans are always a fantastic meal option, and it's even better when you can transform dry beans into ready-to-eat beans in under an hour. These are one of the wonders of an instant pot, and there are many advantages to be had from cooking with dried beans. However, many people are scared of the cooking process.
You shouldn't be one of them though if you're reading this. We'll provide you with all the need-to-knows for cooking pinto beans in an instant pot, as well as helpful tips and timing guidelines for the best results.
Pinto Beans Nutrition Facts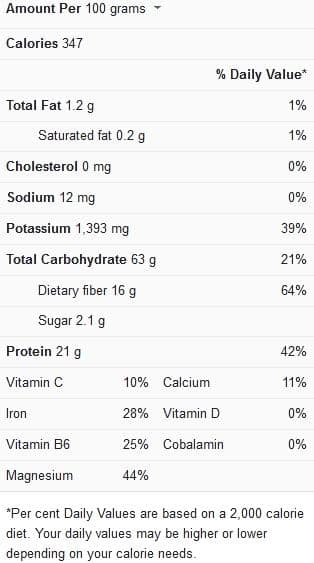 Tips for Cooking Pinto Beans
We've outlined the following tips to help make the cooking process for Instant Pot pinto beans a breeze, and to get delicious results:
Getting the pressure cooker up to pressure – When using the Instant Pot, make sure the vent is closed, select the Manual mode, and then you can set the cooking time. You'll know that the Instant Pot is up to pressure when the time light turns on.
Use the right amount of water – It's vital to keep in mind that dry beans tend to soak up a lot of liquid. When cooking 1 pound of pinto beans, use 6 cups of water. The beans will not absorb the entire 6 cups of water, so you'll have plenty of delicious bean broth to consume alongside the beans. You may also let the beans cool in the cooking liquid for a few minutes so they can absorb even more of the flavorful broth.
To soak or not – Pinto beans generally don't need to be soaked overnight and can be cooked to the point of tenderness in 40 minutes under high pressure.
This doesn't mean you should entirely rule out soaking the beans. They will turn out well, albeit the bean broth won't be as flavorful as it could be. Soaked beans tend to cook far faster than dry beans, taking only 18 minutes at increased pressure. You may choose to use this method when cooking pinto beans together with other ingredients, as the shorter cooking time prevents the entire dish from being overcooked simply to get the beans soft.
You may need more cooking time – Sometimes, your beans may retain some toughness, even after the cooking time has elapsed. In this case, give them a toss, seal the lid of the instant pot, and resume pressure cooking for five minutes extra. When beans are older, they tend to take longer to cook, and if your store's beans have been lying on the shelf for a while, they will most likely require more cooking time.
Simmer for extra thickness – If you have extra time on your hands, you can let the beans simmer for about 20 minutes after the pressure cooking process, so that you get a richer bean juice. Use the Sauté mode on your Instant Pot with the low setting, set the timer for 20 minutes, and just leave the lid open to allow the broth to evaporate.
For the beans to get thicker, you could also quickly release the pressure. The quick drop in pressure causes the water to boil, roughing up the beans, freeing up some starch, and thus thickening the liquid in the instant pot.
View this post on Instagram

Cooking Time for Pinto Beans in Instant Pot
Follow the timing guidelines in the table below for the best results with Instant Pot pinto beans recipes:
Sale
Instant Pot Pro 10-in-1 Pressure Cooker, Slow Cooker, Rice/Grain Cooker, Steamer, Sauté, Sous Vide, Yogurt Maker, Sterilizer, and Warmer, Includes App With Over 800 Recipes, Black, 6 Quart
10-IN-1 FUNCTIONALITY: Pressure cook, slow cook, sous vide, sauté pan, rice, sterilizer, yogurt maker, food warmer, cake baker and steamer
THE MOST VERSITILE: The ONLY Multi-Cooker with a Premium Cookware Grade Inner Pot with Stay-Cool Silicone Handles. - Meaning you can take it from your Insta Pot to your stove top!
CONVENIENT FAVORITES: 5 programmable settings for your own special recipes
FAST OR SLOW: Pressure cook to save time and retain more flavor, or slow cook for traditional recipes
SAFETY FEATURES: Overheat Protection, safe locking lid, upgraded gentle steam release switch with diffusing cover to reduce noise and prevent splashing on the counter, and more
| | |
| --- | --- |
| Cooking procedure | Cooking time |
| Cooking soaked pinto beans on high pressure in an instant pot | 15 minutes |
| Cooking unsoaked pinto beans on high pressure in an instant pot | 30 minutes |
Print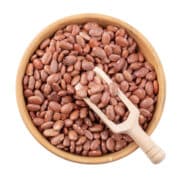 Instant Pot Pinto Beans (12 Servings)
---
1

pound of dry pinto beans

½

small white onion, chopped

4

cloves garlic, minced

1

jalapeño, with seeds and ribs, removed, chopped

1 teaspoon

of chili powder

1 teaspoon

of cumin

¼ teaspoon

of black pepper

4 cups

of water ((

5 cups

of water for unsoaked beans), filtered if possible)

½ teaspoon

of salt (you may add extra, to taste)
---
Instructions
Rinse and pick through the beans to remove any small pebbles or any other form of dirt.
Optionally, you could soak the beans for 8 hours at least, and up to 12 hours at room temperature in a big bowl of water (try to use filtered water if possible). Rinse the soaked beans thoroughly in a colander.
In the Instant Pot, add the pinto beans, either in soaked and drained or unsoaked form, depending on what you decide on. Pour water into the instant pot, stir together with the beans and the remaining ingredients, except the salt.
Adjust the steam release valve to the sealing position and close the Instant Pot lid. By using the Pressure Cook or Manual button on high pressure, set the cook time as follows; 30 minutes for unsoaked beans, or 15 minutes for soaked beans
It will take roughly 10 to 15 minutes for the Instant Pot to reach pressure, after which the cooking time will begin to count down. Allow the pressure to naturally release for at least 15 minutes after the cook time has ended by letting the Instant Pot stay undisturbed.
Then, to ensure that all of the pressure has been released, move the steam release valve to the venting position. Open the lid of the Instant Pot carefully once the pin has dropped. Toss the beans and season with salt to taste.
After the beans have cooled, they can be kept in an airtight container for up to 4 days in the refrigerator or 3 months in the freezer.
Recipe Notes
You can skip the fresh onion, garlic, and jalapeno if you're short on time. In addition to the other flavors, you can also add ½ teaspoon of garlic powder.
The amount of water for unsoaked beans can be increased from 4 to 5 cups. This ensures that the beans are cooked more uniformly.
This instant pot pinto beans recipe takes a total duration of 1 hour to cook, including a prep time of 10 minutes and a cook time of 25 minutes. For more recipe ideas for instant pot pinto beans, check out this video recipe.
Last update on 2022-12-04 / Affiliate links / Images from Amazon Product Advertising API