Dried pinto beans are a pantry staple for many people, and for a good reason too. They're not only inexpensive and accessible, but they're also simple to prepare, nutritious, full, and so very adaptable. Cooked pinto beans can be eaten on their own, incorporated as a side dish, or added to soups, stews, chilis, and quick dinners such as burritos and tostadas.
Don't worry if you've never cooked dried pinto beans before. This article will lecture you on everything you need to know about the cooking process, and you'll never have to buy canned beans ever again!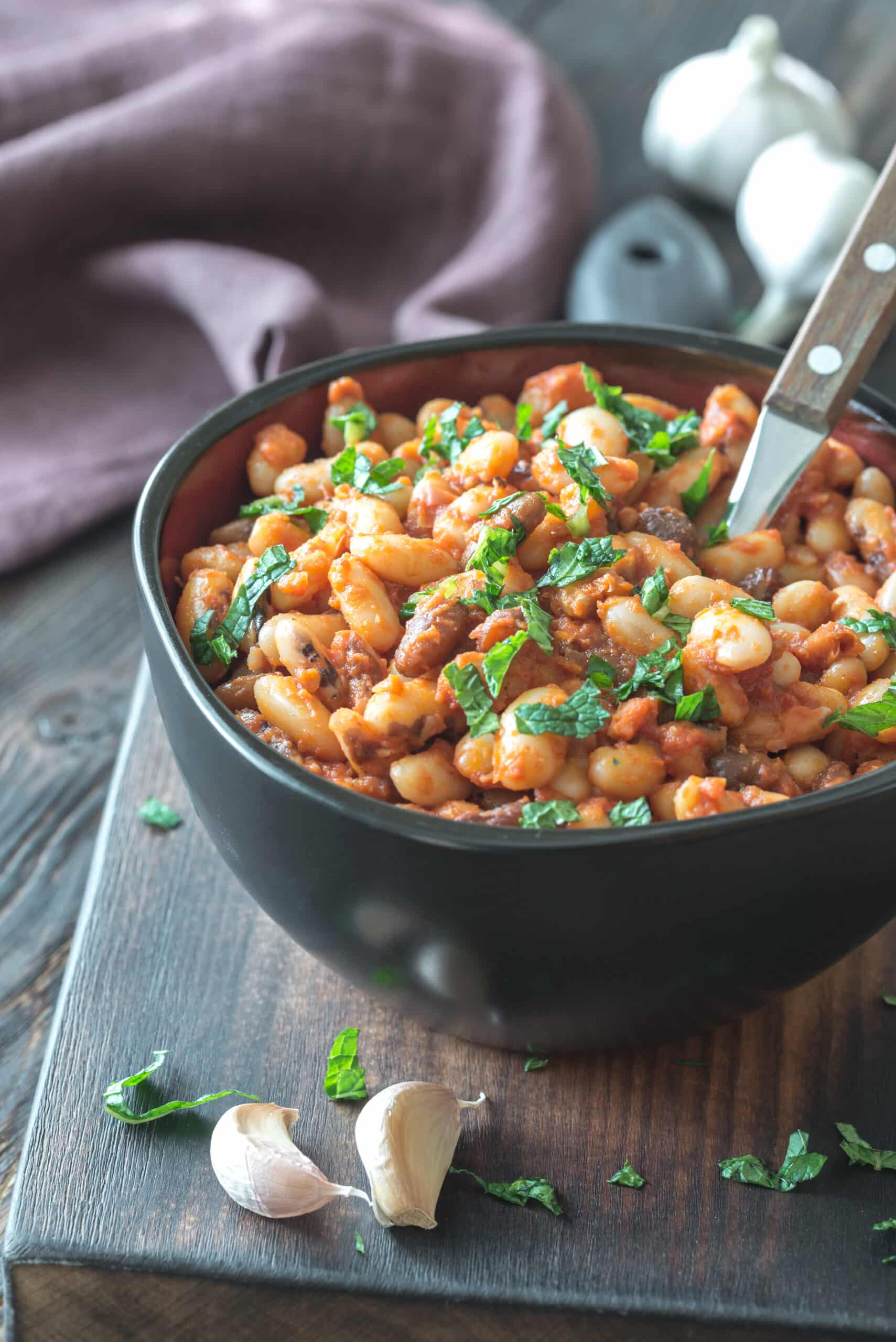 Pinto Beans Nutrition Facts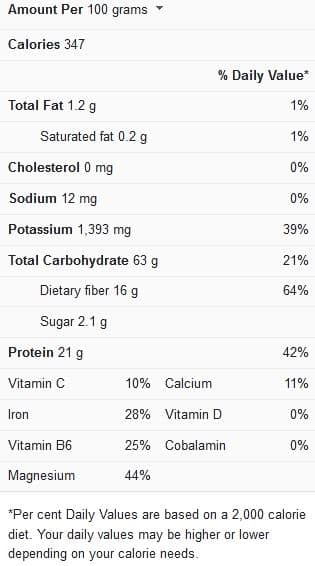 Tips for Cooking Pinto Beans
The tips and recommendations we've outlined below are great to work with when cooking pinto bean recipes. Pay attention to the following:
Freshness determines cooking time – The length of time it takes to cook pinto beans is determined by the beans' freshness and how long they have been soaked. Beans that are past their prime may take longer to soften and simmer. Additionally, your beans will typically cook faster the longer they have been soaked.
Ideal soaking duration – Soaking dry pinto beans for 6-8 hours has proven the most effective method. The longer you let them absorb the soaking liquid, the softer they will become, and there's a higher chance that they will break into pieces while cooking.
If it turns out that you can't start using your soaked pinto beans immediately, drain, cover, and keep them cold, most likely in the fridge until you're ready to use them.
Some people have reported success with a rapid soaking procedure when they haven't planned for soaking ahead of time.
If you'd like to quickly soak pinto beans, place them in a pot with enough water to cover them, boil the water, then remove from heat, cover, and let sit for 1 hour before draining. Afterward, follow the cooking instructions. It is pertinent to keep in mind that pinto beans cooked in this manner may cook much faster.
Seasoning ideas for pinto beans – While seasonings aren't required, you'll find that they can elevate pinto beans from being a side dish to one that can stand on its own. You can use whatever flavor combination you choose.
Many classic Mexican pinto bean recipes call for bacon or ham hocks. Still, you can make a plant-based version using vegetable broth, garlic, onion, and diced tomatoes in an adobo sauce with green chilies, chili powder, cumin, and chipotle peppers.
Storage tips – You may prepare up to 5 cups of pinto beans at a time and use them in your cooking throughout the week for quick and easy dinners. Alternatively, you can freeze leftovers in freezer-safe bags or jars for future meals.
View this post on Instagram

Cooking Time for Pinto Beans
Follow the timing guidelines in the table below when cooking pinto bean recipes:
Cooking procedure
Time taken
Soaking pinto beans
6 hours or overnight
Cooking pinto beans on low to medium-low heat
40 to 50 minutes
Print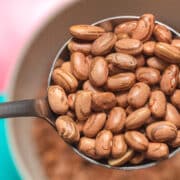 Easy One-Pot Pinto Beans (10 Servings)
---
1

pound of pinto beans (soak these overnight in cool water, you may shor

ten

the soak time but for at least

6

hours)

1 tablespoon

of olive oil

½

medium white onion, diced

3

large cloves of garlic, minced (3 cloves yield ~

1½ tablespoon

)

1

pinch of sea salt

1

pinch of black pepper (add extra for added taste)

1

cube of quality vegetable bouillon, or

1 cup

or 240 ml of vegetable broth per bouillon cube

1

chipotle pepper in adobo sauce, minced (add

1 teaspoon

extra of adobo sauce, add more if necessary)

½ cup

of diced tomatoes and green chilies

1 tablespoon

of ground cumin

1 tablespoon

of chili powder

¼ teaspoon

of ground cinnamon (optional)
---
Instructions
Cover pinto beans with cool water in a big pot (let the water be a few inches above the beans as they will inevitably expand). Soak the beans at room temperature for at least 6 hours or overnight. Don't cover.
Drain and set aside the soaked beans.
Over medium heat, heat your large pot. When the pan is heated, pour in the olive oil, then add the diced onion, and garlic, and season with a good pinch of sea salt and black pepper (amount as specified in this recipe, you may modify if your batch size changes). Sauté this mixture for 3-4 minutes, or until onion becomes tender and transparent, stirring to coat.
After that, pour in the drained beans followed by the bouillon cube. Afterwards, cover with water approximately 2 inches above the beans, remember that the beans will expand during the cooking process. If you're replacing a bouillon cube with veggie broth, add the vegetable broth first, then the water to avoid adding too much liquid.
Stir in the chipotle pepper and diced tomatoes, then bring the mixture to a low boil. Reduce heat to a low or medium-low level and cook for 40-50 minutes. Cook until beans are cooked (use the duration specified in this recipe or modify according to any changes in your batch size).
Add the remaining seasonings once the beans are soft and cooked through (this is an optional step, skip if you please). Stir the mixture to combine the flavors and continue to simmer on low for another 10 minutes to allow the flavors to mingle.
Season with extra salt to taste, add cumin for smokiness, chili for flavor depth, cinnamon for heat, or adobo sauce (and minced adobo peppers) for spice if desired.
Now it's time to eat your beans! Burrito bowls, burritos, tacos, nachos, taco salads and vegetarian burgers are just some examples of recipes that can benefit from the addition of cooked pinto beans. You could also use them in a chili recipe.
Cooked pinto beans can be stored in the refrigerator for up to 5 days if properly covered. It should also last a month in the freezer (oftentimes longer).
This recipe for pinto beans takes a total of 7 hours and 15 minutes to cook, with a cook time of 1 hour and a prep time of 6 hours and 15 minutes. If you want more ideas on how to cook pinto beans, you may check this video recipe.