Many ingredients have as much to offer as beans, even their humblest form. Pinto beans, particularly, are appealing because of their creamy texture, mild flavor, and the fact that they're commonly available and inexpensive. When pinto beans are cooked in the crockpot, they become the foundation for many recipes, including soups, salads, and rice, among many others.
If you don't know how to cook pinto beans using a crockpot, don't fret. Here, you'll learn all the important stuff, as well as a few "life-changing" tips to set you in the right direction for the best results
Pinto Beans Nutrition Facts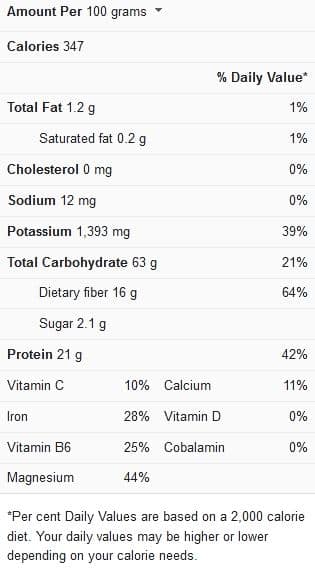 Tips for Cooking Pinto Beans in Crock Pot
These tips highlighted below are just what you need to get your crockpot pinto beans recipes the perfect way they should be:
Different ways to soak pinto beans before cooking – Pinto beans that have been soaked before cooking appear to have a better texture and taste. Your mileage may vary, however, with soaking. You can choose to do a quick soak, overnight, or straight-up rinse (more on these options below).
The Overnight Soak: Rinse your dry pinto beans and lay them in a big dish to soak overnight. Fill the beans halfway with water (2-3 inches of water above the top of the beans). If desired, a pinch of kosher salt can be added. Soak for 6 to 12 hours, then rinse and cook.
The Quick Soak: Rinse your pinto beans and throw them in a saucepan on the burner to soak quickly. Bring to a boil, covered with water. Then turn off the heat and let your beans soak for about an hour and a half in hot water. Cook after a second rinse.
The No Soak: Cooking your beans does not necessitate soaking, and you may immediately rinse and cook. To reach doneness, they usually require a longer cooking time if you choose to cook them this way. Also, in the past, it has been discovered that beans that have not been soaked have a little coarse texture (so, choose wisely!)
Pinto beans replacement options – Pinto beans are ideal for slow cooker recipes. Therefore, they come highly recommended. However, if you're in a pinch, you might use other beans with comparable features.
Borlotti beans (also known as cranberry beans or Roman beans) resemble pinto beans. These beans are mostly used in Mediterranean cuisine and are excellent in soups and stews.
Red kidney beans are a good substitute for pinto beans since they have a comparable inner texture. A word of caution, though: the skin on kidney beans is tougher than the skin on pinto beans, which could affect the dish's overall texture.
Anasazi beans (also known as Aztec beans) are related to pinto beans and are used in various Latin American recipes. Although this ancient bean is a good substitute for pinto beans, keep in mind that it cooks significantly faster.
Cooking Time for Pinto Beans
Cooking pinto beans in a crockpot produces desirable results when you follow the timing guidelines in the table below:
| | |
| --- | --- |
| Cooking temperature | Cooking time |
| For a 3.5 quart slow cooker on a low setting | 6 to 7 hours |
| For a 3.5 quart slow cooker on a high setting | 3.5 to 4 hours |
Print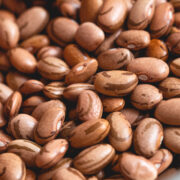 Crock Pot Pinto Beans Recipe (6 Servings)
---
1

pound of dry pinto beans, i.e 2 cups

2 teaspoons

of extra-virgin olive oil

1

small yellow onion chopped into

¼

-inch dice

1

jalapeno cored, seeded, and finely chopped

1 ½ teaspoon

of kosher salt divided

3

cloves of garlic minced (about

1 tablespoon

)

2

bay leaves

1 teaspoon

of ground cumin

1 teaspoon

of dried oregano

⅛

to

¼

teaspoon of cayenne pepper (optional)

3 cups

of water

4 cups

of low-sodium chicken broth or vegetable broth; divided
---
Instructions
In a large colander, drain the pinto beans. Rinse them thoroughly. Pick through the beans, discarding any that are damaged or visibly deformed. Fill a 6-quart or larger slow cooker halfway with rinsed beans.
In a medium nonstick skillet, heat the oil over medium-high heat. Add the onion, jalapeno, and 1/2 teaspoon salt to the heated oil. Sauté for 2 minutes, then add the garlic and cook for 30 seconds, or until fragrant. Toss everything into the slow cooker. Add the bay leaves, cumin, oregano, cayenne, and the remaining teaspoon of salt to the sautéed vegetables. Over the top, pour the broth and water.
Cook for 8 to 10 hours on HIGH, until the beans are cooked. Because every slow cooker is different and heats things differently if yours tends to overheat, check it earlier. There may be some liquid left in the slow cooker depending on the model. Remove the bay leaves and toss them out.
For regular (not refried) pinto beans:
Drain the liquid if desired, or leave it in the crockpot and serve the beans with it, or serve with a slotted spoon and drain the beans before storing. Season to taste and adjust seasonings as needed.
For refried beans:
Set aside 1 cup of the cooking liquid, drain the beans, and return them to the slow cooker (you may use ordinary water if your slow cooker doesn't have that much liquid). Mash the beans with a potato masher or pastry cutter until they achieve the consistency you want, adding some of the reserved liquid as needed. (Alternatively, you can scoop the beans into a blender in batches and puree them that way—just let them cool a little first so they don't splatter.) Season to taste and adjust seasonings as needed.
Serve with any toppings of your choice, and enjoy your meal.
Notes
Recipe notes:
Refrigerate or store leftover beans for up to 3 months.
For simple servings, allow the beans to cool completely before portioning them into zip-top freezer bags with the date written on them. Squish the beans so that the bag lays flat and seal the bags, expelling as much air as possible. Freeze them flat and then take them out as needed. Allow the beans to thaw overnight in the refrigerator, then reheat gently on the stove, thinned out with a splash of water or broth as needed.
The cooking duration for this entire recipe is 8 hours and 10 minutes, with a prep time of 10 minutes and a cook time of 8 hours. If you'd like more ideas on how to cook pinto beans using a slow cooker, then ensure to look through this video recipe.