I usually get regular size pork chops and say to myself, "they are so tender," but when I asked my butcher for a thick pork chop, I was amazed by what I got. This is already a good piece of meat, so it may not require so much skill to get it to taste delicious.
There are many ways to prepare pork chops, and my favorite is in a pan; however, cooking them in an oven isn't as difficult as some think.
I've listed some tips that would help you cook the best pork chops ever in this article. I've also included a quick pork chop recipe if you need something to get you inspired.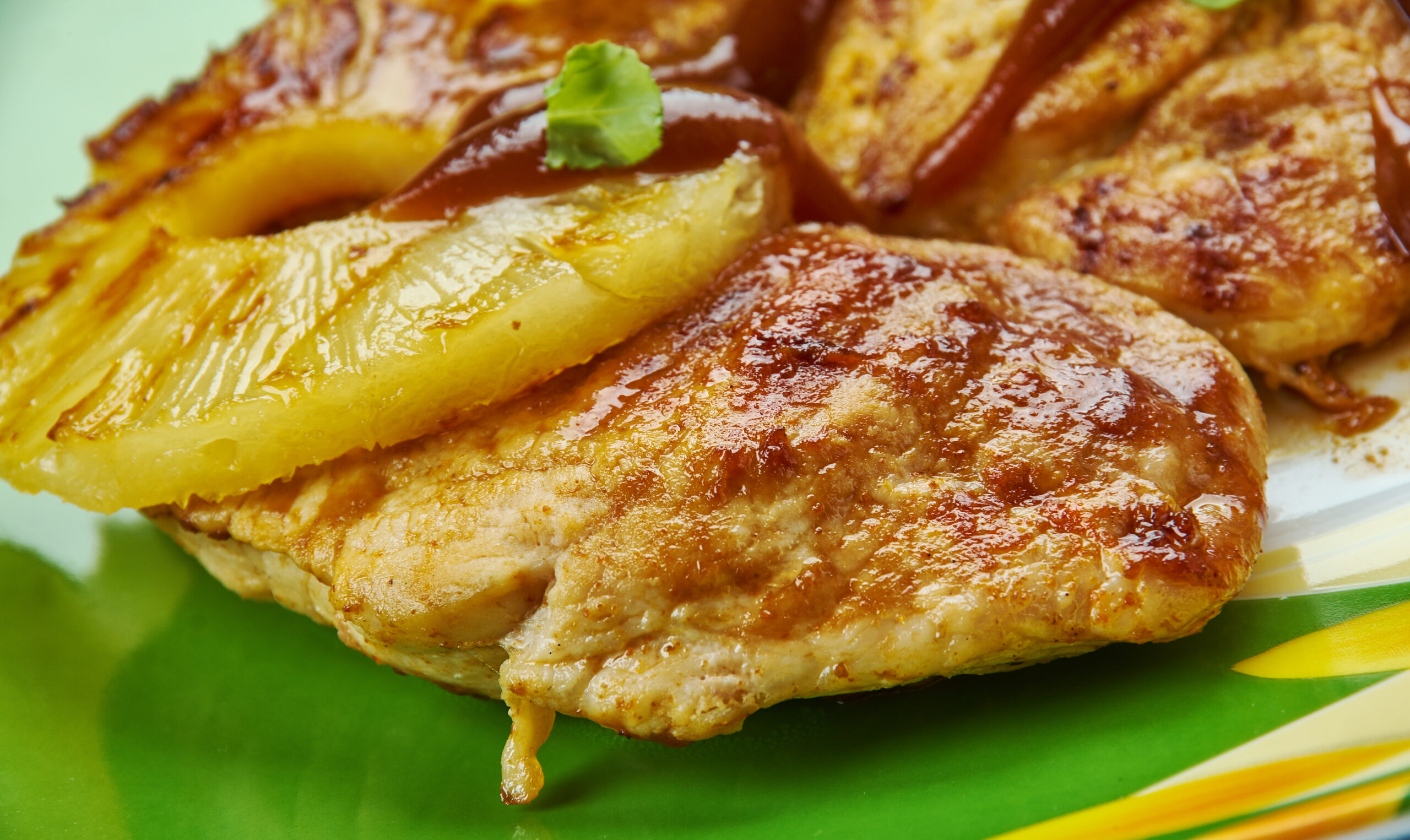 Pork Chops Nutrition Facts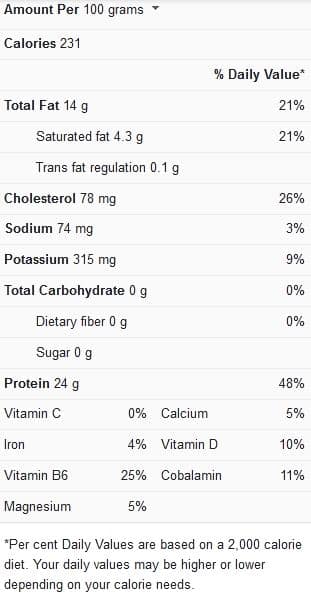 Tips to Cook Thick Pork Chops
The following tips and guidelines would help you get amazing results every time you cook thick pork chops:
Pick the right cut – the first step to successful pork chops is picking the right meat. It would help if you avoided lean cuts, get those cuts with a lot of fat contents because they retain a lot of moisture when cooked, and get a juicier pork chop. Getting a pork chop with the bone still in it is good.
Brine your chops- the secret to tender, juicy pork chops is to brine your pork chops. A simple salt–sugar solution would go a long way to impact some flavors and make the meat juicier. You can add more complexity with some different spices, but it is optional.
Temper your meat – tempering your meat means bringing your pork chops to room temperature at a particular time before you cook them. Tempering pork chops help them cook evenly. For thick pork chops, it is ideal to leave them out at room temperature for about 40 to 45 minutes.
Dry out your pork chops – pay attention to them as they may not be completely dry after you temper them. A sweaty pork chop means your meat would not sear properly, which would affect the color and flavor of the meat. Pat your pork chops dry with a paper towel; make sure you pat every side of the chops to avoid leaving moisture behind.
Score the fat – to score the fat on your pork chops, you get a knife and cut through the fat on the edges of your pork chop. Make small cuts all around the meat at 1-inch intervals. Doing this will prevent the meat from curling up when you cook.
Season pork chops generously – seasoning is important in cooking pork; it takes a good amount of salt to properly season pork. Before seasoning the pork chops, apply some olive oil on both sides of the pork for adherence. Also, season with a decent amount of fresh ground black pepper, pat that in, and allow the meat to sit for a couple of minutes to embrace the seasonings fully.
Choose the right pan – just before you throw your pork chops in the oven, you have to sear them for a couple of minutes. You need an oven-safe pan; you should steer clear of any cheap or light pan and get a high-quality pan; I would recommend getting a cast iron grill pan.
Preheat your oven – to make your cooking time even shorter; it is important to preheat the oven while you sear your pork chops. Preheat your oven to 400°F.
View this post on Instagram
Cooking Time for Thick Pork Chops
Cooking Procedure
Cooking Time
Tempering thick pork chops
40 – 50 minutes
Searing thick pork chops
2 minutes (per side)
Cooking pork chops at 400°
5 minutes (per half an inch)
Print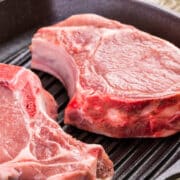 Thick pork chops with fried zucchini (2 servings)
---
1½

inch pork chops (

2

pieces)
Salt
Black pepper
Olive oil
One zucchini
Two eggs

1 cup

flour
Ranch dipping sauce
---
Instructions
Place your pork chops on a flat surface and season with salt and ground black pepper; add garlic powder and some Italian seasoning. Pat or rub the seasoning into the pork chops, flip it over, and repeat the same process on the other side.
Turn on your oven and preheat to about 350°. Also, heat your pan on medium heat.
Drizzle one tablespoon of olive oil onto your pan and move the oils around to cover the pan's surface completely.
It usually takes 2 minutes to sear pork chops, but you need to sear for 5 minutes on each side because of the olive oil. Sear until the pork chops stop sticking to the pan.
Please turn off the heat and move your pan into the oven (it helps to use a fully metallic pan).
Cook the pork chops in the oven for about 20 to 25 minutes
While the pork chops cook in the oven, slice the zucchini into bite-size pieces.
Get three large pans or plates ready. In the first pan, whisk two eggs; in another pan, mix some flour, seasoned salt, and garlic powder, and in the last pan, combine parmesan cheese with panko breadcrumbs.
Next, coat the zucchini by dipping both sides in the egg wash, removing from the eggwash, and shaking off excess egg. Coat both sides with the flour mixture, also shake off excess flour. Dip both sides in the egg wash once more and coat with breadcrumbs this time.
Get a medium pan, and heat 1 and 1/2 cups of vegetable oil on medium heat. Deep fry the coated zucchini until golden brown.
Remove the pork chops from the oven when the internal temperature hits 145°F and transfer them to a serving dish.
Pour some ranch dipping sauce to accompany your fried zucchini and pork chops.

This delicious pork chop recipe is pretty quick and easy to prepare, and it always blows my socks away each time. Check out this video recipe if you would love to see more recipe ideas.