OK, so ask Google how to cook thin pork chops in the oven — or how LONG to cook thin pork chops in the oven and you're likely to get the wrong answer. It seems there's a bunch of people out in the world cooking their thin pork chops for 20 minutes. And you know what? That produces a terribly dry, tough, 1/2-inch pork chop.
For me, this is a Jerry Seinfeld moment…who are these people??! (I'm looking at you, Livestrong.)
Here's the short answer. If you have a thin bone-in pork chop, sear it in a pan for about 1 minute per side. Then bake it in the oven, ideally with a sauce, for 10 minutes at 375. If you have a thin boneless pork chop, skip the searing and follow the same cook time but check the meat's temperature early. That's your answer.
Read on for a thin pork chop recipe plus a few more tips preparing this cut of meat to be tender and delicious (vs. dry and chewy).
Why thin pork chops?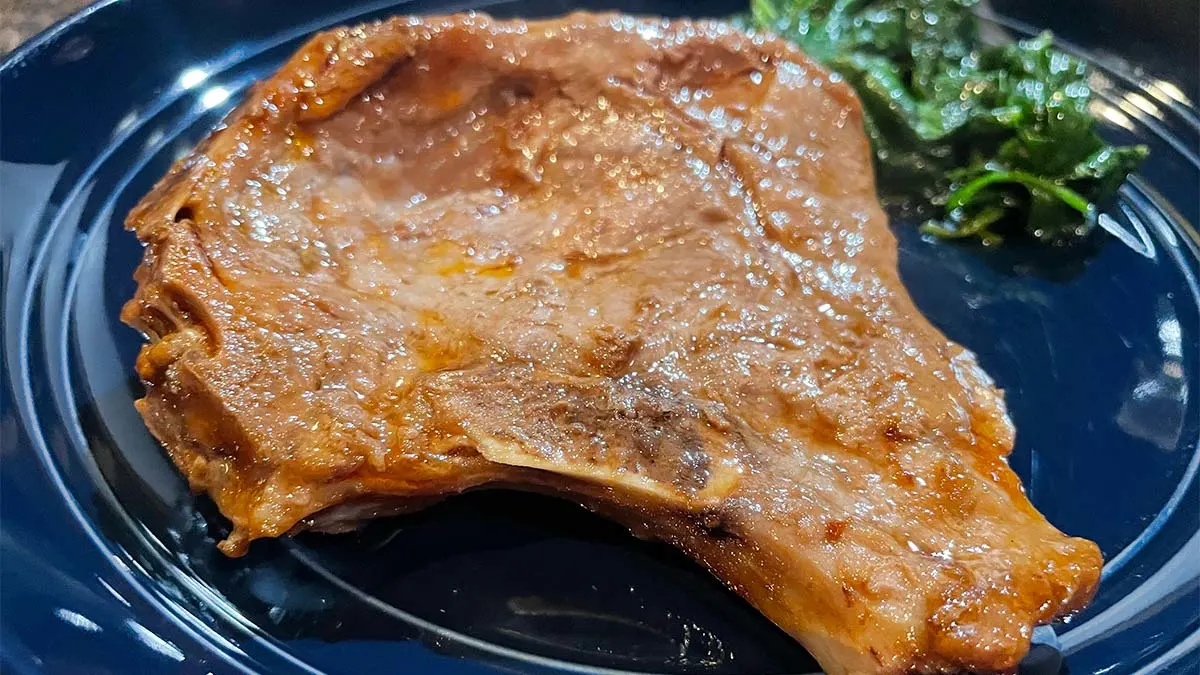 Thin pork chops are cheap. That's why I had some in my freezer and it may be why you're planning on preparing them tonight.
Thin pork chops are also easy to prepare as long as you avoid one fatal flaw. You cannot overcook them. Cook these little guys too long and they lose flavor and texture.
Tips for cooking thin pork chops in the oven
Follow these guidelines for thin pork chops your family and/or friends will devour. And so we're on the same page, a thin pork chop is about 1/2-inch thick.
Choose the right cut
Bone-in pork chops have more flavor. And since we're talking specifically about thin pork chops, a bone-in cut will be easier to prepare without overcooking.
You can bake thin boneless pork chops, but you'll have to be on guard with a meat thermometer. These cook very quickly — so quickly that they might be done with a quick sear.
Pat your pork chops dry and season
Remove your pork chops from the package and pat them dry. Season both sides with salt and pepper, according to your preferences.
Preheat your oven to 375F. Optionally, line a baking dish with foil.
Sear bone-in pork chops
Heat up 2 teaspoons of olive oil in a pan on medium-high heat. Wait until the pan and oil are hot, then drop your pork chops in and sear them quickly. I do this for a minute on each side. Your goal is to seal in juices without actually cooking the meat.
Make a quick glaze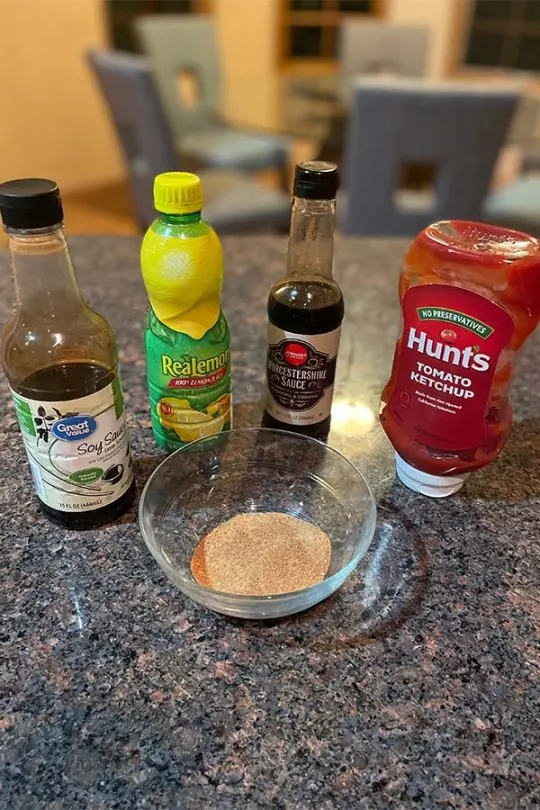 A quick glaze of soy sauce, brown sugar, Worcestershire sauce, and ketchup adds flavor and moisture to your chops. See the recipe card below for exact proportions.
After the searing step, you could dump the glaze over the chops, turn them once, then put your oven-proof skillet straight into the oven.
I prefer to line a separate baking dish with foil for easier clean up. If you go that route, move your chops into the baking dish and cover them with the glaze. Turn each chop so it's coated on both sides.
At this point, you might want to use an instant-read thermometer to check the meat's temperature. Your target temperature is 145F. If searing raised your meat's temperature to 125F, then plan on checking the temperature again in 5 or 6 minutes.
Bake, then rest your thin pork chops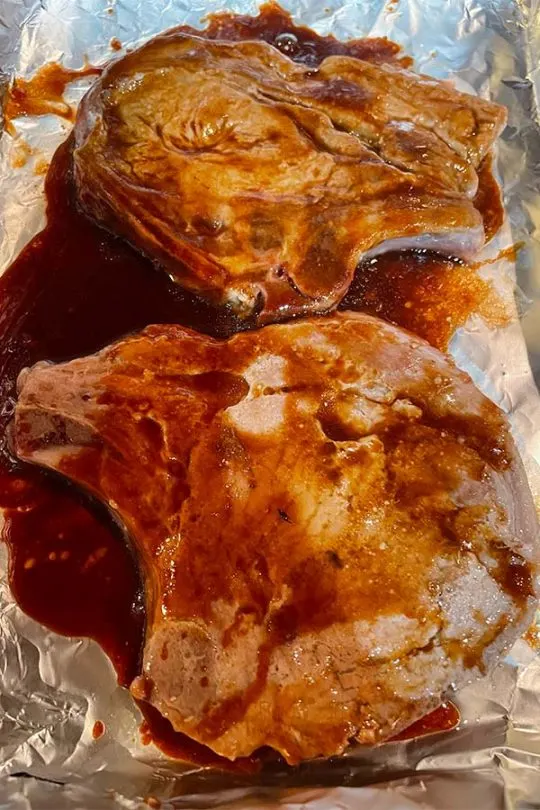 Now, pop the baking dish in the preheated oven. Use a thermometer to check the temperature. Once the thermometer reads 145F in the thickest part of the meat, remove the chops from the oven. Let them rest 5 minutes and serve.
Glaze alternatives
If you don't like the glaze idea, there are other seasoning options. You could use a spice rub, a breadcrumb coating, or a dried herb mix instead.
Spice rub for thin pork chops
Here's a recipe for a quick, spicy pork rub:
Mix the ingredients and coat the pork with the rub before you sear it.
Breadcrumb coating for thin pork chops
The secret to a good breaded pork chop is Parmesan cheese. Using cheese in your breadcrumb coating adds fat and flavor.
Mix seasoned breadcrumbs and finely grated Parmesan in equal portions. Brush olive oil on your chops, then press each into the breadcrumb mixture on both sides. Also brush oil on the foil in your baking dish.
Sear one side of your chops, then place them in the baking dish with the seared side up. The bottom side will crisp up as the chops bake.
Dried herbs mix for thin pork chops
If you are stocked up on dried herbs, try this herb seasoning mix:
Brush both sides of thinly cut pork chops with olive oil. Then sprinkle the herb seasoning on both sides of your chops. Press gently to adhere. Sear and bake as described above.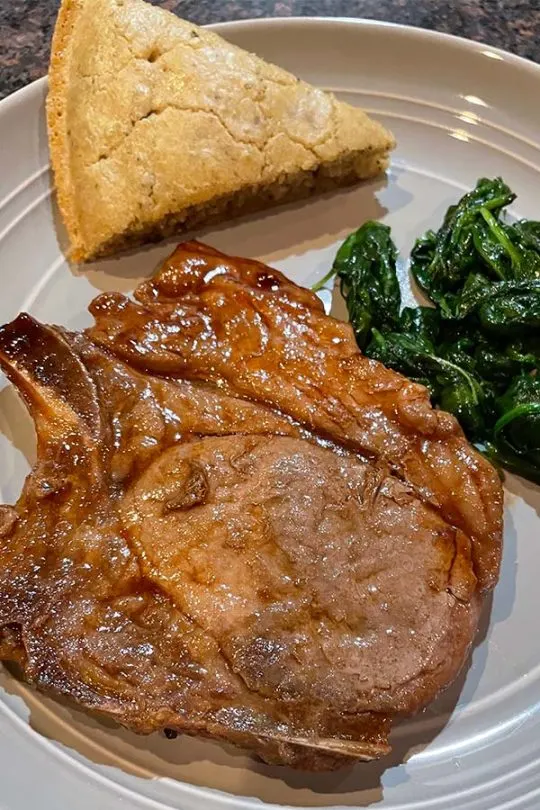 Yield: 4 services
Brown Sugar Glazed Baked Thin Pork Chops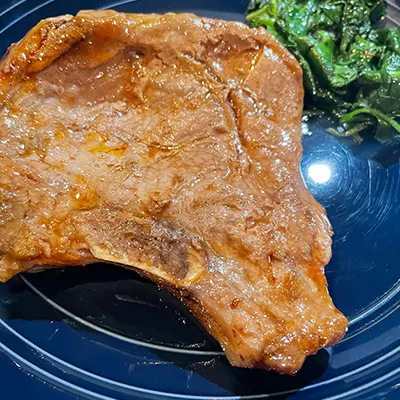 Ingredients
4 bone-in pork chops (1/2-inch thick)
1 tablespoon soy sauce
2 tablespoons vegetable oil
1 tablespoon Worcestershire sauce
1 teaspoon lemon juice
2 tablespoons brown sugar
2 tablespoons ketchup
Instructions
Preheat oven to 375F or 190C. Line a baking dish with foil.
Pat your pork chops dry. Season both sides with salt and pepper.
Mix soy sauce, vegetable oil, Worcestershire sauce, lemon juice, brown sugar, and ketchup in a small bowl.
Heat 2 teaspooons of olive oil in a saute pan over medium-high heat.
Sear each pork chop for 1 minute per side.
Place seared chops into your prepared baking dish. Top with sauce. Turn pork chops once so they're coated on both sides.
Bake in oven for 10 minutes or until internal temperature reaches 145F.
Rest for 5 minutes, then serve.
Nutrition Information:
Yield:
4
Serving Size:
1
Amount Per Serving:
Calories:

423
Total Fat:

24g
Saturated Fat:

6g
Trans Fat:

0g
Unsaturated Fat:

15g
Cholesterol:

132mg
Sodium:

422mg
Carbohydrates:

9g
Fiber:

0g
Sugar:

8g
Protein:

41g
Nutrition information isn't always accurate.