While fresh sausage can be prepared in various ways, if you have never had oven-baked sausage before, it is time to get to know this simple cooking technique that emphasizes the extras that will accompany your sausage.
Sausages are a popular and delectable meat delight, but they're also susceptible to spoilage. It'sIt's simple to overcook the skin while leaving the interior undercooked because they're usually pretty thick. The best technique to cook sausage is to get a crisp, crunchy skin on the outside and a juicy, delicious – and well done – interior.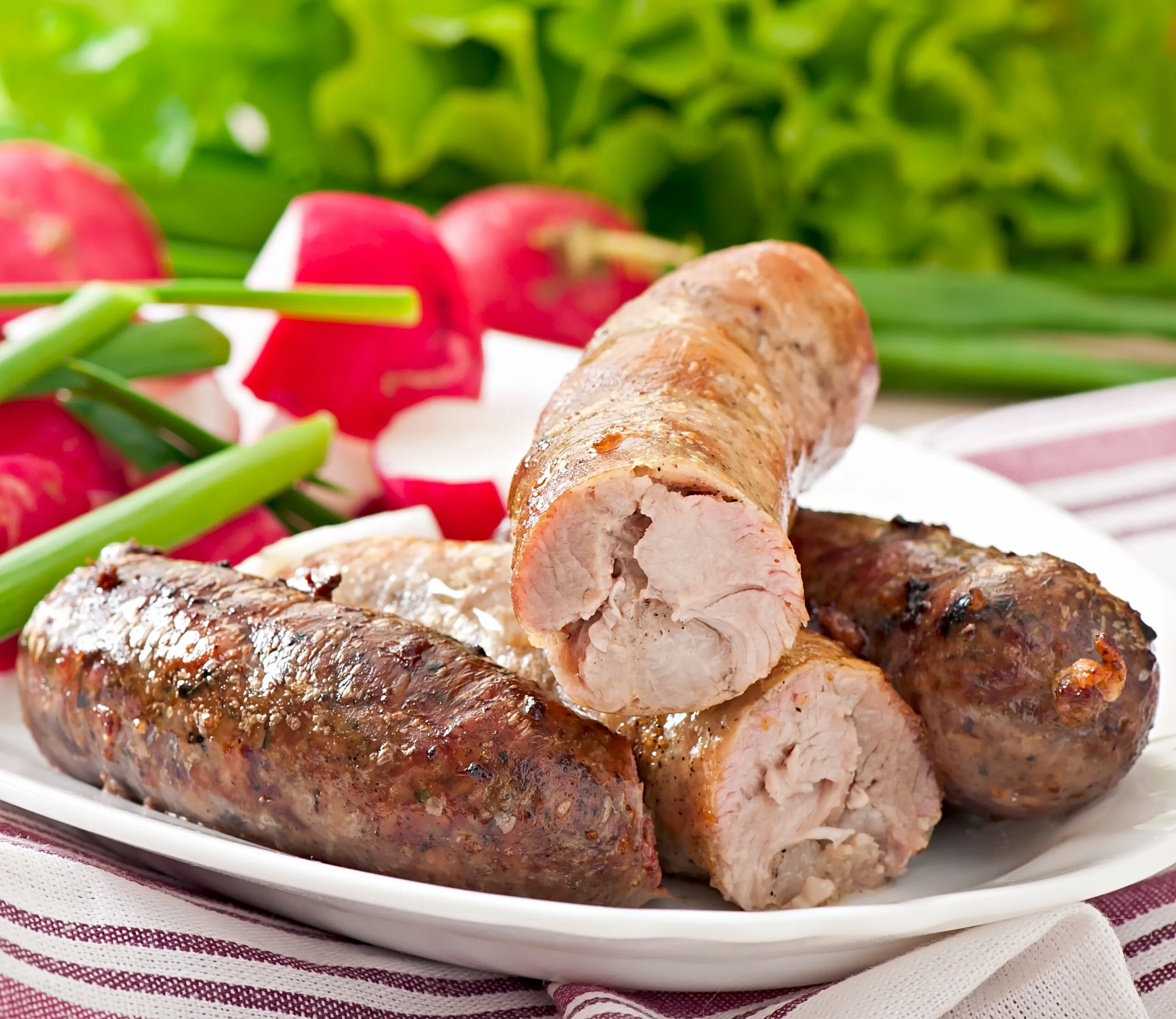 Sausage Nutrition Facts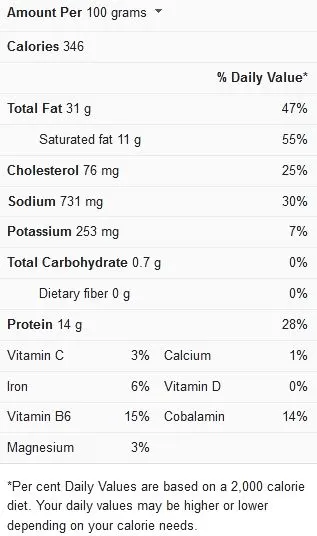 Why Cook Sausage in Oven
For get-togethers, baked sausage is a great option. It is one thing to prepare meals for your own family but preparing what you'll make and how you will prepare it becomes even more important when you have to feed a lot.
Baking is a terrific way to get crispy sausages, especially if you're making a large batch.
The upside of cooking sausages in the oven is that there's less risk of them burning, and you don't have to turn them as often as you would while frying them. Most of the work is done by the oven.
Baking – and boiling – are the healthiest cooking methods since they use little to no oil and produce fewer toxic chemicals. Deep frying is the least nutritious method because of its high fat and calorie content.
You can free up your stovetop by cooking the sausage in the oven for other tasks.
You have upscaled temperature control in the oven, especially if you use an oven thermometer and a meat thermometer.
Tips for Cooking Sausage in Oven at 450
If your sausages are drying out too quickly in the oven, try boiling them beforehand. This will keep them juicy on the inside after they've been cooked.
Make sure your sausages are fully cooked throughout, with no pink meat. Undercooked sausage is a common occurrence – this not only changes the flavor of the food but also increases your risk of food poisoning because raw meats can contain deadly viruses, bacteria, and parasites.
Even if the surface of the sausage is crispy, the inside may still be uncooked. A meat thermometer can be used to check the internal temperature to see if it's done. A 155–165°F (68–74°C) temperature shows the sausages are ready.
Check the sausage at 3/4 of the required cooking time when using a convection oven and follow the same temperature requirements as a common traditional oven.
If you cook or bake your meat at the same temperature as you would in a conventional oven, it will finish cooking up faster and take less time.
Reduce the temperature by 25 degrees Fahrenheit if you're using a convection oven.
A fan placed within a convection oven circulates the heated air, cooking faster and more evenly. To take advantage of the airflow, place the pan on the center rack in the oven.
If you are using patties, make sure they're dimpled. While cooking, make careful to flip or rotate the pan every 10 minutes.
The only thing that matters is that the interior temperature is at least 165 degrees. However, larger sausages, such as bratwurst, will take longer to cook.
To achieve the desired browning, a few minutes under the broiler may be required at the end.
View this post on Instagram

How to Cook Sausage in Oven at 450
This delectable oven-baked sausage is the simplest dinner you will ever make. Follow through with this step-by-step recipe and make a fabulous dinner.
You can commence this recipe by preheating the oven to 450 degrees Fahrenheit.
Place the sausage rings on a baking sheet and sprinkle extra-virgin olive oil over them generously.
Place in a high oven and bake for 15 to 20 minutes, or until the casings are crisp and the juices run clear.
Remove the sausages from the oven and turn on the broiler.
While the sausages are roasting, heat three tablespoons of extra-virgin olive oil and sliced garlic in a skillet over medium heat.
Increase the heat to high and cook for 5 to 6 minutes, or until the veggies are soft, but the peppers still have a bright color.
Reduce the thinned tomato sauce, salt, and pepper.
Reduce the heat to low and keep the vegetables warm until the sausage comes out of the oven, about 2 minutes.
Remove the split bread from the oven and massage with cracked garlic.
Drizzle generously with extra-virgin olive oil before topping with cheese and plenty of black pepper.
Return to the broiler for 1 minute to brown the cheese. Sprinkle parsley on top of the bread.
Bread should be cut into slices and piled with peppers, onions, and sausages. As you move through the sausage, peppers, and onions, the bread will absorb liquids.
Cooking Time
Prep Time
15 minutes
Cook Time
30 minutes
Total Time
45 minutes
Print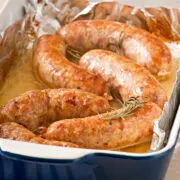 Oven ""Fried"" Sausages
---
---
Instructions
Preheat the oven to 450 degrees Fahrenheit (any temperature between 350° F and 425°F – with or without convection – should work, but you will need to alter the duration and may require a few minutes under the broiler at the end to brown it up).
If you are making sausage patties, make a 14-inch deep dimple in the center of the patty and a 34-inch diameter dimple – this will prevent the meat from ballooning up while cooking.
Using a rimmed baking tray, evenly distribute the sausages to not touch them. I recommend baking in a non-stick pan. A squirt of PAM won't hurt either. Alternatively, parchment paper or non-stick foil could be used.
After 10 minutes, flip the sausage and bake for another 10 minutes. Rotate the sausage links if you're you're making them.
Cook until the internal temperature reaches 165°F. If you want further browning, put it under the broiler for a few minutes.
You can watch this video recipe to cook sausage in the oven.