London broil, in general, is a name that was used to refer to a method of preparing lean beef cuts like the top round steak or flank by pan-frying it on high or medium heat before cooking. It is used as a means of marinating and broiling steak.
However, people now purchase the top round London broil as beef cut from butchers, which are even popular in grocery stores. It's popularly has made it the perfect meat cut for cooking experts to work with, so there are different methods of preparing it, each yielding juicy and delicious results. In this article, I'll be talking about these methods and the correct cooking time to make them, but first, let's look at some beneficial tips to note when cooking a top round London broil.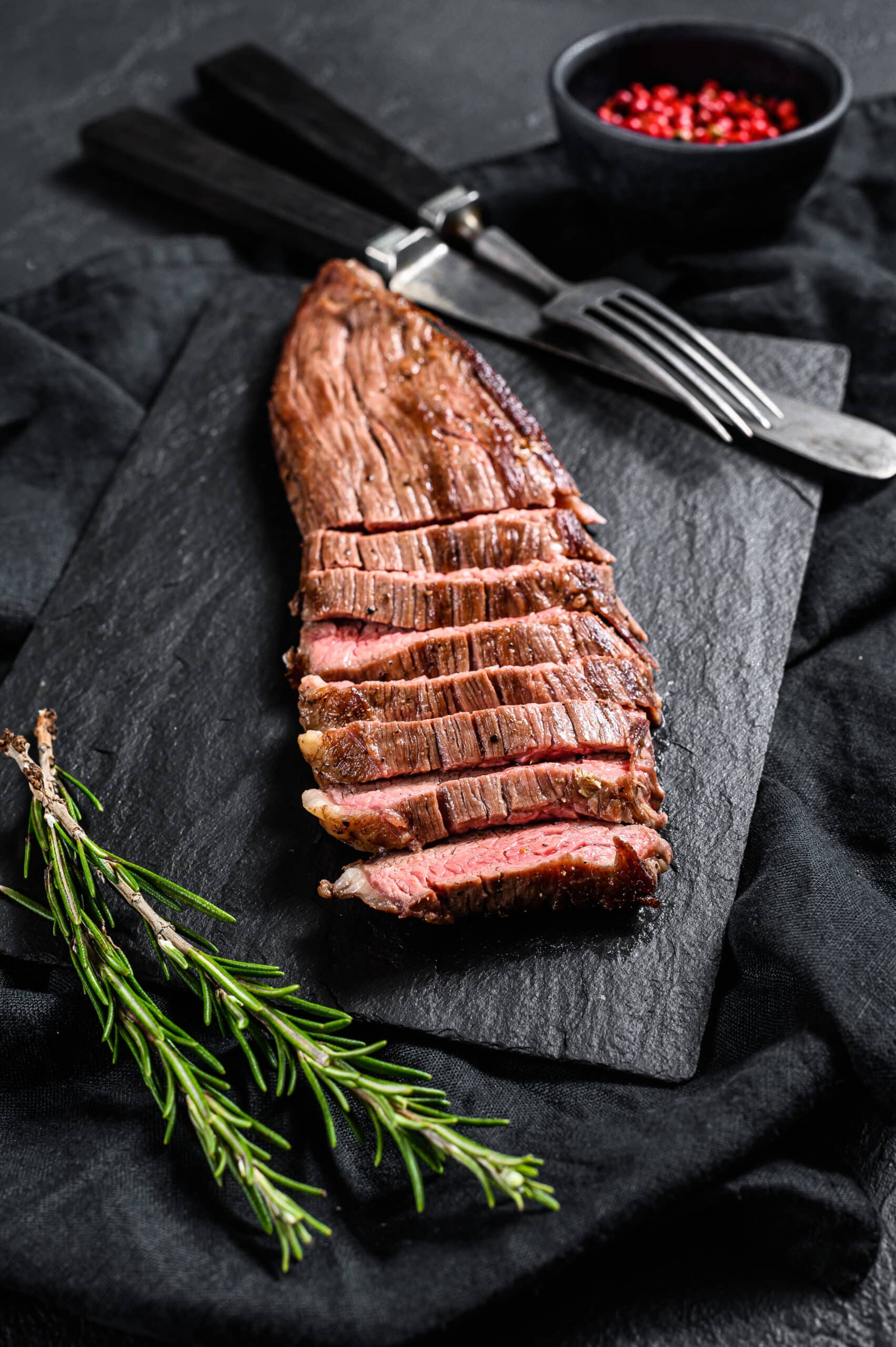 Tips to Note when Making a Top Round London Broil
If you're new to making a top-round London broil or have some experience with it, you should consider following these tips to get a great result.
Choosing the right meat for a London broil- top round steak and flank are the best meat cuts for a London broil. The top round, in particular, is very popular in a lot of grocery stores, so it would be easy to get, and in the situation where you can't find one, you could use the other as a substitute for the recipe.
Searing the meat cut- placing each side of the meat cut in a hot skillet over high heat with little or no oil (depending on the pan) for a few minutes helps it get an intense flavor and crisp crust that would prevent the meat from sticking to the pan.
Using the right pan- if you're going to pan-fry or sear your meat cut, you'll need a good pan. Cast iron skillet or carbon steel pans are the best nonstick pans for searing, they give a nice heated sear, and these pans could be directly transferred to the oven if needed. If you have any nonstick skillet that can withstand high heat, you could use that also.
You could also use frying pans with thick bottoms or even stainless steel, but you'd have to add some cooking oil before adding your meat.
Season with salt ahead of time- seasoning with salt a few minutes before cooking allows the meat to properly absorb the salt, making it tender and more flavorful.
Add some butter while searing- now I know not everyone likes to use butter in their recipe because of diet or personal preferences, but butter is the secret ingredient in a lot of recipes especially seared meats like the top round; it adds a rich flavor and tenderness to your meat all you'll have to do rub some softened butter into your steak and sear on medium heat for a few minutes but be careful not to let it burn off.
Allow the meat to rest before and after cooking- this tip is useful when removing the meat from the refrigerator. Let it cool down to room temperature first before patting dry with paper towels, seasoning, and searing. This helps it cook properly.
After cooking, allow the meat to rest for about 5-10 minutes so the juices would redistribute.
Cooking Methods for the Top Round Steak
There are different methods for making a top round steak, each producing unique appetizing results; these methods include:
Oven-roasting- this method involves using the stove and the oven; the meat is first seasoned and seared on both sides in a hot skillet before it is then transferred to the oven where it is roasted at the desired temperature or until it reaches the internal temperature of 130° F for rare and 145° F for medium.
Oven-broiling- in this method, the meat is broiled in the oven, and the broiler is first preheated for about 10 minutes; remember to place the rack where you'll place the meat about 5 inches away from the heat source around the top section of the oven. Then season the meat and oil the rack before placing it on the rack, broil for about 10-12 minutes, then flip it and broil for about 10-15 minutes or until it gets to the preferred doneness.
Grilling- the top round roast is first marinated overnight or for a few hours, then it is patted dry with some paper towels before grilling; it is grilled for about 13-16 minutes in total; halfway into the cooking time, the meat is flipped to the other side. Use a meat thermometer to check for doneness when it reaches the internal temperature of 130°F for rare and 145°F for medium.
Slow-Cooker- As most methods start, the meat is first seasoned and seared on both sides on high heat for a few minutes before it is transferred to a slow cooker where other ingredients are added to cook. This recipe usually makes use of veggies like carrots and potatoes, and if you'll be using that, is it best to wrap them in aluminum foil first before cooking, so they don't get mushy.
View this post on Instagram

Cooking Time for Top Round London Broil
The table below shows the cooking time for top round London broil using different cooking methods.
Cooking Methods
Cooking Time
Roasting with an oven at 350°F
20-30 minutes
Broiling with an oven
25-30 minutes
Grilling a top round steak
15- 20 minutes
Slow cooking a top round steak
6-8 hours
Print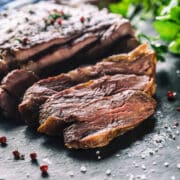 Juicy top round London broil (3 servings)
---
---
Instructions
Start by marinating the meat in a zipper bag, mix all the ingredients listed above and mix thoroughly; add the fresh, top round steak, and mix.
Let the marinade sit for 2 hours or overnight, then remove it and oat dry with some paper towels.
Preheat the broiler to high heat for about 10 minutes, then place the meat on a baking dish and broil for about 10-12 minutes.
Flip to the other side and broil for an extra 10-15 minutes or until it reaches the internal heat temperature of 125°F for a medium-rare.
Remove from heat, let it rest for 5-10 minutes, then slice across the grain and serve.
For more ideas and inspirations concerning cooking a top round London broil, check out this video recipe.