A dish of oxtails and potatoes is one that should be enjoyed with friends and family, one look at this delicious plate of meat and potatoes is sure to make you instantly happy and feeling more better! And you may be wondering how best you can cook this recipe so it's exceptionally mouthwatering for you and your family during dinner. It won't be so complicated to cook once you follow our step-by-step guide on how to prepare oxtails and potatoes in your kitchen!
In this article below, we'll be walking you through the processes, guidelines and tips on how to cook a very satisfactory oxtail and potato dish, what to avoid when working with this recipe and how to upgrade your cooking to a more professional level in general.
Oxtails Nutrition Facts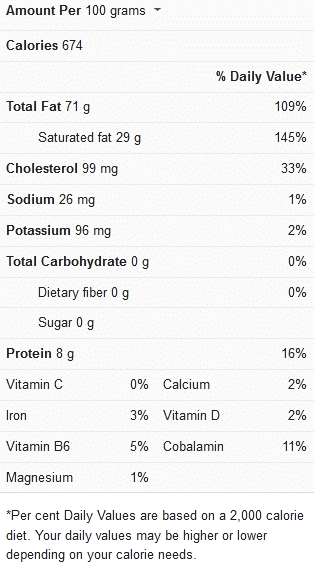 Tips for Cooking Oxtails and Potatoes
Cleaning your oxtails – if it's your first time cooking this recipe, it'll be safe to know that boiling the oxtails in the pot after washing may still result in some grits floating to the surface, indicating that your oxtails are still dirty. When you get your oxtails, soak them into a bowl of Apple cider vinegar and scrub thoroughly with half a lime. The acidity from the lime helps in removing all the grit from the fat and at the same time, helps to tenderize the meat.
Trim off the fat – to ensure your oxtails don't get too oily when being cooked, trim off as much fat as you possibly can. This will save you from an oily disaster in the near future when cooking the oxtails.
Marinating your oxtails – while most recipes require marinating for a couple of hours or overnight, oxtails are quite different. To get the best tasting results with the recipe, you might have to practice some patience; you'll need to marinate your seasoned oxtails for not less than five hours and not more than two days. You can also marinate them for an hour, as long as it's not below 5 hours.
Don't overcrowd your oxtails – when placing them in a pan or bowl for browning, it is best to place them well apart from each other to ensure adequate browning. If you pile them up together, they might just end up steaming. Remember, browning your oxtails is not the same as cooking them.
What kind of sugar to use – when you begin the process of browning your oxtails, you might be confused about what kind of sugar to use. You may be wondering, 'If I use white sugar, will it be okay?' It's easy! It doesn't matter if you use white sugar or brown sugar; your oxtails are still going to turn out beautifully brown and savory.
When mixing your sugar for browning, also ensure that you use a wooden spatula and not a metal one or you might run the risk of damaging your pot.
Cooking Time for Oxtails and Potatoes
Below are the necessary timing guidelines you should take note of when attempting to cook oxtails and potatoes.
| | |
| --- | --- |
| Cooking procedure | Cooking time |
| Cooking oxtails and potatoes in the oven at 300° Fahrenheit. | 4 and a half hours |
Print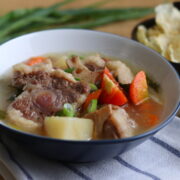 Oven-Baked Oxtail Stew with Potatoes (6 to 7 servings)
---
5

pounds of oxtails
Apple cider vinegar

4

full limes

1

green bell pepper
White onion (1 meduim bulb)
Five large cloves of garlic
Scotch bonnet pepper (if you can't find one, we suggest you use scotch bonnet pepper hot sauce)

1

packet of sazon

4 tsp

of Grace's Oxtail Carribean Seasoning

1

can of stewed tomatoes (

14.5 ounces

)

1½ tsp

of Browning

3 tsp

of cooking oil

1

can of tomato paste (60z can)

½ cup

of sofrito

½ cup

of dry red wine

3 cups

of water

1 tsp

of beef bullion or beef broth

6

raw potatoes
Two dozen baby carrots

2

sprigs of thyme
Lipton's beefy onion mix
---
Instructions
Take out your oxtails and soak them in a bowl of apple cider vinegar. Cut up your limes into halves and scrub the oxtails thoroughly in the bowl. Repeat this process about three times.
Trim off about a 90% of the fat on the meat with your fingers or using a knife and set this aside.
Take out your red bell pepper and mince thoroughly. Repeat this for the green bell pepper, white onions, and cloves of garlic. Mix the cut-up vegetables well.
Pour the vegetable mix into your bowl of oxtails and rub into the meat well. Add a pack of sazon, 4 tablespoons of the oxtail Caribbean seasoning, and mix again into oxtails with your hands.
Pour your can of stewed tomatoes into the mixture. Add ½ a tablespoon of Browning, scotch bonnet pepper hot sauce or scotch bonnet pepper with the seeds removed. Mix again and set aside to marinate. You can marinate your seasoned oxtails for two days, one day or five hours if you're in a hurry to cook those bad boys up.
When they're done marinating, remove them from the bowl and set the bowl aside. This is going to be used for making the stew.
Add 3 tablespoons of cooking oil and sugar to a cooking pan. Mix and let simmer for a while before adding your oxtails. Remember, this is not the part where you fully cook the oxtails, so just let them turn brown before taking them out.
When you're done Browning your oxtails, set them aside and leave the juices the Browning left in the pan. Add a can of tomato paste into the pan and half a cup of sofrito, and stir well into the Browning bits and juices.
Pour in your vegetable mix into the pan and stir continuously. Make sure your heat is at a lower temperature so the tomatoes don't burn.
Add in ½ a cup of dry red wine and 3 cups of water and stir for a couple of minutes. Add a heaping tablespoon of beef bullion, and if you don't have that, you can use beef broth as a substitute. Add a teaspoon of Browning into your stew and stir slowly.
Start adding your oxtails back into the pan. Cut up and wash the potatoes, and add them into the pan, too. Add two bay leaves and sprigs of thyme leaves to your pan.
 Preheat oven at 300° F. Close the lid of the pan and cook in the oven for 3 and a half hours. The meat and potatoes will begin to soften. Remove any lingering fat at the edges of the pan so they don't get back into the dish.
Add the baby carrots and lipton's beefy onion mix to the pan, and mix everything together.
Take it back into the oven and cook again for an hour. After that, you delicious oxtails and potatoes are ready to be eaten.
You can always add a little more sugar or seasoning for added flavor. This recipe is incredible with rice, red beans or anything you feel like eating with this dish. Although it takes a long process to prepare, oxtail stew with potatoes are sure to leave a mouthwatering taste which you and your friends are sure to love.
If you want more ideas on how to cook oxtail and potatoes, feel free to watch this video recipe.