One of the juiciest and crispiest foods you can cook is air-fried pork chops. In less than 30 minutes, you can have these bone-in, delicate chops coating it with a golden Parmesan. This recipe is excellent for hectic weeknights because it is made with simple, inexpensive ingredients. This main meal goes well with most sides.
Air fryers are basically little convection ovens that bake much faster than standard ovens. Pork chops cook fast with convection heat, resulting in a crispy outside and succulent interior. Because this recipe for pork chops in the air fryer employs a seasoning rub rather than breading, the resulting chops are low carb and keto-friendly.
The spicy rub has a lot of flavors and is slightly sweet to balance out the pork's inherent sweetness. There is also no need for any additional oil. Air frying does not consume a large amount of oil to achieve the best results. Provided below are steps on how to cook pork chops in your air fryer.
Pork Chops Nutrition Facts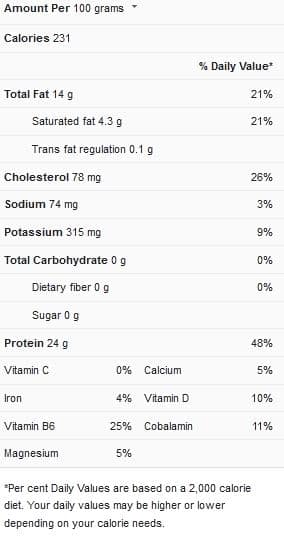 Equipment

Using an air fryer
Spice mixing bowls
A thermometer that can be read instantly. To quickly determine when your meat is fully done.
Print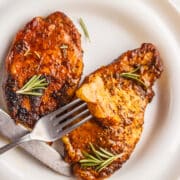 How To Cook Pork Chops In The Air Fryer
---
Pork Chops: Bone-in, center-cut pork chops that are about 1.5 inches thick.
Olive Oil: Rub on the pork chops. Avocado oil can also be used.
Brown Sugar: A pinch of brown sugar enhances the flavor of the spice rub. It doesn't matter if the brown sugar is light or dark.
paprika (sweet)
Mustard, ground
Black pepper, freshly ground
Garlic and onion powders provides an intense flavor and you won't even need to mince or chop them.
---
Instructions
How To Cook Pork Chops In An Air Fryer
It's very simple to make these pork chops. This, along with the rapidity of air frying, makes it a favorite quick weekday meals. There's nothing like bringing a hearty square meal to the table at the conclusion of a long day without having to stand over a hot fire.
Step 1: Preheat the Air Fryer.
Preheat the oven to 375 degrees Fahrenheit. Preheating is crucial, so don't neglect it.
Step 2: Season the Pork Chops.
Rub your oil on the pork chops as the air fryer warms up. Then combine together the paprika, brown sugar, salt, ground mustard, chili powder, pepper, onion powder, and garlic powder in a small bowl to make the spice rub. Use the spice rub and spread it out evenly on ea sides of the pork chops.
Step 3: Fry in the air fryer.
In the air fryer basket, put your seasoned pork chops into it. Cook for 5 minutes, then flip and cook for another 4 to 6 minutes. Make sure to use an internal temperature of 145 degrees Fahrenheit to cook the pork chops.
Step 4: Relax and enjoy yourself.
Let your pork chops rest for about 5 minutes. Put them on a plate and serve the pork chops with any sides your preference.
Success Suggestions
Avoid Using Aerosol: While spraying a little oil on your meal or the basket of your air fryer is fine, stay away from aerosol-powered spray oils. They can cause harm to the air fryer basket.
Make sure the pork chops do not overlap in the air fryer. Cooking the chops in different batches is possible if necessary.
Dry Brine: If you have time, remove your pork chops from the refrigerator early, season them, and let them sit at room temperature for about 30 minutes before cooking, covered. They'll be even tastier and delicious.
Choose pork chops with a thicker cut. It's preferable if they're at least one inch thick. Pork chops that are too thin are more prone to drying out and becoming rough.
Place the pork chops in the air fryer basket in a single layer so that air can be distributed around them while they cook. You can cook the pork chops in batches so the air fryer will not be choked up while making sure that you keep the first batch warm while you cook the others.
Be careful not to overcook them. To see if they're cooked to 145° F, use an instant-read thermometer. Pork chops cook quickly once they're nearly done, so keep an eye on them.
Allow for a 5-minute rest period before serving. The liquids are able to disperse throughout the meat as a result of this.
How to Store and Reheat Leftovers
To store. Leftover pork chops can be refrigerated for up to 3 days in an airtight container.
To Frozen. Freeze leftover pork chops for up to 3 months in an airtight freezer-safe storage container, squeezing out all the air before sealing. Make sure that before reheating, you allow it to defrost overnight in the refrigerator.
Reheat the dish. Reheat pork chops gently in an air fryer, a regular oven at 350 degrees F, the microwave, or a pan on the stove. Cover and bake for 10 minutes or until hot through in a baking dish with just a splash of water. Make sure that you prevent the food from overcooking.
View this post on Instagram

Cooking Time for Pork Chops in Air Dryer
The cook time will vary depending on the kind of air fryer you use, whether you use boneless or bone-in pork chops, and the thickness of the pork chops. Using an instant-read thermometer to measure the internal temperature in the center of the pork chops is the best way to detect when they're done. Check the temperature of your pork chops several minutes ahead of time, especially if they are thinner. If they need to cook for a few more minutes, simply return the basket to the air fryer.
Here's a rough estimate of how long pork chops will take to cook in an air fryer:
| | |
| --- | --- |
| Cooking time for Pork Chop in the air fryer | Cooking time |
| Prepping | 5 minutes |
| Cooking | 10 minutes |
| Resting | 5 minutes |
| Total time | 55 minutes |
If you followed the steps above, you would have already cooked very delicious, flavorful, and tender pork chops. You can learn more about how to cook pork chop in the air fryer by watching this video.