Cooking spaghetti squash in the microwave is ridiculously simple, and the results are very similar to baking. This is why I frequently use the microwave to prepare this excellent vegetable – primarily to substitute for spaghetti and other starchy dishes.
I can guarantee you that it is simple to prepare. Cooking spaghetti squash in the microwave is so simple that you want to make it a regular part of your menu.
It is worth a try if you have never tasted spaghetti squash before, especially because it is so quick and easy to make in the microwave. You will find a quick and simple method for cooking spaghetti squash in the microwave here.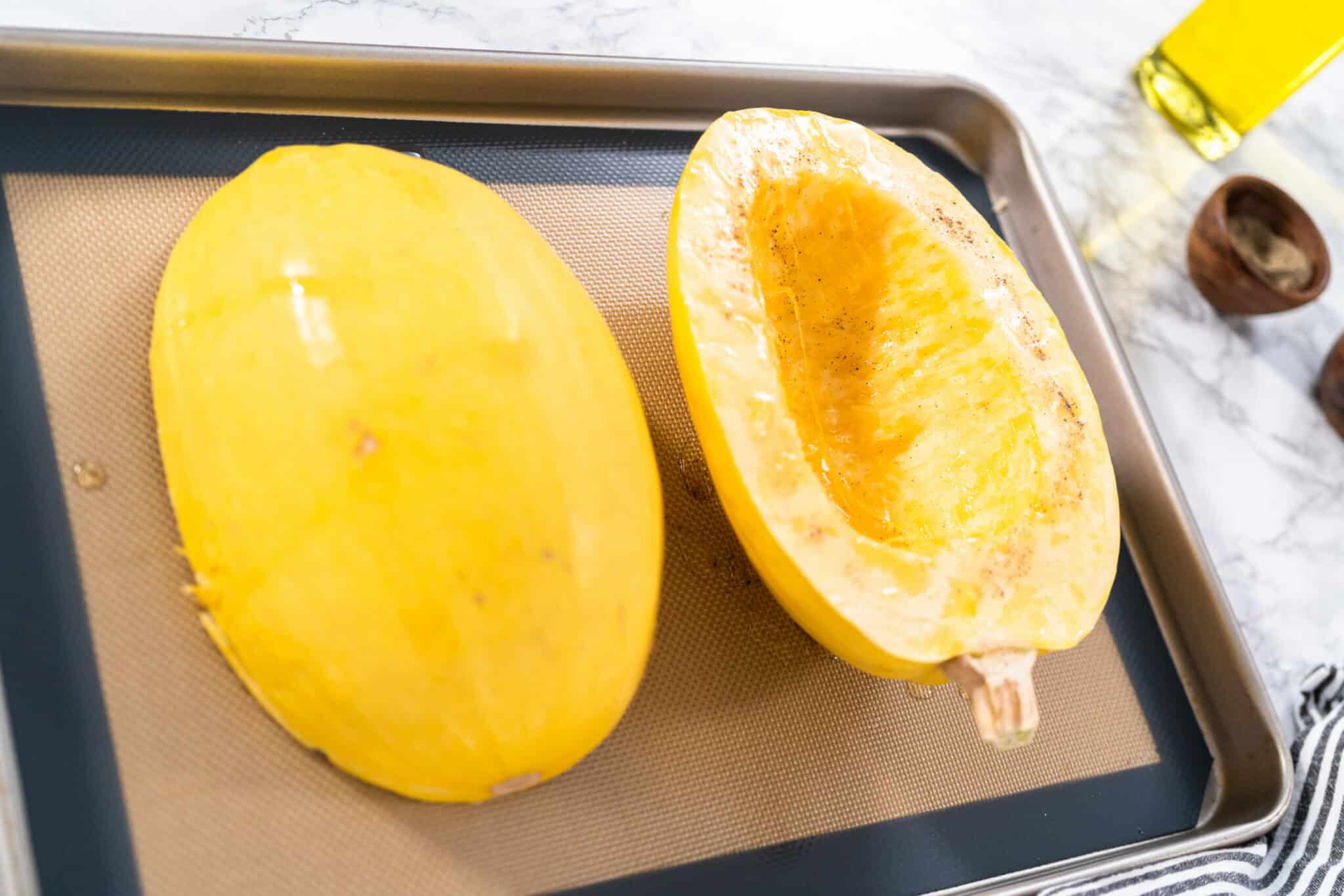 Spaghetti Squash Nutrition Facts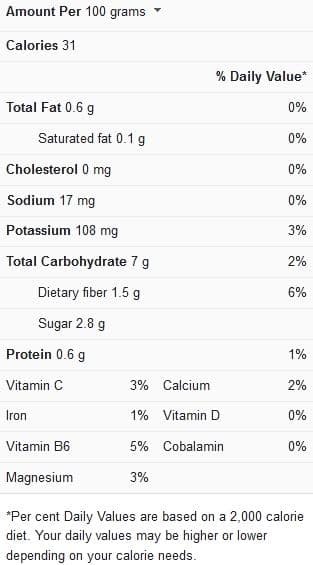 Why Cook Spaghetti Squash in Microwave
It is considerably easier and faster to microwave spaghetti squash than bake it in the oven. It is ready and can not be topped with your favorite ingredients or left simple with just a pat of butter and a pinch of salt once it's finished. Cut the squash horizontally rather than lengthwise for longer strands.
The squashy insides of these squashes grow in such a way that, once cooked, they peel apart in long, spaghetti-like strands.
The strands will retain a bit of crunchiness even after being fully cooked till tender. This texture is one of my favorites, especially in hearty pasta and stir-fries.
In many ways, these long squash strands resemble noodles: They're soft enough to twirl around your fork, and they have a mild, somewhat sweet flavor that makes them perfect for everything from tomato sauce to cheese.
As it misses the caramelization that oven-baked spaghetti squash possesses, cooking spaghetti squash in the microwave is the best option for a more mild and delicate flavor.
Tips for Cooking Spaghetti Squash in Microwave
As your Pasta Sauce simmers on the stovetop, prepare this light and delicious veggie in the microwave. Add butter or olive oil, salt, and pepper once the spaghetti squash is cooked for a very simple side dish.
Cooking times will vary depending on the size of the squash and the microwave's wattage.
Poke holes in the squash and microwave for 5 minutes before cutting to make it easier. Make any necessary adjustments to the remaining cooking time.
The seeds can be saved and roasted in the same way as pumpkin seeds.
The thick walls of spaghetti squash make it tough to cut through. Therefore, you will need a solid cutting board that won't slip and a sharp chef's knife.
Hold your cutting board in place set it on a lightly damp paper towel or kitchen towel. The key is to make a flat surface to slice the squash safely.
Squash should be cut from the stem to the end. To pierce the spaghetti squash in the middle and cut it from stem to end, but don't try to cut through the stem – it is too tough.
Separate the halves by pulling them apart. Pull each half apart with the knife after wriggling it out of the squash. One-half of the stem will be released due to the pulling effort.
This could take up to an hour, depending on the size of your squash. If you are not sure if the squash is done after 40 minutes, take it out of the oven and run the tines of a fork along the cut side.
It is done when spaghetti-like strands easily separate from the skin. If not, bake for another 5 to 10 minutes and check on it.
Overcooking the squash can result in soggy spaghetti, so keep a tight eye on it.
Always be cautious when chopping squash in half, as you can easily lose a finger.
I recommend you cook your squash for 10 minutes before checking for doneness. A 4-pound squash may take about 15 minutes in the microwave.
If your microwave isn't big enough to handle a 9×13 pan, cook them separately in an 8×8 pan or store a raw half later.
View this post on Instagram

How to Cook Spaghetti Squash in Microwave
Have you ever wanted to know how to microwave spaghetti squash? I'm going to demonstrate how simple it is to prepare spaghetti squash.
Step 1: Cut the squash halfway through the stem with a broad, sharp knife.
Step 2: Using a spoon, remove the seeds. If desired, roast the seeds or toss them out. Place the squash flesh-side down in a baking dish and pour about ½ inch of water.
Step 3: Microwave high for 10 to 20 minutes, uncovered until the color deepens, and a small knife easily slides into the flesh. The length of time can vary greatly.
Step 4: When the squash is cold enough to handle, run the tines of a fork through it to extract the spaghetti-like threads.
Cooking Time
Prep Time
5 minutes
Cook Time
15 minutes
Total Time
20 minutes
Print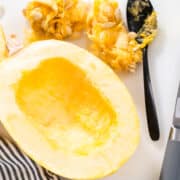 Microwave Spaghetti Squash (2 Servings)
---
Spaghetti squash
Salt and pepper to taste.
---
Instructions
First, get a sharp knife. Use it to pierce the spaghetti squash in a few locations.
Cook the squash for 5 minutes in the microwave.
Turn it over and microwave for another 5 minutes, or until it's soft to the touch. For larger squash, try 6 minutes per side.
Allow 5 minutes for the squash to finish cooking.
Cut the squash in half lengthwise with a sharp knife. Allow for a brief cooling period of 2-3 minutes, or until it is easier to handle.
Scoop out the pulp and seeds from the middle, then scrape the flesh with a fork to separate strands onto a serving bowl.
Serve with a sprinkling of butter, salt, pepper, or your favorite sauce.
You can watch this video recipe to know how to cook spaghetti squash in the microwave.