Boiled shrimp is a flexible dish that may be used in various meals, such as homemade sushi rolls or as an appetizer. They are great for shrimp cocktails, salsa, sushi rolls, and other dishes.
A shrimp boil, especially for a party, is a surefire winner. The delicate shrimp complement the creamy potatoes, smokey sausage, and sweet corn to perfection.
You will always get the most delicious, flawlessly cooked shrimp if you follow this simple recipe and the tips I have included.
Shrimp Nutrition Facts
Why Shrimp Boil
Notably, boiling fresh shrimp is one of the simplest methods to prepare it. There are only a few simple but necessary elements.
You will have delicious, sweet, and tender shrimp ready to serve or use in any recipe that asks for cooked shrimp in less than 15 minutes.
I can say it is the ideal supper in a jar, and it is also entertaining-friendly. A delicious delight to look forward to over the weekend or a simple midweek meal.
A delicious shrimp boil recipe never fails to please! It's packed with a well-balanced blend of spices, including a spicy kick that'll have you coming back for more. And the flavor combination is delicious.
Tips for Cooking Shrimp Boil
I recommend using the largest types of shrimp you can find for this meal, and I recommend using large shrimp with a count of 16-20.
Many shrimp are still sold in their shells. If your shrimp have shells on them, you may easily remove them by using your fingers to take the main part of the shell and the legs off. I prefer to keep the tails on for a more attractive display.
You may need to devein your shrimp; if you observe a dark line running across the top of the shrimp, cut a slit with a paring knife along the top of the shrimp, then remove and discard the vein using a knife or a wooden skewer.
You can cook your shrimp in their shells or without if you want. Since it is easier to eat without shells, I usually remove the shells and leave the tails on.
For the finest flavor, I recommend cooking shrimp with the shell on. Buying shrimp that has already been deveined is also beneficial.
It is better to disregard generalizations when checking if the shrimps are done. Frozen shrimp, for example, becomes pink on the outside before it's fully cooked, but red shrimp don't curl much during the cooking process. The most precise measure of doneness is still the time it takes to bring the water to a boil.
Shrimp cooks in a flash; the key is to remove them before they become rubbery, then cool them to stop the cooking process.
Per pound of shrimp, use 2 quarts (2 liters) of water. Since most shrimps are already salty, salting the water is rarely necessary.
This recipe is best served with fresh corn on the cob, white, yellow, or bi-color. Though, I recommend using small red potatoes. Yukon gold potatoes are also delicious. Andouille sausage can be used. Since andouille sausage is maybe quite spicy, I would suggest using that variety if you want a little kick.
View this post on Instagram

How to Cook Shrimp Boil
Get 4 quarts of water in a big pot. Then combine onion, garlic, Old Bay seasoning, and thyme in a mixing bowl. Then bring the mixture to a boil – over medium-high heat.
Add potatoes. Season with salt and pepper after adding the potatoes. Cook for 10 to 15 minutes, or until potatoes are almost soft.
Add the corn. Cook for another 3 minutes after adding the corn.
Then proceed to add sausages. Cook for another 4 minutes.
Cook – constantly stirring – until the shrimp is just opaque and pink, about 1 to 2 minutes.
Drain the mixture – save ¼ cup of the broth for serving if desired.
Spread the mixture out using an extra-large serving tray or a baking sheet.
Drizzle with lemon juice and butter.
Serve immediately with parsley, Old Bay spice, and pepper to taste.
Cooking Time
Size (Count)
Raw
Frozen
Small (51 – 60)
30 seconds
1 minute
Medium (41 – 50)
1 minute
1½ minutes
Large (31- 35)
2 minutes
3 minutes
Jumbo (21 – 25)
3 minutes
4 minutes
Extra jumbo (16 -20)
4 minutes
5 minutes
Print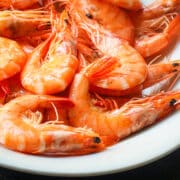 Shrimp Boil (5 Servings)
---
---
Instructions
Pour some water into a big pot.
Squeeze the lemon juice into the water and add the lemon halves that have been strained.
Combine Old Bay, garlic, and onion in a mixing bowl. Add the thyme sprigs to the pot after tying them with kitchen thread. Bring to a boil, then reduce to low heat and cook for another 5 minutes.
Cook – occasionally stirring – until the potatoes are barely soft, about 10 minutes. Cook for another 5 minutes after adding the corn.
Meanwhile, slice each shrimp through the shells along the back, remove the veins and rinse the shrimp.
Add the shrimp to the saucepan, cover, and simmer for 2 to 3 minutes, or until they curl and are just opaque.
Transfer the shrimp and veggies to a large mixing bowl using a slotted spoon or skimmer.
Toss the butter with roughly a cup of liquid in a mixing dish until the butter is melted.
Place the shrimp and vegetables on a serving plate. If preferred, top with the remaining broth, lemon wedges, and spicy sauce.
You can watch this video recipe to know how to cook shrimp boil.