How long to boil shrimp? The simplest answer is not long. Shrimp, whether it's fresh or frozen, large or small, cooks in boiling water fast — small, fresh shrimp can be done in 30 seconds, while large, frozen shrimp will be done in about 5 minutes.
Read on to learn how to make a delicious, party-perfect shrimp boil in under 30 minutes.
Why make a shrimp boil
There are a few reasons you might want to make a shrimp boil, including:
For Fun: A shrimp boil is a fun reason to gather friends and celebrate whatever needs celebrating.
For Simplicity: Boiling shrimp is one of the simplest ways to prepare it. Boiling is also a year-round option vs., say, our Red Lobster grilled garlic shrimp recipe, which is best done on warm days.
For Efficiency: A shrimp boil is a full meal with protein and veggies, ready in about 30 minutes.
For Flavor: Done right, your shrimp boil packs a ton of flavor. You have that ocean taste from the shrimp balanced with the kick of Cajun seasoning. Delicious and totally different from other shrimp preparations like Mongolian shrimp.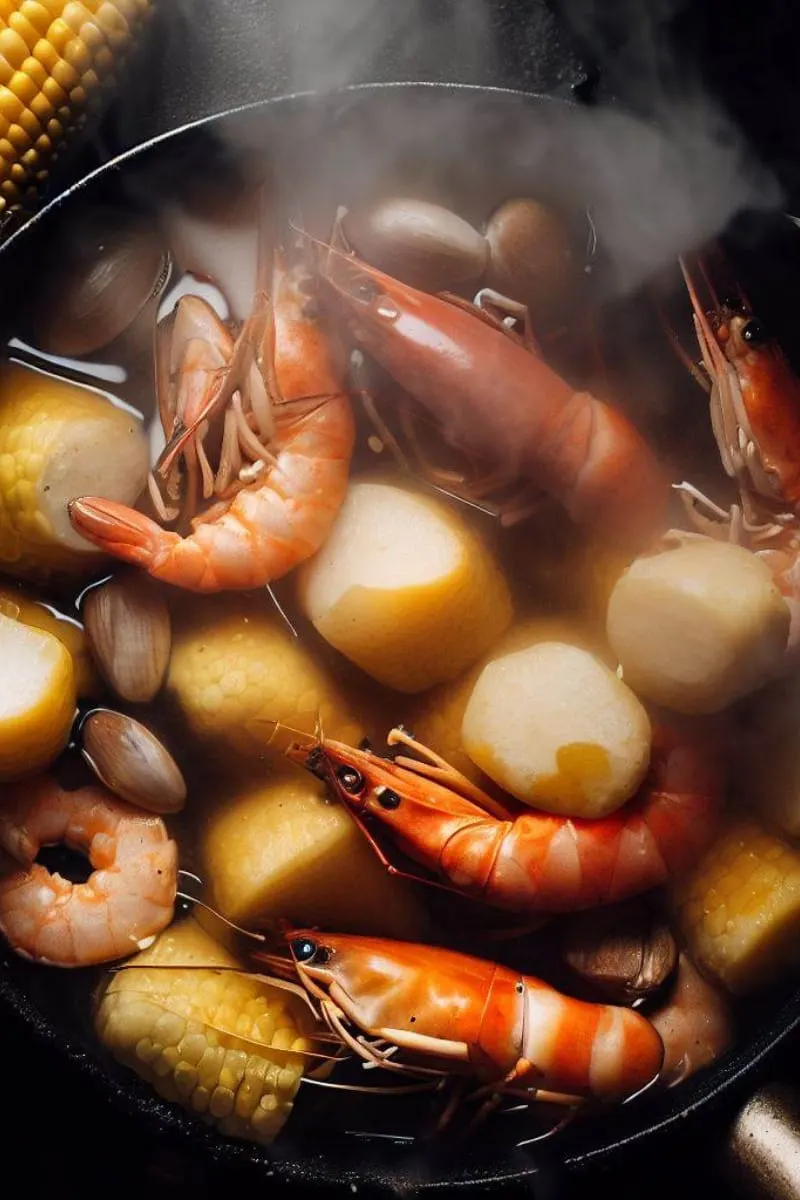 How to make a shrimp boil
This is your walk-through on making a shrimp boil, with tips for choosing shrimp, seasoning your boil, complementing the boiled shrimp with other ingredients, and a step-by-step prep guide.
Choosing the shrimp
You have many options when buying shrimp. You can buy different sizes, shell on or shell off, fresh or frozen, deveined or not, head-on or not, and wild-caught vs. farmed. Here's a look at how those characteristics affect the quality of your shrimp boil.
Size: Shrimp are sold by count per pound. Look for a smaller count, since this means the shrimp are larger. Larger shrimp are better for a shrimp boil because they're easier to peel and eat. You don't want your guests having to perform surgery to get a bite of protein, right?
Look for 16-20 count shrimp or 21-25 count. These counts will give you jumbo or extra jumbo shrimp.
Shell: You also want to buy shrimp that have the shell on. Cooking them in the shell keeps the meat more tender and adds tons of flavor to your broth.
Fresh or frozen: The best choice is fresh shrimp that's just been caught. It's likely you can only get truly fresh shrimp if you live near an ocean. Fresh shrimp should have a shiny, translucent shell. Know that "fresh" shrimp available in grocery stores is often defrosted frozen shrimp.
So if you're not on the coast, you can buy frozen shrimp for your boil. This can be a better option than fresh shrimp that's previously been frozen — just choose a package that has minimal frost or ice crystals. Excessive frost can be a sign the package has been frozen for a long time.
You'll see in the cook time table below that frozen shrimp only adds a small amount of time to your preparation.
Note that while you can use fresh or frozen shrimp for a boil, don't use precooked shrimp.
Deveined: Buying shrimp that's already deveined saves you time. It will be more expensive, however. If you see a dark line running across the back of the shrimp, it's not deveined. That dark line is the shrimp's digestive tract. It won't hurt you to eat it, but it doesn't look great and it can add a gritty texture. To remove it, use a small knife to make a shallow cut across the back of the shrimp. Using the tip of your knife, lift out the vein. Rinse the shrimp and move on to the next one.
Head-on shrimp: This is a matter of preference. Head-on shrimp have more flavor, but not everyone is comfortable eating them. Also know that if you buy head-on shrimp, you'll get fewer shrimp per pound.
Wild-caught vs. farmed shrimp: Wild-caught shrimp may have a more intense flavor, but they're typically more expensive. Either option will work well in a shrimp boil.
Seasonings for a shrimp boil
Old Bay Seasoning from McCormick is an old standby for shrimp boils. According to AllRecipes, Old Bay is a secret mix of spices that includes celery seed, paprika, mustard, salt, red pepper, and black pepper.
You can also buy any Cajun seasoning. That will likely be spicier than Old Bay, but the flavors go perfectly with your shrimp boil ingredients.
In addition to the Old Bay or Cajun seasoning, you'll also want to have fresh garlic and fresh thyme on hand for the shrimp boil.
Other ingredients in a shrimp boil
The only other ingredients you need besides the shrimp and seasonings are fresh onion, potatoes, ears of corn, and a lemon. If you want to get fancy, you can add sausage and crawfish.
You could also skip the veggies and do a simple seasoned boiled shrimp. See Peanut Blossom's boiled shrimp recipe as an easy alternative — it has only three ingredients!
Preparing your shrimp boil
Here are the steps to make a shrimp boil:
Boil water in a large pot. For each pound of shrimp you are cooking, use 2 quarts (or 2 liters) of water. You don't need to salt the water, since shrimp is already salty.
Wash a lemon, cut it in half, and remove the seeds. Squeeze both lemon halves over the water, then drop them into the water.
Smash a bunch of garlic cloves (like 8 or so) and quarter an onion. Drop those into the water, along with 1/4 cup of your dried seasoning and a few sprigs of fresh thyme. Get the water boiling, reduce heat, and simmer for 5 minutes.
Now it's time to add in scrubbed baby red potatoes. Cook those for about 10 minutes, then add fresh ears of corn, and cook for another 5 minutes.
Add deveined shrimp, cover the pot, and cook according to the cooking time table below.
Using a slotted spoon, remove the shrimp and veggies from the pot.
In a separate pot, melt a few tablespoons of butter into a cup of the cooking liquid.
Serve the shrimp and veggies with the butter broth and extra lemon wedges.
Voila! Just like that, you have a full seafood meal prepared in about 30 minutes.
How long to boil shrimp
The table below shows boiling times for shrimp based on size and whether the shrimp is fresh or frozen. As you can see, the size of the shrimp dictates how long you must boil it.
| | | |
| --- | --- | --- |
| Shrimp Size (Count) | Raw | Frozen |
| Small (51-60) | 30 seconds | 60 seconds |
| Medium (41-50) | 60 seconds | 90 seconds |
| Large (31-35) | 2 minutes | 3 minutes |
| Jumbo (21-25) | 3 minutes | 4 minutes |
| Extra Jumbo (16-20) | 4 minutes | 5 minutes |
Shrimp boil recipe
Yield: 5 servings
Shrimp Boil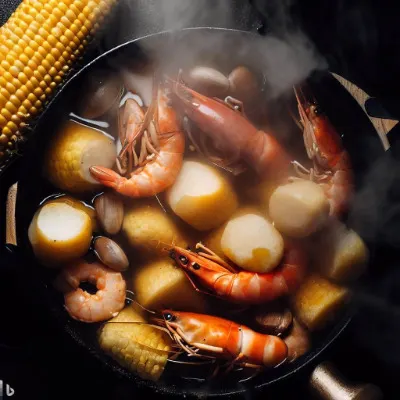 Classic shrimp boil recipe that works with fresh or frozen shrimp!
Ingredients
2 (halved) lemons - plus wedges for serving
½ cup of Old Bay Seasoning
Eight cloves of garlic - smashed
One large red onion - quartered
Six sprigs of fresh thyme
1 pound of baby red potatoes
4 ears of corn
1¼ pounds of large, deveined, shell-on shrimp (head on or off according to your preference)
2 tablespoons of unsalted butter
Hot sauce, for serving
Instructions
Fill a large, deep pot with 2 1/2 quarts of water.
Wash and half a lemon. Remove the seeds. Squeeze the halves over the water, then toss the lemon halves into the water.
Add Old Bay, garlic, onion, and thyme sprigs to the pot. Bring to a boil, then reduce to low heat and cook for another 5 minutes.
Add potatoes.
Cook - occasionally stirring - until the potatoes are barely soft, about 10 minutes. Add corn and cook for another 5 minutes.
Add the shrimp to the pot, cover, and simmer. Use the cook time table above to determine cook time. They're done when they turn opaque and begin to curl.
Transfer the shrimp and veggies to a large mixing bowl using a slotted spoon or skimmer.
Toss the butter with roughly a cup of liquid in a mixing dish until the butter is melted.
Place the shrimp and vegetables on a serving plate. Top with butter mixture, lemon wedges, and (optionally) hot sauce.
Nutrition Information:
Yield:
5
Serving Size:
1
Amount Per Serving:
Calories:

364
Total Fat:

8g
Saturated Fat:

3g
Trans Fat:

0g
Unsaturated Fat:

3g
Cholesterol:

14mg
Sodium:

2981mg
Carbohydrates:

66g
Fiber:

7g
Sugar:

6g
Protein:

11g
Nutrition information isn't always accurate.
Boiling shrimp FAQs
What are the calories in boiled shrimp?
Raw shrimp has about 100 calories per 100 grams. If you add a butter sauce, the calorie count will be higher.
What shrimp to use for boiling?
Use the largest shrimp you can find, deveined but with the shell on. You can use head-on shrimp or head-off, depending on your preference. Fresh or frozen shrimp can work as can wild-caught vs. farmed.
How long should I boil shrimp?
Boil fresh extra jumbo shrimp (16-20 per pound) for 3 minutes. Add 1 more minute for frozen shrimp.
Why are my shrimp tough and rubbery?
Overcooked shrimp turns tough and/or rubbery. You can watch your shrimp carefully to avoid overcooking. Generally, when shrimp turns opaque with pink and red accents, they're done. Stop the cooking process immediately. Shrimp also tend to curl as they cook — stop the cooking process when they are beginning to curl into a C shape, but before they curl tightly.
You can also use an instant-read thermometer to test doneness. Shoot for an internal temperature of 145°F or 63°C.
Lastly, you can drop boiled shrimp into an ice bath to halt cooking immediately. Do this to minimize damage if you're worried you cooked them too long.
What's the nutritional profile of boiled shrimp?
Shrimp has about 100 calories and 24 grams of protein per 100 grams. The fat content is low at 0.3 grams, but the cholesterol is high at 189 mg. Shrimp also has 111 mg of sodium and 259 mg of potassium per 100 grams.
Do you need side dishes for a shrimp boil?
You don't need a side dish for a shrimp boil. Generally, the shrimp, potatoes, and corn are a satisfying combo.
If you prefer to add something extra, try a green salad or garlic bread.