Squash is in a league of its own, and spaghetti squash is no exception. This oblong yellow squash is nature's version of noodles. The inside of the squash, thin and mildly flavored, can be shredded to resemble strands of spaghetti once baked.
To properly enjoy this natural delicacy, however, you need to know the basics of cooking it, including the methods and ideal length of the cooking period. Not to worry, this article covers all those basics, with extra tips on how to get the best results in spaghetti squash recipes.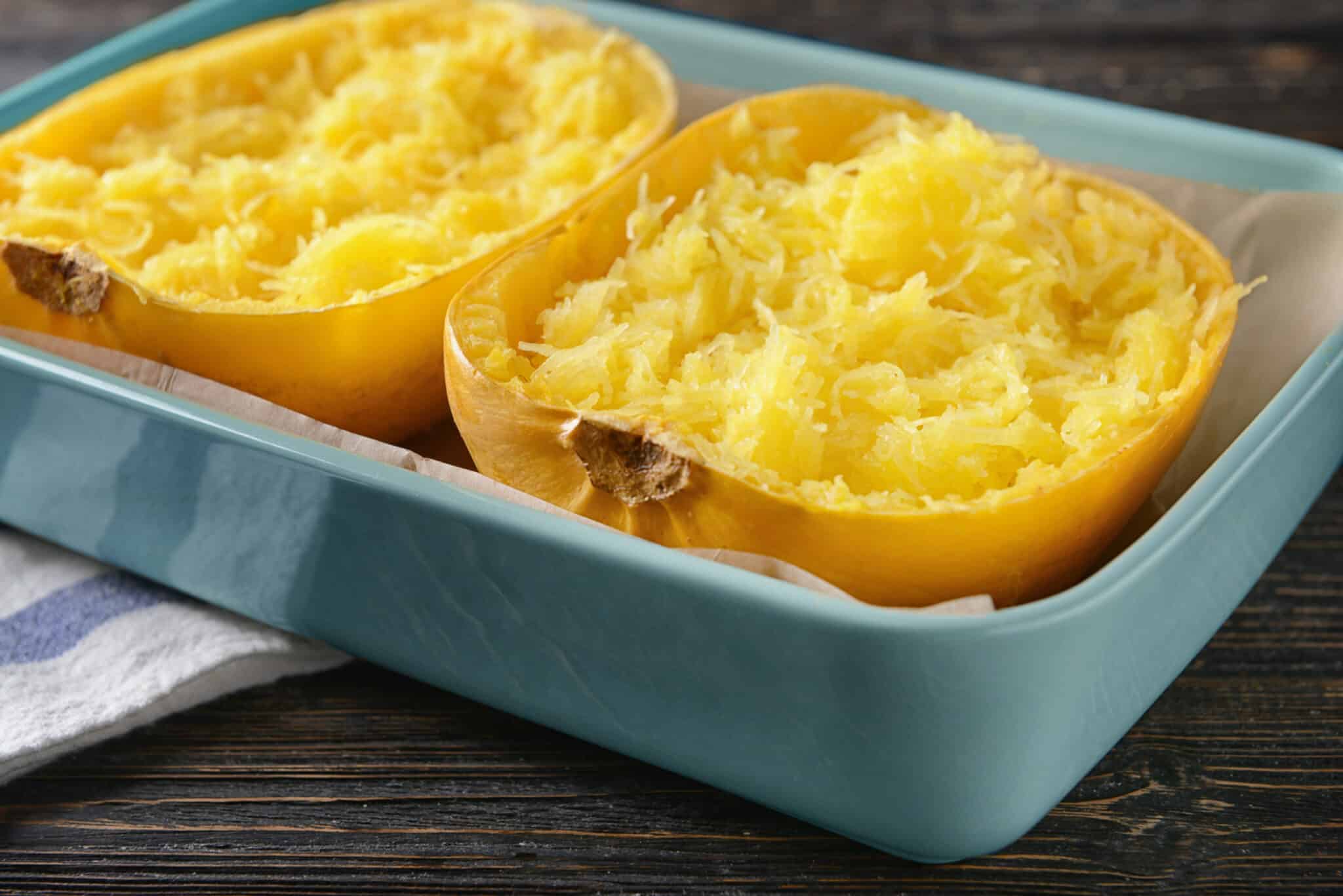 Spaghetti Squash Nutrition Facts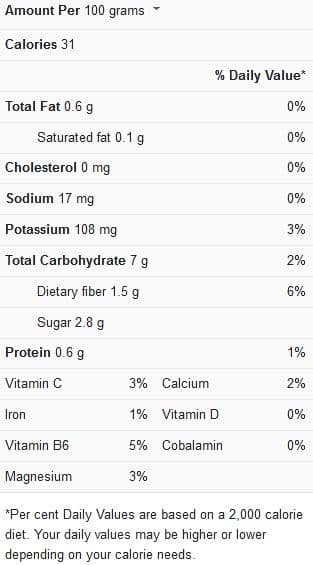 Tips For Cooking Spaghetti Squash
The following tips will get you the best results when cooking spaghetti squash:
Cook it whole if it's too difficult to cut open – Because this is a tough squash, don't try to chop it in half if it's too difficult. Instead, cook it whole. It will take a bit longer to simmer (about an hour), but the squash will be soft and simpler to cut afterward.
For even longer strands, cut crosswise, the spaghetti squash strands are placed in a circular pattern around the interior. Rather than slicing the squash from end to end, which divides the strands, cut the squash across the waist to retain the whole thread intact.
You can use spaghetti squash in place of any pasta or noodles – Although spaghetti squash is not the same as real spaghetti, people may use it in almost any recipe that calls for pasta or noodles. Spaghetti squash strands are an excellent substitute for rice vermicelli and glass noodles since they are thin and delicate.
It can be cooked in the oven in three different ways – Cooking spaghetti squash in the oven can be done in three different ways. Roasting it whole, halving it and steaming it, or halving it and roasting it all produce the same excellent results. Choose a style that works best for you.
It can even be microwaved in a few minutes – Microwaving your squash is also an option if you don't have time to roast your squash or you don't want to switch on the oven. You may cook it in the microwave in about 10 minutes after having it and removing the seeds.
Cooking Spaghetti Squash
Choosing an ideal method for cooking spaghetti squash mostly depends on how long you're willing to wait for it to get done. For instance, the microwave is the best option for cooking spaghetti squash quickly, and most recipes will work using microwaved squash instead of roasted squash.
On the other hand, squash that has been baked generally has a stronger flavor. The extended bake time also removes surplus moisture that the microwave fails to do. In essence, if you can afford to wait, baked squash is a great way to go, but if not, microwaved squash can suffice.
The various methods for cooking squash are described below:
View this post on Instagram

Microwaving Spaghetti Squash
Follow these simple methods to prepare spaghetti squash in the microwave:
Season the squash with olive oil or neutral oil, salt, and pepper after halving it and scooping out the seeds.
In a microwave-safe baking dish, place the squash halves cut-side-down. Fill the dish with water, leaving approximately an inch of space at the top.
Microwave for 5 minutes, then check the squash and microwave for another 2 to 5 minutes, or until it can be poked with a fork. Allow the squash to cool completely before using a fork to scrape off the flesh.
Baking Spaghetti Squash in the Oven
Follow these easy steps to bake spaghetti squash in the oven:
Olive oil the insides of the squash halves (or use melted butter). Salt and pepper can also be a seasoning in it. It's also a wonderful idea to add your favorite spice combination at this point.
Cut-side-down, place the squash halves on a rimmed baking sheet. The sides of the squash halves caramelize and brown when baked cut-side-down, adding flavor. It also allows the squash's extra liquid to drain onto the baking sheet. Finally, the liquid would gather and concentrate in the middle of the squash halves if they were baked cut-side-up.
Bake until fork-tender but still firm, about 30 minutes, avoid overcooking the squash since this will give you mushy results.
Note: A 375°F oven is preferable, although any temperature increase or decrease by 25°F is acceptable. So, there's no cause to worry about altering the oven temperature if you're baking anything else at the same time. Keep an eye on the squash as it roasts and remove it when it's soft but still firm.
Cooking time for Spaghetti Squash
The time it takes to bake a squash depends on its size, but ideally, you can bake the squash for 40 to 50 minutes (at 375F). So if you want a really quick option for cooking squash, try microwaving it as described above. This takes about 7 to 10 minutes in total.
Print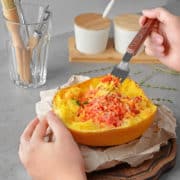 Spaghetti Squash with Chicken, Lemon, and Parmesan (4 servings)
---
One medium spaghetti squash (about 2 ½ pounds)

One tablespoon

olive oil, add extra to bake the squash

One tablespoon

of butter
One and a quarter pound of boneless, skinless chicken thighs
One lemon halved

2 ounces

of grated parmesan, pecorino, or a mixture (about

¾ cup

)

½ cup

of fresh parsley leaves and tender stems, chopped
Salt and freshly ground black pepper to add taste.
---
Instructions
Preheat the oven to 375°F. Afterward, line a rimmed baking sheet or a large baking dish with parchment paper.
Cut the squash in half lengthwise with a sturdy chef's knife. Remove and discard the seeds. Drizzle a little olive oil on the cut side of each squash half, then season with salt & pepper. Bake for 40 to 50 minutes, until tender and readily pierced with a knife. Make sure that the cut-side is face down on the baking sheet.
Cook the chicken about 20 minutes before the squash is done baking. Let the chicken rest for 5 to 10 minutes after cutting it into 1-inch slices and seasoning it with salt.
Heat a tablespoon of olive oil and the butter in a large skillet over medium-high heat. When the butter begins to crackle, add the chicken thighs and cook for 5 to 7 minutes, or until beautifully browned on one side.
Cook for another 5 to 10 minutes, or until the chicken is thoroughly done. Cook for about 30 seconds, scraping off the browned bits on the bottom of the pan with the juice of one lemon half.
When the squash is done, flip it over and let it cool for about 5 minutes with the cut side facing up.
To separate the "spaghetti-like" threads, run a fork through the flesh and place it on the skillet with the chicken. Add in the majority of the cheese, parsley, and freshly ground pepper. More cheese and a squeeze of lemon juice can be added on top if desired.
This recipe is guaranteed to leave your tastebuds craving more, and you can also get more ideas for cooking spaghetti squash in this video recipe.