Just one of the simplest and inexpensive food recipes, ham hocks are an amazingly thick and smoky cut of pork. Having a taste similar to that of bacon, whether they've been added to stews, soups or any other dish always brings about a mouth-watering aftermath. Ham hocks can be prepared using various methods, either by roasting, baking in an oven, or even cooking slowly in a crockpot or a slow cooker, thereby adding so much flavor to a dish.
We've provided some important cooking information on how to get a brilliant result out of your ham hocks just in case you're unfamiliar with this food recipe and how to prepare it.
Tips for Cooking Ham Hocks
A compilation of guidelines and cooking tips has been put together to ensure you get the satisfying result you desire. Do well to pay close attention to the following:
Purchasing ham hocks –  This particular cut of meat is quite popular amongst the southern Americans right time. Although easily affordable, ham hocks can be difficult to find in some grocery stores, so before considering cooking some of those ham hocks, check to see if they're available, or even better, you can go to a local butcher. Ham hocks usually come in packages of two or four.
Appropriate cooking time – If you would definitely want excellent tender meat soaked in great flavors, working with an appropriate cooking time is no exception. As we made mentioned earlier, there are tons of ways to prepare ham hocks but generally, the amount of time it will take to properly cook your ham hocks depends on the type of cooking equipment you're making use of. In order not to over or undercook the ham hocks, it's required that you use a meat thermometer to check its internal temperature while cooking.
Substitutions for ham hocks –  Apart from the known type of ham hocks made out of pork, there are other recipe options that can substitute for ham hocks in cases of unavailability. We've got the chicken ham hocks and the bacon as well. Both the ham hocks and the bacon can be used interchangeably most times when cooking stews or soups as they both dish out a salty and smoky rich taste to the recipe. Ham hocks, however, are way cheaper and contain less fat, so are mostly a better option.
Methods of preparation –  Have in mind that regardless of the method of preparation you choose, ham hocks always leave just the right amount of flavors and tenderness once cooked appropriately. The ham hocks can easily be smoked on a smoker, roasted on a grill, boiled in a crock-pot on a stovetop as well as baked in an oven.
Storing ham hocks – The key to cooking some really great ham hocks is basically crisping and braising them up in broth to sit in the oven for a few hours. Just in case you've got some of those leftovers, try keeping it cool and dry in the refrigerator like most cured meat until they're ready to be cooked. Also, note that keeping it frozen does not affect its flavors and nutrients.
 

View this post on Instagram

 

Cooking Time for Ham Hocks 
The essential timing guidelines provided in the table below are sure to give the best results when cooking ham host:
| | |
| --- | --- |
| Cooking Procedure | Cooking Time |
| Cooking smoked ham hocks on a smoker at 200°F (93°C) | 2 to 6 hours |
| Cooking ham hocks in an oven at 375°-450°F (232°C) | 20 minutes |
| Roasting ham hocks on a grill at 350°F (177°C) | 3 to 4 hours |
| Boiling ham hocks at low/medium heat on the stovetop | 2 to 4 hours |
Print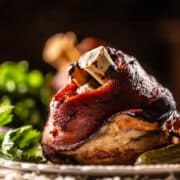 Roast smoked ham hocks (4 – 5 servings) 
---
---
Instructions
First and foremost, heat up your smoker to a temperature of about 200°F (whether you're using a charcoal or an electric smoker). Next, thoroughly wash your ham hocks and place in a crock-pot or a pressure pot adding enough water to cover up the ham in the pot. Boil the ham over low heat for some hours until meat is tender.
Then chop the vegetables and put in another pot containing some butter or oil and cook for some minutes, also on low heat. Remember not to over salt your ham hocks as smoked ham is salty enough. Put the ham in the pot of cooked vegetables as this process removes salt before roasting it.
Cook ham hocks for three hours and removes the foamy scum on the surface of the pot. After cooking, remove the ham and pat dry. Set the vegetables aside as the stock can be made into some soup then score the rind of the ham hocks, wrapping the meat in some kitchen foil. This will help keep it tender while the rind gets crisps.
Heat some oil in a roasting pan and add some chopped potatoes with your ham hocks. Slowly cook ham hocks in an oven over an hour at 90°F, occasionally adding more broth if needed until it attains a brownish outer crust. In order to get an even crispier outer skin, you can proceed to broiling your ham for some minutes more after baking in the oven until it becomes fork-tender.
Once cooked, it's advisable to serve your ham immediately, however for a later use, ham hocks are mostly stored in the refrigerator within a week or more.
Ham hocks are relatively affordable and easy to prepare especially when the basic instructions are followed up carefully. Tasty and filling as it is, ham hocks could be eaten on their own or can be served best with either rice, black beans, some potatoes or great in soups, stews, and salads. We believe this article was quite helpful but if you'd like more ideas on how to prepare ham hocks, please check out more video recipes.