Collards are vegetables with enormous green leaves and rough stems that are removed before eating and are used in various dishes around the world. Collard greens refer to the leafy parts of the cabbage that we consume. It could be said that it is similar to cabbage, kale, and mustard greens and is prepared similarly.
Collard greens are a common side dish in Southern cuisine, and they're known for their pungency. The stiff leaves are widely used in soups and braises because they stay in place well enough when cooked for a long period of time.
Either smoked or salted meats (ham hocks, bacon), onions, vinegar, pepper, and salt are frequently used in the cooking of collard greens. They're also used in salads and wraps where greens replace bread.
Collard Greens Nutrition Facts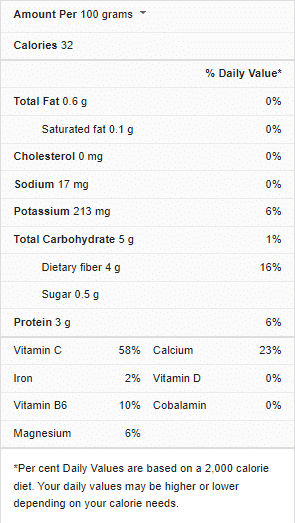 Why Collard Greens?
As previously stated, collard greens have a plethora of health and nutritional benefits. Let's take a look at a few of them.
Cancer-prevention potential- Collard greens and other cruciferous foods may have anticancer properties. People who consume a lot of cruciferous vegetables have a lower risk of acquiring cancers such as prostate, breast, ovarian, lung, bladder, and colon cancer. Several studies have shown a link between eating cruciferous vegetables and a lower risk of cancer, both recently and in the past.
Plant chemicals called glucosinolates, which are present in cruciferous vegetables may be responsible for this promising advantage.
It has the potential to improve eye health- Collard greens are high in nutrients that are beneficial to the entire body, including the eyes. These green leafy vegetables are high in antioxidants like lutein and zeaxanthin, as well as vitamin A, which has been found to play an important role in vision.
Lutein and zeaxanthin are carotenoid pigments found in the macula and retina of your eyes.
It might be good for your heart- Heart disease is the top cause of death in the United States, according to the Centers for Disease Control and Prevention (CDC).
Many studies have shown that changing your lifestyle, such as increasing physical activity, quitting smoking, and eating more cruciferous vegetables, can lower your risk of heart disease. It's also worth noting that cruciferous and leafy green vegetables may have a greater impact on heart health than other vegetable groups.
Tips for Cooking Collard Greens With Ham Hocks
What is the definition of a Ham Hock?
Ham hocks aren't particularly filling (You should try to look for the meatiest one you can find). It's pork knuckle, which is largely fat and bone and comes from the hog's leg where the foot was attached. Because of the tremendous flavor it gives, it's been known to be used in a recipe like this with red beans and rice, mustard greens, black-eyed peas, and other vegetables.
How long should your Collard with Ham Hock be cooked?- Allow for two hours of cooking time. You can use an Instant Pot Collard Greens recipe if you're pressed for time. The amount of time it takes to cook your greens depends on how you like them.
For your cookery, you can go for a sensitive feel. Cook them for 3 hours or more if you want them extra soft. Reduce the cooking time if you prefer an extra bite. Keep an eye on them to ensure you achieve your goal.
Tips for Freezing- Greens can be frozen almost every time they are prepared. You can use frozen molds for this because they are ideal for the job. Greens can be frozen in 1 cup quantities, which is convenient for pulling out a bit for dinner.
Greens can be frozen for up to six months and reheated in the slow cooker for an hour or two. These are usually made a day ahead of time for holiday preparation. The greens will keep for three to four days if kept covered in the fridge.
Cooking Collard Greens With Ham Hocks
Now that you're persuaded you don't need to be a skilled chef to make this delicious ham hock veggie, you can jump right to the cooking directions.
 

View this post on Instagram

 

In a Crock-pot
Start with the smoked ham hocks, which are responsible for the majority of the flavor in the greens. You must cook the ham hocks correctly to create a platter of bomb greens and ham hocks. Because you want the ham hocks to be evenly distributed around the saucepan, simmer the meat until it falls from the bone. You also want the ham hocks to be tender.
Onions, garlic, jalapeno peppers, and apple cider vinegar can be used to add taste. If you don't like or can't eat spicy foods, leave them out. Add extra peppers if you want them to be spicy.
Fill the slow cooker halfway with water, then add the ham hocks, onions, garlic, and peppers.
Set the slow cooker to high for 6 hours with the cover on.
The ham hocks should be tender and fall off the bone after 4 hours.
Begin to add the collard greens.
Add the salt and pepper, followed by the apple cider vinegar. Stir everything together, then cook for another two hours. Serve and have fun
In a Pressure Cooker
Fill your electric pressure cooker with all of the contents, making sure they don't go over the fill line. You may need to change the amount of food you cook at once if your machine is smaller. Cook for 35 minutes on high pressure (see notes below).
After the cooking time has passed, let the pressure naturally relax for 15 minutes. Then quickly release any remaining pressure safely. Using a meat thermometer, check the temperature of the ham hock. It should have achieved a minimum of 165 degrees Fahrenheit, but it will most likely approach 200 degrees Fahrenheit.
On your ham hock, separate the meat from the bone. With a little knife, this is usually simple to accomplish. Bones, tendons, and extra skin should be discarded. Return the shredded meat to the saucepan with the collard greens. Serve immediately.
Print
Collard Greens with Ham Hocks
---
3

-pound collard greens (cleaned and chopped)

2

to

3

medium ham hocks

8 quarts

liquid

1

large red bell pepper (chopped)

2 tsp

salt for seasoning

1 tsp

black pepper, ground

1

big onion, chopped

2 tsp

powdered garlic

2 tsp

vinegar (apple cider vinegar or white vinegar)

1 tbsp

minced garlic
---
Instructions
To begin, place the smoked ham hocks in a slow cooker with 8 cups of water. Bring the slow cooker to high for 3 hours, or until the meat is soft. Then, in a big pot, combine the ham hocks and the liquid. Start adding the collard greens to the pot over medium-high heat.
Add the onions, peppers, garlic, and seasonings once all of the collard greens are in the pot. Stir everything up thoroughly before adding the vinegar. Reduce the heat to medium-low and cook for approximately an hour, or until the greens are soft.
As you can see from the article, making delicious collard greens with ham hock is now fairly simple. Make sure you have the proper vegetable and the right meat, and that your cooking matches the recipe's instructions. This way, you'll be able to create this dinner in no time and consume it as a healthy supper. If you want to learn more, check out this video.