Cooking ribs in the Instant Pot is hands-free among other advantages, and the results it yields are so delicious. When compared to other methods of cooking ribs which involve a lot of hours as well as constant monitoring, the Instant Pot method holds a lot of appeal to home cooks who enjoy quick cooking.  In a fraction of the time, the Instant Pot seals in moisture and tenderizes the ribs to a rather delicious quality.
In this article, we have given you a number of helpful instructions, cooking, and timing guidelines to help you achieve the best possible results with Instant Pot rib recipes. All you have to do now is follow our instructions and tips, in order to properly enjoy your ribs in the best possible way.
Tips for Cooking Ribs in an Instant Pot
We have outlined a number of helpful tips, guidelines, and cooking instructions to keep in mind when cooking ribs in an instant pot:
Broil for extra flavor – Brushing the ribs with BBQ sauce and placing them underneath the broiler for a couple of minutes after they've finished cooking is a fantastic idea. Broiling lightly this way helps to crisp up the top and intensifies the sweetness and thickness of the sauce.
Try some liquid smoke for a smoky flavor – A few drops of Liquid Smoke can be added to your ribs to give them a smokey flavor that will give the impression that they were cooked on an outdoor grill. It's best to look for genuine Liquid Smoke. Also, because liquid smoke comes in a variety of tastes, try a few and see which one you prefer.
 

View this post on Instagram

 

Cooking Time for Ribs in an Instant Pot
Pay attention to the timing guidelines below to get the best results when cooking ribs in an Instant Pot:
| | |
| --- | --- |
| Cooking procedure | Cooking time |
| Cooking baby back ribs on HIGH in the Instant Pot | 23 to 25 minutes |
| Cooking spare ribs on HIGH in the Instant Pot | 35 minutes |
Top 3 Essentials For Cook Ribs in an Instant Pot
[amazon box="B00FLYWNYQ,B07SRVLF1P,B00BHNV8N2″ grid="3″]
Print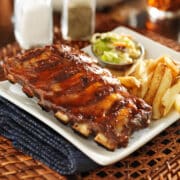 Instant Pot Ribs (2 to 4 Servings)
---
1

rack of baby back ribs or spare ribs, about

1½

to

2

pounds

1 cup

of water

3 tablespoons

of apple cider vinegar

½ teaspoon

of liquid smoke

¼ cup

of Homemade Barbecue Sauce (you could also swap your favorite store-bought sauce), plus additional for serving
For the Rub:
---
Instructions
Clean the ribs by rinsing them and patting them dry. Remove the thin, glossy membrane on the rear of your ribs if it still exists. (This is a simple process, so no need to worry) Turn the ribs over to the meaty side. To dislodge the membrane, slide a dull knife (a butter knife for instance) between the ribs and the membrane. Grip the membrane using a paper towel, then pull it off the ribs and discard it.
Combine the paprika, brown sugar, salt, black pepper, garlic powder, chili powder, onion powder, and cayenne pepper in a small bowl. Rub the resulting mixture all over the ribs, making sure to coat both sides of the ribs.
At the bottom of a 6-quart Instant Pot (you can use a bigger size if you want), place the trivet (or rack). Pour water into the Instant Pot, followed by the apple cider vinegar, then add in the liquid smoke. Place the ribs inside the pot on their side (make sure they are positioned on top of the trivet), then wrap the rack around the interior aspect of the Instant pot (like a circle).
The Instant Pot should be covered and sealed at this point. Cook the ribs for 23 minutes on high (manual) pressure if you're using baby back ribs for your recipe. If you are cooking multiple racks of ribs, and if the ribs are really fleshy, feel free to increase the cooking time to 25 minutes). Allow 5 minutes for the pressure to naturally release before venting the remaining pressure manually.
Cook spare ribs for 35 minutes on high. Allow for a complete release of the pressure (about 15 minutes). When the pin drops, you'll know it's been released.
Position a rack in the top third portion of your oven, then set it to broil toward the end of the ribs' cooking time. Aluminum foil should be used to line a big baking sheet. Brush the grilled ribs generously with barbecue sauce before placing them on the prepared foil. Place the ribs under the broiler for about 2 minutes, or until the sauce spread on them begins to caramelize. Watch the ribs closely to avoid burning them.
Notes
Recipe notes:
For the most delicate results, choose a rack of ribs that weighs less than 2 pounds. About 2 persons can be served from one rack. You should however be able to fit 2 to 3 racks inside your Instant Pot at once if you would prefer to cook a larger amount of ribs.
Simply install extra racks in a second circle on the interior after standing the ribs all the way along the outside in one enormous circle. If it makes it easier to fit the slabs, chop them into smaller pieces. For each additional rack, multiply the spice mixture (use double the stated amount for 2 racks, and triple for 3, etc.).
Ribs are always so delicious, the perfect meal option any time of day. These delicious results will only be possible if the ribs are cooked correctly, as you may have guessed already. The instructions we've provided above will ensure that you get nothing less than desirable results when you cook your rack of ribs in an Instant Pot. Also, take note of the timing guidelines for the best results.
In case you want to see more recipe ideas for cooking ribs in an Instant Pot, we recommend that you take a look at this video recipe.