Pizza Hut Meaty Marinara Recipe

I always enjoy eating the meaty marinara pasta from pizza hut. The meaty marinara consists of marinara sauce with ground beef, rotini pasta and cheese. The marinara sauce is prepared on the stovetop and gets a lot of flavor from ingredients such as garlic and basil. Once the sauce is prepared it is mixed with the cooked rotini pasta and placed into a baking dish and topped with a generous amount of mozzarella cheese. The casserole is then baked to perfection in the oven and ready to serve with delicious breadsticks. Enjoy!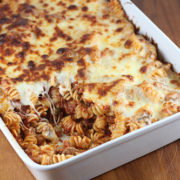 Pizza Hut Meaty Marinara
Ingredients:
16 ounces rotini pasta
2 cups shredded mozzarella cheese
1lb ground beef
1 (6 ounce) can tomato paste
1 24 ounce can crushed tomatoes
6 garlic cloves (minced)
2 tablespoons olive oil
2 tablespoons sugar
2 teaspoons dried oregano
2 teaspoons onion powder
1 teaspoon garlic powder
1 /2 cup fresh basil (chopped)
Salt and pepper (to taste)
Directions:
Heat olive oil in a large stockpot. Add garlic and sauté for 2 minutes. Add the ground beef and cook until browned while breaking up into chunks with a spatula, about 5 minutes. Stir in the tomato paste, tomato puree, sugar, oregano, onion powder, garlic powder, salt and pepper, and basil. Mix well. Simmer for about an hour, stirring occasionally.
Preheat the oven to 350 degrees F. Cook the rotini pasta according to package directions. Drain and mix with the prepared marinara sauce. Place the mixture into a lightly greased 9x13 inch baking dish. Top with mozzarella cheese.
Place into the oven and bake for 25-30 minutes or until the cheese has melted and beginning to brown.