Apart from being gluten intolerant, there are a variety of reasons why you would desire to eliminate bread from your diet. You may be attempting to minimise your carbohydrate intake, or at the very least to replace it with more complex carbohydrates, or you may be attempting to avoid all processed meals, which generally include avoiding bread. If you've been thinking about cutting back on bread but have been scared to do so for fear of missing out on tasty meals like sandwiches, toast, or even something to dip in your soup, these healthy bread substitutes might just be the motivation you need. Yes, you may have your sandwich and eat it as well.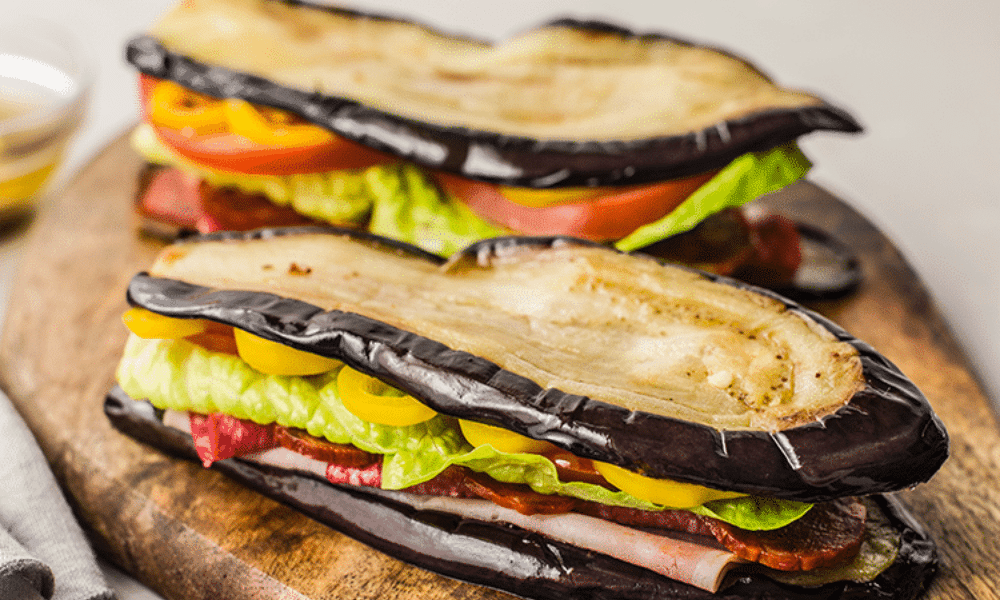 If bread isn't your thing, you can make sandwiches with a variety of other items as a bread substitute. Let's look at some of the possibilities: Nori, lettuce leaf, Portabella mushrooms, and cloud bread All of these things make fantastic sandwich fillings and taste exactly like bread. Continue reading to learn more about sandwich bread substitutes! Then give it a shot for yourself!
Some Bread Substitutes for Sandwiches
Cloud bread can help you escape the guilt of eating unhealthy bread, whether you enjoy baking fresh bread or using it to make sandwiches. You can make cloud bread at home instead of purchasing pricey bakery bread. Only three ingredients are needed for this recipe: cream cheese, eggs, and salt. Before you begin, make sure that your eggs are at room temperature. It's crucial to separate the egg whites from the yolks because fat prevents the whites from creating stiff peaks. Make sure the egg whites are hard and glossy before using them. It's best if your eggs are at room temperature.
While cloud bread isn't a perfect alternative for bread, it does have a lot of advantages. This gluten-free bread alternative is also low in calories. It has the appearance and flavour of a fluffy cloud. It's also simple to put together: just bake the bread on two baking sheets. Toppings such as mascarpone cheese, yogurt, or thick mayonnaise can then be added. You'll get the same delightful taste and texture without the guilt.

The lettuce leaf is an excellent low-carb bread alternative. It is minimal in calories and carbohydrates, as well as being simple to prepare. Lettuce wraps are delicious because they are light and healthy. Furthermore, lettuce has a low glycemic index, making it an excellent low-carb alternative to bread. Lettuce leaves can also be used as sandwich wrappers.
Large, strong lettuce leaves are ideal for sandwiches without bread. They're wonderful for wrapping burgers and BLT "sandwiches," and they may also be used to wrap lettuce. You can also make lettuce wraps with an Asian theme. You can fill it with a variety of components depending on the filling and the size of the leaf. For a more typical sandwich flavour, use iceberg lettuce or Boston lettuce.

Consider Portabella mushrooms as a delicious and healthful substitute to bread. Sandwiches can be made with these delicious and versatile mushrooms. These delectable meatless bread substitutes can also be used in vegetarian dishes. Here are a few easy ways to use Portabella mushrooms in your sandwich. Your sandwich-loving family will love these dishes. You'll also appreciate how healthy they are!
While bread and spreads are enticing, opting for grilled portabello mushrooms is a better option. They are simple to prepare ahead of time. Marinated vegetables and grilled bread are stuffed into the mushroom caps. A vegan southwest dressing complements the sandwich. These dishes are an excellent way to increase the amount of vegetables in your sandwich without compromising flavour. Combine marinated portobello mushrooms, grilled bread, vegan southwest dressing, and shredded cheese to make the ultimate sandwich.

Nori isn't only a terrific wrap for your sandwich; it's also packed with nutrients and minerals, making it a healthy bread substitute. Make Asian-inspired sandwiches with Nori, such as tuna and spicy mayo. Egg wraps are a recent Keto bread substitute that provides a punch of protein and healthy fats into a meal. They can also be used as a breadless breakfast burrito!
Nori is a popular gluten-free bread alternative, although it's not particularly tasty. As a result, many people continue to choose bread. If you can't eat bread, try substituting nori sheets instead. The sheets are rolled up like sushi and can be used to wrap deli meats or other ingredients in sandwiches. You can even season them to your preference! However, make sure to consult your doctor first.

Pita bread is a versatile sandwich bread that may be used to construct a variety of sandwiches. Grilled cheese sandwiches, sloppy joes, submarine sandwiches, and more can all be made with it. Pita bread can also be used to make a wrap. Try a pita sandwich if you're sick of white bread. You'll be glad you took the time to do so! Pita bread is a wonderful alternative to white bread, whether you like sandwiches or not.
One side of pita bread includes a handy pocket that can accommodate meat strips or salad. Tahini can also be used as a sauce. Pita bread is wonderful for wraps and thick soups in addition to sandwiches. It's so adaptable, in fact, that you can even use it as a pizza crust. Just make sure to use whole wheat or spelt pita bread, which has a lower glycemic index.

Hummus is a fantastic bread substitute. This spreadable, creamy sauce is fantastic in sandwiches, and it doesn't even need bread to be a tasty meal. On one slice of bread, spread some hummus and top it with tomato and cucumber slices. Wrap the sandwich in plastic wrap and chill until ready to eat. Spread the hummus on the other side of the sandwich once it's cooked, and you're done!
A hummus and vegetable sandwich is a terrific way to obtain a high-protein snack without all of the high-calorie, high-fat elements included in many typical sandwich fixings. Vegetables provide crunch to hummus-covered pita bread, which is both delicious and nutritious. The hummus-stuffed bread is also a tasty way to get your daily dose of bright fruits and veggies. Sandwiches with hummus and a variety of vegetables, such as tomatoes, cucumbers, onions, and avocados, can be made.

The wonderful thing about this bread substitute is that it is both delicious and raw. Aside from the ingredients, the only other thing you'll need is a dehydrator to create this. If you've been thinking about introducing more raw foods into your diet, a dehydrator is a great place to start.
Flatbread made with buckwheat
After being diagnosed with candida overgrowth, I learned about this. I craved bread, pancakes, and everything else that I wasn't meant to eat. Then I discovered that buckwheat isn't exactly wheat or even a grain, but rather a rhubarb-related fruit seed. Buckwheat is wheat- and gluten-free, high in protein, and low in carbs, making it a perfect bread, pancake, and another grain substitute.

This idea was shared with me on Facebook, and when I saw it, my head almost exploded. Why hadn't I thought of it before? It's such a simple yet wonderful idea. Sweet potatoes, which are laden with many beneficial vitamins and minerals, are a terrific vegetable to be eating more into your diet, and a whole new world of open-faced sandwiches was now at my disposal, and now it's yours as well. Simply slice a large sweet potato into half-inch pieces, toss in the toaster, and toast until golden brown! Now you have roasted sweet potato slices to top with hummus, guacamole, sprouts, nut butter, jam, or whatever else your heart desires.
Are Wraps Better for you than Bread?
Between bread and wraps, there isn't much nutritional difference. The only difference is that the bread is leavened with yeast and the wrap is flat. The nutritional profiles for one wrap and two slices of commercially baked bread are similar, according to the Nutrition Facts labels. In the United States, a wrap is a popular lunch meal that can refer to both the outer shell and the finished result. They serve the same purpose as sliced bread in that they keep components and fillings together so you may eat them without making a mess.
A wrap employs a malleable flatbread or tortilla to bundle contents into a portable, handheld meal, similar to a sandwich or burrito. While nutritional content can vary, healthy wraps can be a great way to add variety to your daily lunch routine.
Sandwiches appear to have a better reputation than wraps. They're usually piled high with colourful fresh vegetables (lettuce, tomatoes, peppers, and onions), a lean protein (turkey breast, chicken breast, or tuna), and a piece or two of cheese. The exterior wrap is usually made of flour tortillas, which come in a variety of flavours. Some feature added ingredients, such as spinach or tomato powder, that provide flavour and colour. For those on a specific diet, there are also low-carb and gluten-free tortilla options.
What Happens When you Stop Eating Bread for a Month?
Weight loss as a result of a decrease in the number of calories and carbs coming into the body, and thus a larger loss of stored water inside the body, is likely to be the first thing you notice. When the body's carbohydrate consumption falls, it begins to burn energy stored in the form of "glycogen," which is the image of carbohydrates stored in the liver and muscles, resulting in water loss and weight loss.
According to science, refined carbohydrates, such as those contained in white bread, create a rapid increase in blood sugar levels, which a healthy body will strive to reduce immediately by secreting insulin, which will have a direct impact on your appetite for food.
Ability to exercise deteriorated
As previously said, the body will tend to lethargy as a result of a lack of fundamental resources to give it with energy, and it will be unable to exercise that takes a high level of effort or focus.
Can I Lose Weight Eating Sandwiches?
Yes, you can eat a sandwich and lose weight if you fill it with vegetables, use the correct bread, and control your protein levels. To learn the art of constructing nutritious, slimming sandwiches, use this handy chart from the 'Stop & Drop Diet.' I could live off of sandwiches for the rest of my life.
Let's start with protein. You don't want to squander calories on fats like bacon, fatty steak, or fried chicken, so choose lean, lean, lean. Veggies are simple to prepare but don't limit yourself to lettuce and tomatoes. Try fresh or roasted peppers, darker greens like spinach or kale, or leftover grilled vegetables to provide more nutrients and flavor.
Finally, compare the number of calories in various spreads. Mustard is essentially free, whereas mayonnaise and "salad dressing" (e.g. Miracle Whip) are almost entirely made of oil and contain a lot of calories. I occasionally use hummus or guacamole as a spread, but I keep it light so I don't eat too many calories.
Are Spinach Wraps Better than Bread?
Although spinach wraps appear to be healthier, they often include just trace amounts of spinach and are produced with refined grains, resulting in little calorie or carb reduction, as well as no extra fiber. Instead, load up your sandwich or wrap it with genuine, fresh vegetables for real added health benefits.
Although it appears to be healthy and green, spinach powder is a minor component. The green colour derives mostly from food colorings in these wraps, which are often constructed from refined white flour (Blue No. 1 and Yellow No. 5.). Not only is this not a vegetable serving, but it also lacks the immune-boosting vitamins A and C present in fresh spinach.
Disease risk is reduced. Whole grains have been linked to a lower risk of practically everything you're seeking to avoid, including heart disease, type 2 diabetes, cancer, and high blood pressure, according to research.
Conclusion
Although wheat bread is a staple in many people's diets, it may simply be replaced with more nutritious and healthier alternatives. This adjustment should not be difficult with the correct resources, however, it may take longer at the beginning. The preceding list is a nice place to begin. Find something you like to eat that matches your lifestyle.
The bulk of today's bread, on the other hand, is manufactured from refined wheat, which has been stripped of the majority of its fibre and nutrients. It may also induce a significant rise in blood sugar, leading to an increase in calorie consumption.