If you're not familiar with maitake mushrooms, now may be a really good time to try them. When cooked properly, these mushrooms give off a distinctly earthy, peppery flavor, especially when you use savory and salty ingredients to balance them out.
In this article, we'll show you different ways to cook maitake mushrooms to achieve a delicious quality. Make sure to pay attention to all the tips and guidelines we've outlined in this article for the best possible results.
Maitake Mushrooms Nutrition Facts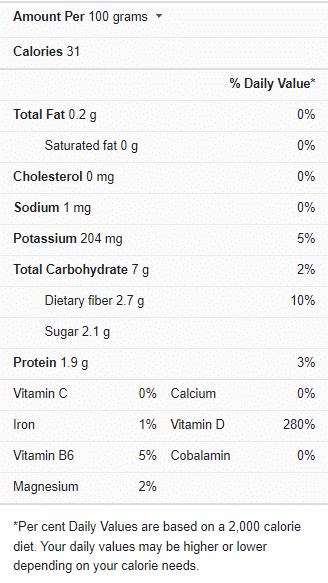 Tips for Cooking Maitake Mushrooms
We have outlined a number of helpful tips below to get the best results when cooking maitake mushrooms:
Get fresh mushrooms – Fresh maitake mushrooms provide the nicest flavor. If at all possible, buy your mushrooms just before you intend to prepare them to ensure that they are as delectable as possible. Maitake mushrooms can be found fresh in most stores, so keep an eye out for good ones.
Preparing the mushrooms – Maitake mushrooms, unlike capped mushrooms, have a thin and feathery quality, and they are mostly found in clumps. Instead of slicing or chopping the mushrooms into smaller pieces, pull them apart with your hand to make cooking and working with them easier.
Also, it's important to wash your mushrooms before cooking them. To do this, fill a bowl halfway with water and add a pinch of salt. Before you begin cooking, soak your mushrooms in water for some minutes, then towel dries them.
A black liquid may be present on some of your mushrooms. This is known as polyphenol, and it's perfectly safe and beneficial to your health. If however, you don't like the taste of this liquid, allow your mushrooms to boil for a few minutes to get rid of it.
Different cooking methods to try – Maitake mushrooms can be cooked in quite a number of ways to achieve delicious results. Mushrooms that have been seared or stir-fried are excellent additions to your main course, and roasted maitake mushrooms on the other hand can make quite a wonderful side dish.
Below we have described some of the methods through which maitake mushrooms can be cooked for delicious results:
Searing Maitake Mushrooms
Ingredients
Directions
Roasting Maitake Mushrooms in the Oven
Ingredients: This should make 2 to 3 servings
Directions
Whatever method you choose to use in cooking your maitake mushrooms, the results will turn out delicious. Just make sure to follow all the right cooking instructions.
View this post on Instagram

Cooking Time for Maitake Mushrooms
Keep the following timing guidelines in mind when cooking maitake mushrooms:
| | |
| --- | --- |
| Cooking procedure | Cooking time |
| Sauteing maitake mushrooms | 4 minutes |
| Searing maitake mushrooms | 6 minutes |
| Roasting maitake mushrooms in the oven | 50 minutes |
Print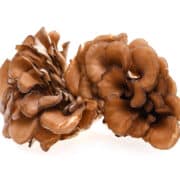 Sauteed Maitake Mushrooms (4 Servings)
---
8 ounces

of maitake mushrooms

2 tablespoons

of sesame oil (standard, not toasted)

2

medium garlic cloves

2 tablespoons

of tamari or soy sauce

⅛ teaspoon

of kosher salt

⅛ teaspoon

of Sriracha (or

¼ teaspoon

of rice vinegar)
For the garnish:
chopped chives or sliced green onions (optional)
---
Instructions
Clean the mushrooms by rinsing them and patting them dry. Pull them apart into 3-inch pieces with your fingers. The garlic should be minced.
Heat the sesame oil in a nonstick or cast-iron skillet over medium-high heat. Sauté for about 2 minutes after adding the mushrooms. Cook for 1 minute on the opposite side after flipping the mushrooms.
Cook for 30 seconds, or until the garlic is mellow and aromatic. Stir in the Sriracha, soy sauce, and salt, and simmer for another minute, or until the vegetables are tender. Turn off the heat. Serve with soba noodles or as a side topped with cut chives or green onion tops.
This maitake mushroom recipe yields delicious results, and it's a recipe that you should definitely try. When you follow the right cooking instructions, you can be assured of the best possible results.
If you'd like to see more ideas for cooking maitake mushrooms, we recommend that you check out this video recipe.