Shrimp cooks quickly, like most other seafood, and can be used to top vegetables or grains for a quick dinner, similar to chicken breast and pulled pork.
My preferred method for cooking shrimp is in the oven; it's hands-free, foolproof, and ideal for larger amounts. Simply place a tray in the oven while you set the table, and the shrimp will be done in about 5 minutes.
Discovering that I could cook frozen shrimp in the oven is one of my happiest kitchen moments. Also because the resulting shrimp are so juicy and flavorful, I can't believe I have ever taken the time to thaw shrimp, no matter how quick and easy it is.
Straight from the freezer to the oven, these shrimp are coated with Cajun seasoning for a spicy, savory take on broiled shrimp. This is a good meal that is easy to prepare and delicious. Read on as you learn how to cook shrimp straight from the freezer to the oven, without having to defrost them first.
Shrimp Nutrition Facts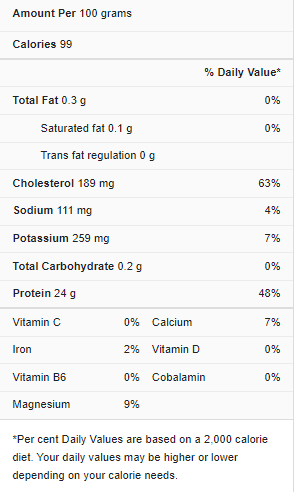 Tips on How to Cook Frozen Shrimp in Oven
Kind of shrimp you should use – Don't buy "previously frozen" shrimp from the supermarket. They are usually more expensive and must be used straight soon. Get a bag of frozen shrimp instead. Then pop them in the freezer and you have got the ingredients for a quick meal on hand.
Shrimp of medium to large size. Also, make certain they have been deveined – on the bag, it will say deveined. You want them deveined since you won't be able to remove the veins while they are frozen, and it will be difficult, if not impossible after they have been cooked.
The shrimp must also be frozen separately, not in a large clump. You should hear a bunch of frozen shrimp moving about individually in the bag if you shake it. It's fine if 2-3 are frozen together here and there. But no clumps larger than that.
If you buy frozen shrimp from a supermarket, they are normally frozen separately. If they have clumped together in the bag, lightly hit it on the counter. This may cause them to move.
Shrimp sizing from frozen – Did you realize there are different sizes of frozen shrimp? On the bag, there are numbers that indicate how many shrimp equal a given weight.
You will have larger shrimp if you use less shrimp. The shrimp will be smaller if there are more of them. If your shrimp are larger or smaller than the ones we tested, you may need to increase the cooking time.
You should add a minute or two to the entire cook time for larger shrimp. Reduce the overall cook time by a minute or two for smaller shrimp.
The best seasoning for frozen shrimp in the oven – This is the most enjoyable part. My go-to base recipe only requires three ingredients: olive oil, lime juice, and salt and pepper.
They have a delightful little zing to them that goes great with your favorite cocktail sauce or dip recipe. You can, however, season your shrimp any way you like. Do you have a new seasoning combination you want to try? You should try it and make sure you spread it around.
Poaching – Poaching shrimp is by far my favorite way to prepare them, especially for shrimp cocktail, but also for nearly any other dish. It's a moderate cooking procedure that results in plump, juicy, soft shrimp that are never rough.
The odd thing is that you do everything exactly the same way you do for poaching thawed shrimp for poaching frozen shrimp. Simply leave them in the water for a minute longer. Just a minute.
How To Cook Frozen Shrimp in Oven – This fast and simple frozen shrimp cooking method is suitable for shrimp salad or exquisite shrimp dinner. So here is how you go about it.
Preheat the oven to 400 degrees Fahrenheit with a rack in the middle.
Place the shrimp in a colander in the sink and rinse them under cold water for about 5 minutes.
Make sure you toss the shrimp around every now and then so you can ensure that they are all exposed to the chilly water. Moreover, when thawed, you will find that the shrimp will bend readily.
Next, you should use a paper towel to pat the shrimp dry.
Drizzle a little olive oil over the shrimp. You should season with salt and freshly ground black pepper to taste.
You should now toss the shrimp briefly with your hands to coat them in oil and seasonings.
Spread the mixture on a baking sheet. Arrange the shrimp in a single layer on the baking sheet. The shrimp should be arranged in a single layer on the baking sheet, with plenty of space between them.
6–8 minutes in the oven: Bake until the shrimp are white and pink and opaque, turning from blue-grey and translucent.
Proceed to remove and eat right away.
The shrimp make a delicious warm or cold shrimp cocktail. You can simply serve with a dipping bowl of your favorite cocktail sauce on a plate.
View this post on Instagram

How Long to Cook Frozen Shrimp in Oven
| | | | |
| --- | --- | --- | --- |
| Preparation Time | Cook Time | Additional Time | Total Time |
| 2 minutes | 10 minutes | 20 minutes | 32 minutes |
Print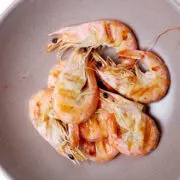 Frozen Shrimp in Oven Recipe (4 Servings)
---
1

package of frozen peeled and deveined shrimp

2 tablespoons

of olive oil

1

lime (juice)
Salt
---
Instructions
Before you begin, make sure the frozen shrimp is completely thawed. If you cook them straight from the freezer, they will steam rather than roast.
Preheat the oven to 400 degrees Fahrenheit.
Drain and dry the thawed shrimp on paper towels before placing them in the roasting pan.
Drizzle the shrimp with olive oil and lime juice. Toss the shrimp with a spatula or a cooking spoon to coat them. Spread them out into a single, equal layer.
You should season the shrimp with salt and pepper.
Bake the shrimp for 8 to 10 minutes, or until firm and pink.
The warm shrimp can be served warm or chilled shrimp can be served cold.
If you wish to serve the roasted shrimp as an entree, toss in some quick-cook vegetables like asparagus or cherry tomatoes, along with a pinch of garlic and herbs. You can watch this video recipe for how to cook frozen shrimp in the oven.