If you're craving an immediate barbecue treat, this may not be what you want to hear right now. We'll say it anyway: the secret to delicious (in fact, great) pulled pork is cooking it low and slow. This may appear to be torture, but the wait will be well worth it in the end. Quite fortunately, a slow cooker makes the lengthy process a breeze, making it the go-to choice for pulled pork recipes.
Pay attention to the tips outlined in this article and the ideal cooking duration for the best crockpot pulled pork recipes.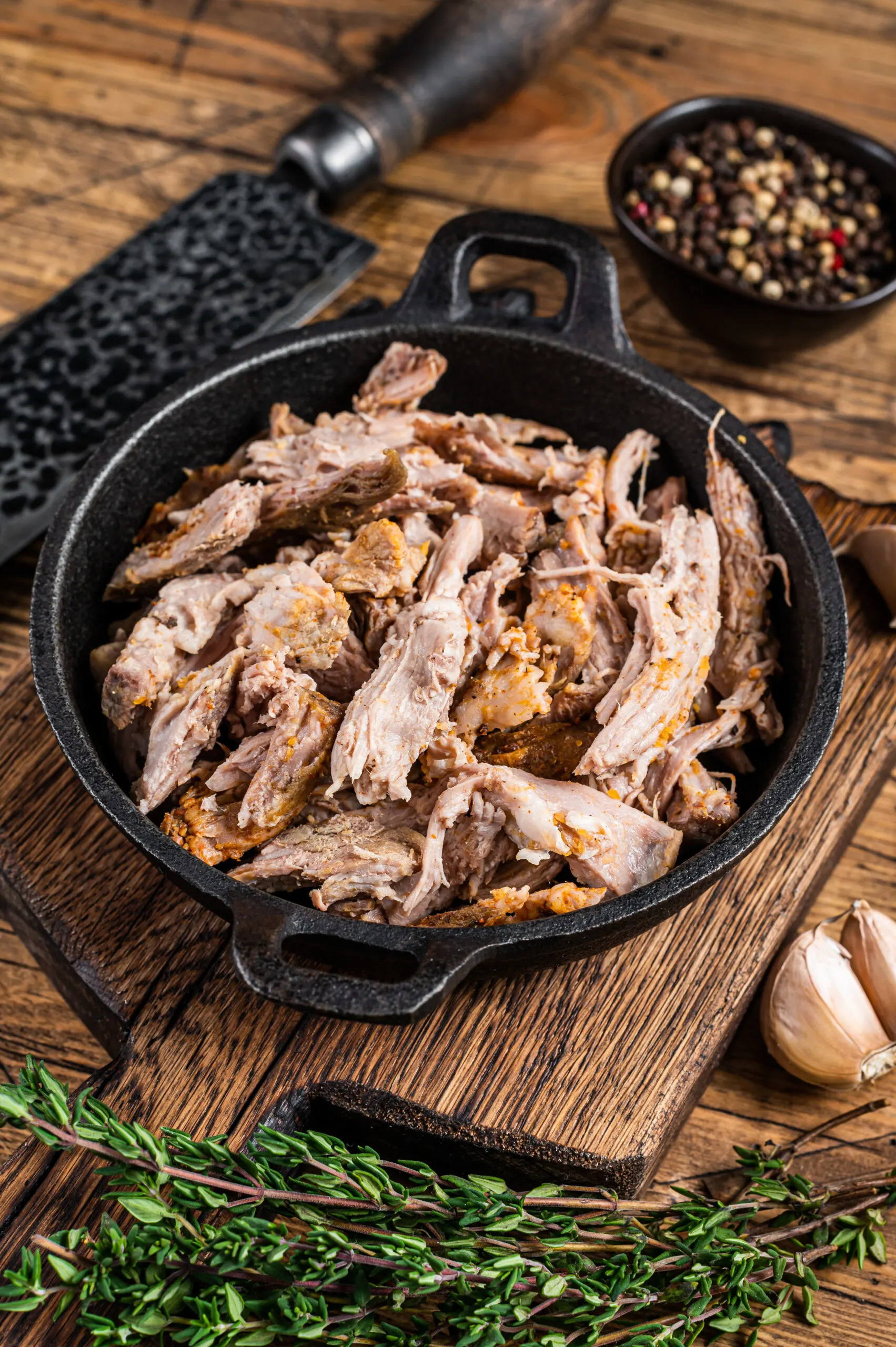 Pulled Pork Nutrition Facts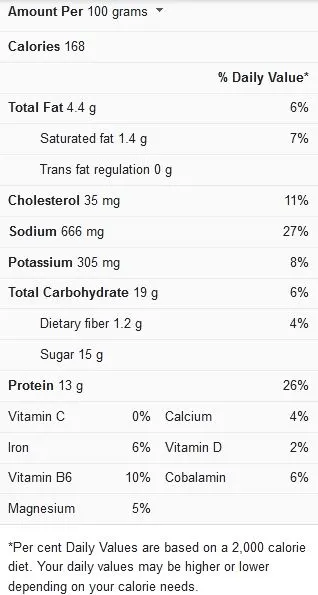 Tips for Cooking Pulled Pork in a Crockpot
The following tips highlighted below will help you get really desirable results when cooking pulled pork in a crockpot:
Take care not to overcook – The easiest approach to avoid this is to get to know your slow cooker, as models differ in heat intensity and size, which might affect cooking time. If you're cooking a 3-pound pork shoulder, you'll want to check the temperature sooner than if you're cooking a 5-pound pork shoulder. When the pork hits 190°F and shreds easily with a fork, it's done.
Reheating pulled pork – While it can be reheated in the microwave, it's best to be reheated in a skillet. Cook the remaining pulled pork in a tiny amount of fat, such as neutral olive oil, butter, or lard, for a few minutes until warmed through.
Cook the pork in the sauce – There's no need to cook separately on the stove. Every component of barbecue sauce that you enjoy – the sweetness, acidity, and spice—is also present in the slow cooker. Toss the pork with the remaining juices at the end. The "sauce" will seem thinner, but the flavor will be identical.)
The best cut of pork to use – While tenderloin can be used for pulled pork, it's too skinny to avoid becoming dry and rough (it's better suited to roasting to medium). Like most slow cooker dishes, a pork roast with loads of good fat marbled throughout gets wonderfully soft in the crockpot.
Pork shoulder is the best cut of pork for pulled pork recipes. It can go by a variety of names (and names can vary by location). When it comes to pork, boneless is a better option. Bone-in still works just fine and may need a little bit of extra time. Any of the following options will suffice:
blade roast
shoulder butt roast
shoulder roast
Boston butt
picnic roast
pork steaks (pork butt slices)
For the most tender pulled pork – When it comes to slow cooker pork, cooking low and slow is the best approach. Cooking pork quickly will make it tough and difficult to eat. If you cook it on high, it will get chewy, so cook it on low for 8-10 hours to make it tender. You should be able to shred it with a fork effortlessly.
View this post on Instagram
Cooking Time for Pulled Pork in Crock Pot
The ideal timing guidelines when cooking pulled pork in a crockpot are highlighted in the table below:
| | |
| --- | --- |
| Cooking Method (Low Vs. High) | Cooking temperature |
| Cooking on a low setting in a Crockpot | 6 to 8 hours |
| Cooking on a high setting in a crockpot | 4 to 6 hours |
Print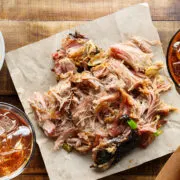 Ultimate Slow Cooker Pulled Pork (10 Servings)
---
1

(4 ½ to 5 pound) boneless or bone-in pork shoulder, with the twine or netting removed

2 teaspoons

of salt, plus extra if necessary

1 teaspoon

of freshly ground black pepper

2 tablespoons

of neutral-flavored oil

1

medium onion, peeled and chopped into small sizes

4

cloves of garlic, peeled and minced

2 tablespoons

of tomato paste

1 tablespoon

of ancho or mild chili powder

2 teaspoons

of ground cumin

1 cup

of water

3 tablespoons

of apple cider vinegar

1 tablespoon

of fish sauce or

1 tablespoon

of Worcestershire sauce
For Serving (Optional Suggestions)
Bread rolls
Coleslaw, see our mayonnaise based coleslaw recipe or our mayo-free coleslaw
Pickles
Barbecue sauce, see our bacon bourbon barbecue sauce recipe
Hot Sauce
---
Instructions
Prepare the pork:
Season the pork with salt and pepper, then leave it aside while you assemble the rest of the ingredients.
In a large skillet, heat the oil over medium heat. Cook, stirring periodically, until the onions and garlic are delicious and browned around the edges. Combine the tomato paste, chili powder, and cumin in a mixing bowl. Cook, stirring constantly, until the color of the tomato paste changes from brilliant red to orange, about 3 minutes. Cook for 1 minute, scraping up the browned bits from the bottom of the pan with the water, apple cider vinegar, and fish sauce.
Cook the pork:
In the bottom of a slow cooker, place the seasoned pork, then pour the onion and spice combination on top. Wiggle the pork around in the slow cooker's bottom, allowing some of the onion and spice combination to fall underneath. Cover and simmer on LOW for 6 to 8 hours or HIGH for 4 to 6 hours, or until the pork is easily shredded.
To finish up:
Remove the pork from the slow cooker and place it on a chopping board. Remove any bones from the pork and discard them. Shred the meat with two forks, removing any connective tissue and large clumps of fat.
Skim the majority of the fat from the surface of the cooking liquid. Remove the fat and set aside the cooking liquid.
If using barbecue sauce, pour it into the slow cooker with the shredded pork and stir to combine. Return part of the reserved cooking liquid for even additional flavor. If you're not using barbecue sauce, return the shredded pork to the slow cooker along with the cooking liquid. Season to taste with salt, vinegar, or spicy sauce, if desired.
Notes
This pulled pork recipe yields tender, flavorful pork that you and your family will definitely enjoy eating. The entire cooking duration for this recipe is 8 hours and 30 minutes, including a prep time of 30 minutes and a cook time of 8 hours.
If you need more insight on how to make pulled pork recipes using a crock pot, then you should check out this video recipe.