We all know how delicious pulled pork can be. The tasty goodness of juicy shredded pork is a welcome addition to loads of dishes and recipes. It works in snacks, main courses, side dishes, and outdoor mini foods. But not many realize you can make it in the oven just as well as you do in the crockpot.
While most people favor crockpot pulled pork, using the oven is also quite possible. It does come with its advantages, plus it gives you a reason to give the slow cooker a rest. And since having more than one cooking method for the same recipe is awesome, you'd want to check out this technique.
Pulled Pork Nutrition Facts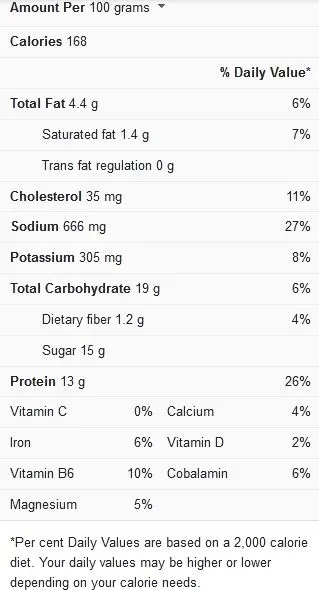 What's Great About Oven Pulled Pork?
If you're already religious about the crockpot technique, you may feel using an oven for pulled pork is pointless. But don't write it off just yet, as you may be on the verge of finding something interesting for your cookbook.
It's Mostly Hands-Off- You toss the ingredients into a tray or casserole dish, then sit back and enjoy a glass. And since this perk comes with most oven recipes, you can imagine how convenient it makes cooking pulled pork seem.
You Get Crispy Bits- When you roast pulled pork in an oven, you'll notice the sauce and fat caramelize over the meat. And when it's finally shredded, this surface contributes crispy burnt edges to the shredded pork. Imagine that blend of juiciness and crispy deliciousness that comes with such a mix!
It's Straightforward- The recipe is so straightforward; anyone can do it. You don't have to check the food constantly or use a special technique for it. All that's needed are your oven, the baking container, a few ingredients, and your hands.
Choosing the Pork Cut
You can use pork shoulder or pork butt for oven pulled pork recipes. But note that either option must be boneless, so the cooking time is maintained. Also, note that pork butt has more fat in the meat and will offer more tenderness, juiciness, and flavor. But pork shoulder is best for a lean result and perfectly softens when cooked for long.
View this post on Instagram

Seasoning Options
Spices that add depth to oven pulled pork include cumin, smoked paprika, black pepper, garlic powder, onion powder, and sometimes ginger powder. But you can also add down sugar to initiate a caramelized surface. You'll also have to cook the pork in beer, as it's known to pair best with the meat's flavor. But it goes after the meat has been seared and before the pork enters the oven.
Sear First
Once the pork has been seasoned, you'll need to brown the meat over the stovetop before setting it in the oven. You can skip this step, but know that the searing results in the crispy burnt pieces you seek. You can cut the pork into large chunks, so they fit in the Dutch oven. Then, brown each piece on all sides, so the sugar caramelizes.
View this post on Instagram

Cooking Pulled Pork in the Oven
The pork needs to cook at 300F for five hours, three of which the pork will be covered. And you'll be using the same Dutch oven employed in the searing for this purpose. By the four to five-hour mark, the pork shoulder should be fork tender and can be shredded. And once done, you can toss the pulled pork in BBQ sauce before serving for an even more intense flavor.
Print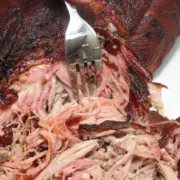 Oven-Roasted Pulled Pork (6 to 8 Servings)
---
One boneless pork shoulder, four pounds

12

-ounce lager

Three tablespoons

packed brown sugar

Two tablespoons

vegetable oil

One tablespoon

smoked paprika

One tablespoon

ground cumin

One tablespoon

onion powder

One tablespoon

garlic powder

One tablespoon

kosher salt
Black pepper, freshly ground
---
Instructions
Prepare an oven to heat to 400F. Then, trim any excess fat from the pork shoulder. Next, slice it into large sizes that'll fit in a Dutch oven.
Mix the spices and sugar, and rub it all over the pork pieces. You can also do this seasoning the night before you cook.
Add the oil to a Dutch oven on medium-high heat oven the stove. Then, brown the pork pieces on all sides, taking care, so the spices don't burn. This process needs to be done in batches because of the meat's size.
When the pork pieces are fully seared, return them to the Dutch oven and pour the lager around them. Then, place the lid and cook in the oven for three hours, by which they'll turn tender.
Uncover the Dutch oven and keep cooking the pork shoulder pieces for one to two more hours. By then, the meat should be soft and pull-apart easily with a fork.
Take the Dutch oven down and rest the pork shoulder pieces for five to 10 minutes. Then, shred the meat apart with a fork and use as desired.
You can also watch this video to know more.