Looking for a healthy and hearty Green Split Pea Soup recipe? You have arrived at the appropriate place.
You will find that soup is packed with nutrients that will keep us healthy during the holidays. They provide numerous health benefits, including lowering cholesterol and maintaining blood sugar levels.
When the split peas are cooked, they break down and produce a rich, creamy texture. Caramelized onions add richness to the dish. The tart sweetness of sun-dried tomatoes complements the earthy split peas perfectly.
For a savory crunch, you can even serve it with homemade croutons. Alternatively, you can also top it with crumbled vegan bacon.
My new favorite food is split peas, which are crunchy, salty, and quite addictive. Read on as you learn how to cook green split peas, I also added some extra tips to help you cook the peas to perfection.
Split Peas Nutrition Facts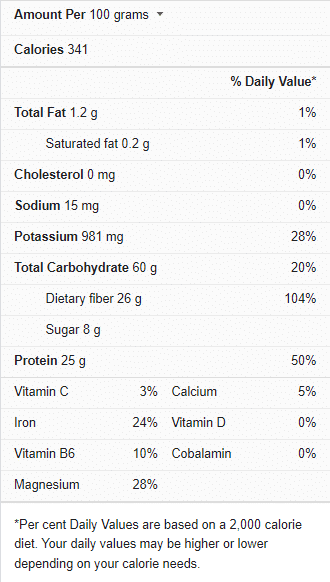 Tips on How to Cook Green Split Peas
Buying the green split peas – Split peas, like other legumes, are available in a variety of sizes. I love to buy these peas in bulk because they can be used in so many different ways. They are inexpensive to purchase and terrific addition to any menu when feeding a family.
Make green split peas soup – Split pea soup with ham bones is one of the most traditional methods to prepare it. Onion, celery, carrots, and potatoes are commonly used in recipes. Bay leaves, thyme, mint, marjoram, rosemary, and parsley are all great additions to the herb category.
If you want to add tomatoes, lemon juice, vinegar, wine, or any other acidic ingredients to your soup, do it at the end of cooking, or the acid will prevent the uncooked split peas from softening.
Take the extra step of pureeing the peas once they have softened if you want a smooth soup. When the peas are tender and the vegetables are cooked, you can add your favorite seasonings and taste until everything is perfect. Salt, freshly cracked black pepper, nutmeg, and lemon juice are some of our favorites.
It is just necessary to cook the peas until they are soft. You can cook them longer until they soften and fall apart if you prefer a smoother, creamier texture. You can serve the soup in large bowls with a dollop of sour cream or plain yogurt, minced fresh parsley or mint, and a few crispy croutons on top.
How To Cook Green Split Peas – The split peas take less than 10 minutes to cook after soaking for 4 hours. I prefer them mildly salted, but they're also delicious with chili, cayenne pepper, cumin, garlic, smoky paprika, rosemary, thyme, or curry spice. The possibilities are infinite.
They keep for a few days after cooking, so prepare a big batch and keep them on the counter in a jar to snack on whenever hunger strikes. A bowl of split peas is a nice meal to present to guests to accompany a glass of wine or to add crunch to a salad.
You can follow this step-by-step guide to help your cooking.
Soak the peas overnight, preferably for 24 hours. The longer they've been submerged, the faster they will cook.
Wash thoroughly. Submerge in water. Bring to a boil, then reduce to low heat and cook until the vegetables are soft, about an hour. They can also be made in a pressure cooker or a slow cooker.
Over moderate heat, fry the onions, carrots, and garlic in the oil for about 10 minutes, stirring regularly.
If you have an immersion blender, this is a fantastic job for it, but you can also do it in batches in your ordinary countertop mixer. You can add some vegetables and a few thick slices of bread for dipping, and you've got yourself a filling, low-fat, high-nutrition lunch.
View this post on Instagram

How Long to Cook Green Split Peas
Green split peas can be cooked faster by soaking them in water overnight. However, soaking isn't strictly necessary. Peas that have been split cook quickly. The simmering time for unsoaked peas is 1 to 2 hours; the soaking time is roughly 40 minutes.
| | | | |
| --- | --- | --- | --- |
| Soaking Time | Preparation Time | Cook Time | Total Time |
| 8 hours | 20 minutes | 1 hour, 25 minutes | 9 hours, 45 minutes |
Print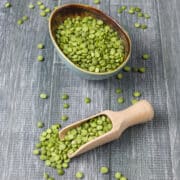 Green Split Peas Soup Recipe (4 Servings)
---
2 tablespoons

of unsalted butter

1

medium yellow onion (diced)

3

stalks of celery (diced)

3

medium carrots (peeled and sliced or diced)

1 tablespoon

of fresh thyme leaves
Kosher salt
Freshly ground black pepper

2 cups

of dried green split peas

6 cups

of low-sodium chicken or vegetable broth

1

smoked ham hock or ham bone, or

¼ teaspoon

smoked paprika
---
Instructions
Get a large, heavy pot for this recipe (try about maybe 4 quarts) You should then go ahead to melt butter in it over medium heat.
Then cook until the onions are tender. Add the celery and carrots.
You should season with salt and pepper and also add the bay leaves and thyme now.
You should stir in the green split peas until everything is well combined.
Proceed to bring the broth to a boil with the ham hock/ham bone or smoked paprika.
Go ahead and reduce the heat to low, cover. Cook for 1 hour. Keep an eye on the soup.
Peas should be creamy and smooth, but not so thick that they resemble a pea loaf.
You can add a bit more broth or water if it becomes too thick. The soup is done when the peas are mushy, which takes around 1 to 1½ hours to cook.
Transfer the ham to a chopping board with tongs and set it aside to cool somewhat.
Remove the meat from the bones and shred it before returning it to the soup (discard the bones and any skin).
Season to taste with salt and pepper, as well as extra smoked paprika, if using, if you prefer a smokey flavor. Before serving, remove the bay leaves.
This is a simple recipe for split pea soup with thyme and smoked ham hock, with the option of making it vegetarian. You can watch this video recipe to know how to cook green split peas.