Chili is a favorite meal to many, it is hearty, satisfying, and good to consume on cold days. Making a chili requires little time and energy to make but it produces great results no wonder many home chefs enjoy cooking it.
Chili is one of those recipes that pack complex and delicious flavors once it is consumed which makes it seem like a hard recipe to attempt but this isn't true because it is easy to make within minutes, once you are familiar with the correct procedures and the estimated cooking time you'll be on your way to making delicious chili recipes every time.
We'll be discussing the correct cooking procedures and the estimated cooking time for a chili recipe but first, let's look at some great tips you could use when making your chili recipe.
Chili Nutrition Facts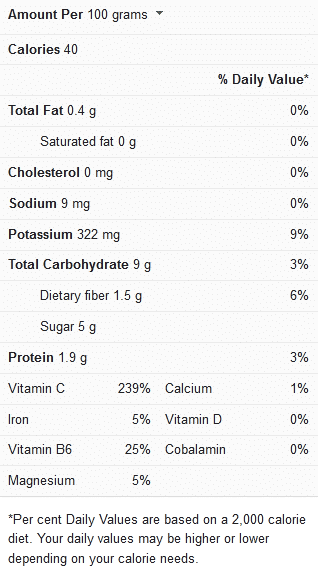 Tips to Note When Making Chili
Chili is delicious and worth making but the process would be a lot easier when you apply these tips when making yours, they include;
Use fresh ingredients and Herbs; the key to a flavorful chili lies with the ingredients and spices you use to cook, use fresh ingredients like garlic, onions, ground cumin, a mixture of serrano and sweet peppers which would help in producing a unique mix of spicy, bitter, and sweet flavors in one pot.
Rinse the canned red beans with cold water; before you add the red kidney beans to the pot, make sure you rinse them in cold water. Don't add them directly to the pot, it would disrupt the flavor of the chili.
Add some chili powder; the secret ingredient for getting that signature spicy chili is chili powder, it adds just the right heat to the recipe, you could of course reduce it or increase it according to your heat preference.
Thicken your chili by letting it cook for longer; if you end up with a watery consistency in your chili, you don't have to panic all you need to do is let it cook for some extra minutes so the excess liquid dries out.
You could also cook the chili with the lid off or make a cornstarch slurry with water and cornstarch to thicken the chili. Any of these methods would thicken the chili without affecting the taste.
To brown or not to brown the ground beef; ground beef is one of the ingredients in a chili recipe and whether you choose to brown the meat before making the chili doesn't matter, it's entirely up to you although it might add a bit of flavor.
Try Not to Overcook the Beans;
Most people might prefer their beans to be extra mushy while others wouldn't, if you're among those that want the beans not to be too mushy but soft enough to eat, then try not to add the beans too early in the cooking process, add them after browning the meat then simmer the chili on low heat.
Experiment with different ingredients such as toppings; I think one of the best things about a chili recipe is the endless list of ingredients to use for toppings. You could ingredients like shredded cheddar cheese, sliced green onions, sour cream, diced avocado, saltine crackers or oyster crackers, Chopped cilantro, and some chopped green onions for that fresh flavor and texture. Try using any of these ingredients or something you like to see what works best for you.
Use some beer in the recipe; adding some beer into the chili recipe is an optional tip but it adds some kind of unique sweet and malty flavor and a nice texture to the finished chili. You could use dark beer or any beer you have in hand and if you don't have a beer or you don't want to use it then try adding some broth instead.
Feel free to use any kind of ground meat; it doesn't have to be just ground beef although it is the basic ingredient used, you could use any other kind of ground meat available or even mix the ground beef with some other meat like some spicy Italian sausages.
View this post on Instagram

Cooking Time for Chili
The table below contains information on the estimated cooking time to follow when making a chili recipe.
| | |
| --- | --- |
| Cooking method | Cooking time |
| Cooking a chili on a stovetop | 1 hour 40 minutes – 2 hours |
Print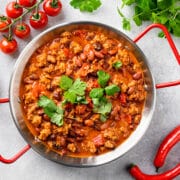 Easy stovetop chili recipe (8 servings)
---
2

pounds of ground beef (or any ground meat of your choice)

2

medium-sized green bell peppers or sweet peppers

¼ cup

red bell peppers

2

stalks celery

1

full onion of your choice

2

garlic cloves
Chili beans

1 cup

beef broth

2 ½ tablespoons

chili powder

½ teaspoon

oregano

2 tablespoons

butter
Salt
Onion powder
Freshly ground black pepper

1 tablespoon

tomato paste

1 cup

beer

19 ounces

of kidney beans

1

jalapeno pepper (optional)

1 tablespoon

cumin

14 ½ ounces

diced tomatoes

14 ½ ounces

Canned tomato puree
---
Instructions
Start by rinsing and chopping the green peppers, onions, tomatoes, and garlic.
Then get your pan and place it on medium-high heat, add the olive oil and butter letting it sit for a minute or two then pour in the diced green peppers, diced tomatoes, and onion, cook for about 2-3 minutes then add the garlic and continue cooking.
Next, add the ground beef and break it down with a wooden spoon mixing it with the pepper, onion, and garlic. Mix it properly and let it cook for about 6-7 minutes while stirring occasionally.
Add the seasonings, onion powder, garlic powder, paprika, black pepper, jalapeno peppers (optional), celery, oregano, cumin, and some salt. Mix thoroughly and add the chili powder, after that let it cook for 3-4 minutes.
If you'll be using beef broth, add the beef broth and mix thoroughly, add the tomato paste, and canned tomato puree. Mix them and add the kidney beans stir them into the mixture.
Next, go ahead and pour in that beer, stir again so it mixes well in the pot.
Cover the pot and let the chili boil for about an hour and a half, remember to stir occasionally so it doesn't burn, come back after the time is up, and taste the chili to know if you'll need to add any extra salt or pepper.
If you wouldn't need to add anything and you're satisfied with the texture then remove it from heat, let it cool, and serve with some cheese, sour cream, or any topping of your choice.
If you'd like more ideas on how to make chili, then check out this video recipe