Crockpot chicken recipe is a simple way of adding some healthy protein to your diet, the chicken is so tender and juicy that it could be shredded and added to several recipes like salads, pasta, soups, casseroles, and so on. It is a great way of incorporating a little protein into any meal and making interesting recipes.
This method of cooking chicken is not the only way of making chicken but it is the best for getting a very tender texture, it may be time-consuming but it is simple and extremely rewarding.
Making crockpot chicken is incredibly easy, once you season your chicken and place it in the slow cooker all you'd have to do is wait for it to cook, remove it, and then you're done but this method may become a bit challenging when you're unsure of the correct cooking time and procedures which is why we would be showing you all that in this article.
Chicken Nutrition Facts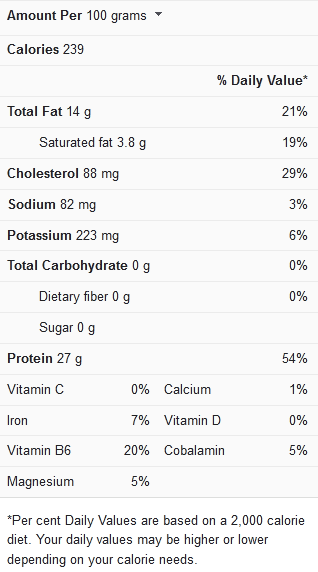 Tips to Consider When Making a Crockpot Chicken
Listed below are some helpful tips you could use when making a chicken in a slow cooker, they include;
On low or high; for the best juicy and tasty result for your crockpot chicken, it would be best to cook on low heat. Cooking on high heat would be a faster method but it may cause the chicken to dry out fast.
Do not open the lid of the crockpot; taking off the lid of the pot only adds to the cooking time, so to achieve the juicy, tender chicken at the calculated time try not to open the lid too often.
Thaw frozen chicken before cooking; cooking frozen chicken without defrosting it would be a disaster because the meat wouldn't cook properly so before you cook frozen chicken try to thaw it first.
It's either you thaw it by placing it in the refrigerator a day before you plan to cook it or place the frozen chicken in a plastic bag, squeezing the air out and soaking it in cold water while changing the water regularly until the chicken comes to room temperature.
Cook in a single layer; cooking in a single layer allows the chicken to have close contact with the pot and doesn't call for any extra liquid which helps the seasoning stay on the skin of the chicken properly.
However, if you would want to cook in multiple layers you would have to use broth which would dilute the seasoning on the chicken.
Let the chicken rest; after cooking, the chicken should rest for at least 10 minutes so the moisture would redistribute properly inside the meat. If you cut the meat too early, the liquid would run out and make the chicken dry.
Use an instant-read thermometer; working with an instant-read thermometer is important to check for accurate doneness. Insert the thermometer into the thickest part of the chicken to see if it reaches 165 degrees F which is the safe internal heat temperature for cooked meat.
Season the chicken to your liking; this recipe is flexible enough for you to use the seasoning you'd like in your meal. You could stick to just salt and pepper or spice things up with Sazon seasoning, rosemary, thyme, red pepper flakes, Italian seasoning, etc.
Add butter or olive oil for flavor and texture; you could add extra ingredients like butter or olive oil before cooking on low for extra flavor and texture or you could add either butter or olive oil and broil to get beautiful brown skin and crispy texture.
You could also use sauces like BBQ Sauce or Buffalo Wing Sauce to garnish the tender chicken.
Add veggies at the bottom of the crockpot; this step is important if you'd be making gravy plus it adds flavor to the chicken and prevents the chicken from getting soggy. Line the crockpot with some chopped carrots, red potatoes, celery, garlic, onion, thyme, rosemary, and any veggie you'd like.
After cooking you could use these cooked veggies and the meat drippings to make some gravy to pour on the chicken.
Try not to overcook the chicken; it's easy to overcook the chicken in a slow cooker which is why you must check the chicken with a thermometer when the cooking time has reached. If you overcook the chicken it would become dry.
View this post on Instagram

Cooking Time for Slow Cooker Chicken
The table below contains information on the correct cooking time for making a crockpot chicken.
| | |
| --- | --- |
| Cooking method | Cooking time |
| Cooking a chicken in a crockpot on low heat | 8 hours |
Print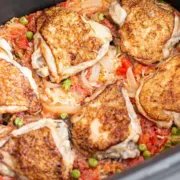 Tender crockpot chicken ( 6 servings)
---
---
Instructions
Take a bowl and mix all the dry ingredients; 2 teaspoons of paprika, 2 teaspoons of salt, 1 teaspoon of onion powder 1 teaspoon of garlic powder, or 4 minced garlic cloves, ½ teaspoon of freshly ground black pepper, and ½ teaspoon dried thyme or 1 teaspoon chopped fresh thyme.
Mix properly and set aside, take the slow cooker and add the fresh veggies to it.
Remove the giblets and neck from the chicken, clean properly, and pat the inside and outside dry with a paper towel or clean kitchen towel.
Drizzle olive oil or butter on it and spread it well on the chicken, squeeze the half lemon on it for flavor and take the dry spices and rub on the oiled chicken.
Cover the slow cooker with the lid and cook for 8 hours on low heat.
Open the lid after 8 hours and check for doneness with an instant-read thermometer, the breasts should reach an internal temperature of 160 to 165° F, and the thighs reach 170° F.
Remove from heat, let it rest, and serve however you like, with some sauce or gravy.
If you would still like to see more ideas concerning cooking a chicken in a crockpot, check out this video recipe