There's something about the speed with which the air fryer cooks frozen food items. Without using any oil, it makes the dishes extremely crisp, and in any case, that's always a win. You've probably always thrown frozen chicken nuggets into the oven in the past. However, once you've tasted how delicious frozen nuggets cooked in the air fryer are, you might decide it's time to dump the oven approach.
Follow the cooking tips and guidelines in this article to get proper air-fried frozen chicken nuggets. Also, take note of our timing guidelines for the best results.
Chicken Nuggets Nutrition Facts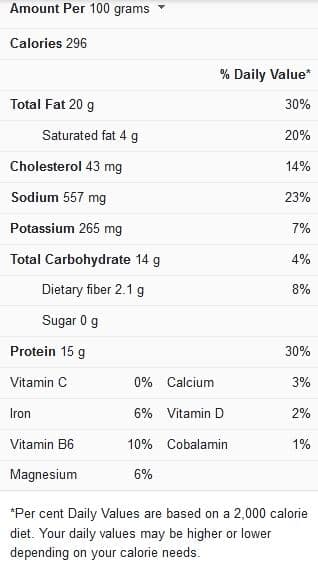 Tips for Cooking Frozen Chicken Nuggets
The following tips and guidelines outlined below will ensure that you get the best out of your air fryer frozen chicken nugget recipes:
What chicken nuggets are made of and where to find them – Chicken nuggets are typically made from white chicken flesh gotten from the breast portion. Before chopping the chicken meat into bite-sized pieces, some of the chicken nugget varieties tend to grind it up.
Frozen chicken nugget packets are typically sold throughout the country. They can be purchased in any grocery store's freezer section.
Do a test run – Consider conducting a test batch when cooking frozen nuggets in the air fryer. This is because there are so many various sizes and kinds to choose from when it comes to nuggets. As a result, you'll typically discover the proper length of time to utilize for your preferred brand and size of nuggets after you've done a test batch.
Important tips for using an air fryer – When using your air fryer, it's very important to remember that you should not spray it with aerosolized cooking spray. While most air fryer recipes do not call for the use of oil, if the one you're following does, simply apply it with a pastry brush or paper towel as suggested.
Also, because air fryer makes and models tend to differ, always follow the instructions on your own machine and use the cooking time in your recipe of choice as a guide. Also, remember to constantly keep an eye on what you're doing in the kitchen.
Defrosting the nuggets is unnecessary – Frozen chicken nuggets typically don't need to be defrosted before the air frying process. Everything's really better if you don't since the air fryer cooks it wonderfully even if it's frozen.
Avoid overloading the air fryer basket – Typically, if you put too many frozen nuggets in the air fryer basket at a time, they will most likely take a longer amount of time to cook and become crispy. Therefore, you should make sure there's some degree of space between the nuggets, and that they're all arranged in one layer.
Cooking frozen nuggets together with fries – If you have the space, you can certainly cook frozen chicken nuggets and fries in the same air fryer, at the same time. Ideally, you should begin by air frying the frozen French fries for 6 minutes, afterwards, you can add the frozen chicken nuggets because fries will most likely take a little longer to air fry than chicken nuggets.
You should still make sure that everything you're air frying is spread out in a single layer for the best results.
Working with vegan or vegetarian nuggets – Veggie nuggets, often known as vegetarian nuggets, air fry just as well as traditional chicken nuggets. When you make them, however, you'll most likely need to reduce the cooking time. You can generally cook frozen veggie nuggets at the same temperature as in recipes for normal chicken nuggets, but only for about 6 to 8 minutes.
Storing air-fried frozen chicken nuggets – As soon as the cooked chicken nuggets have cooled completely, you can store them in an airtight container in the refrigerator for about 2 to 3 days. However, chicken nuggets that have been frozen first and subsequently cooked should be consumed within the first 1 to 2 days after cooking.
Reheating air-fried frozen chicken nuggets – Reheating your air-fried frozen chicken nuggets is as simple as returning them to the air fryer to reheat, and this reheating method is important for optimal results. Heat until the nuggets are totally warmed, using the same cooking temperature as instructed in the recipe you're following. This usually takes no more than 4 to 5 minutes.
You may also choose to use the oven to reheat leftover chicken nuggets. To do this, place the chicken nuggets on a parchment paper-lined baking sheet and bake them for about 10 minutes at 400°F (205°C).
Microwaving your chicken nuggets is another option, however less desirable because it causes them to become rubbery. So, if at all feasible, use an air fryer or reheat in the oven. If you're in a rush, just heat the chicken nuggets on high for 1 minute, then heat them again in 30-second increments until they're perfectly heated to your preference.
View this post on Instagram

Cooking Time for Frozen Chicken Nuggets in the Air Fryer
Follow the timing guidelines in the table below for the best results with your air fryer froze chicken nuggets:
| | |
| --- | --- |
| Cooking procedure | Cooking time |
| Air frying frozen chicken nuggets at 400F/204C | 10 to 12 minutes per batch |
Print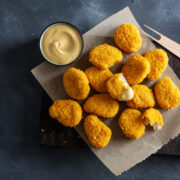 Air Fryer Frozen Chicken Nuggets (4 Servings)
---
1

package of frozen chicken nuggets
---
Instructions
Take the desired number of frozen nuggets you want to cook from the freezer bag.
In the air fryer basket, place the nuggets (there's no need for oil unless you would absolutely prefer to use some).
Allow the frozen chicken nuggets to cook in the air fryer for 10 to 12 minutes at 400F/204C. If you're working with vegetarian nuggets, the cooking time should be around 6 to 8 minutes.
Take the nuggets out of the air fryer, by now they're ready to eat and you can serve with a dipping sauce of your choice.
As you can see, this is a very quick and easy way to get a tasty meal on your plate. The entire cooking time is 12 minutes, and there is zero prep involved in the process. If you'd like to see more ways to cook frozen chicken nuggets in the air fryer, then we recommend this video recipe.