There are a variety of ways to prepare sausages, but baking Italian sausage may be one of the most popular, especially for how delicious the results are. Baked Italian sausages could be the answer if you're seeking quick and easy options for dinner, yet without compromising tons of deliciousness.
Our suggested procedure for cooking Italian sausages in the oven is sure to leave wonderful results on your plate, but ensure that you follow all the right cooking guidelines and tips. Also, take note of our timing instructions in order to obtain optimal results.
Italian Sausage Nutrition Facts
Tips for Cooking Italian Sausage in Oven
The tips and suggestions we've outlined below are really helpful, and when adhered to, you can be guaranteed flavorful results with your baked Italian sausage recipes:
When buying Italian sausages – Italian sausages are essentially seasoned pork that has been wrapped into casings. Mild, medium and hot Italian sausages are common varieties you'll typically find. They are also known as sweet Italian sausages.
Mild Italian Sausage, medium Italian Sausage, hot Italian Sausage, or sweet Italian Sausage are the types of Italian sausage to look out for when attempting to make a baked Italian sausage recipe. There are also flavors like cheddar available to choose from.
Cooking from frozen – In fact, you can bake Italian sausages straight from the freezer. The most crucial thing is that they reach a safe internal temperature of 160 degrees. As a result, a thermometer is a must-have during your cooking. It should generally take around 10 minutes more than the cooking time specified in the recipe you're following when cooking Italian sausages from a frozen state.
Because the frozen sausages in the package will typically be stuck together, make sure to remove them from the oven after 15 minutes of cooking time, separate them so there's no contact between them, then put them back into the oven and keep cooking them as per usual.
Don't prick the sausages – When baking the sausages in the oven, you don't need to pierce them. The sausages will become dry and flavorless as a result of this.
To guarantee that sausages turn out juicy and tender, make sure to follow the timing directions. Sausages that have been overcooked tend to be dry and generally unpleasant to eat.
How to cook with sauce – If you would prefer to include a sauce in your recipe when cooking sausages, you can either use the sauce as a topping over the sausages or when the sausages are ready to finish cooking, pour in the sauce. This way, the sauce, and sausages get a chance to cook together and mix flavors in the oven. You may alternatively cook the sauce on the stovetop and then serve the roasted sausages with it.
For easier cleanup – Use aluminum foil, parchment paper, or a Silpat to line your baking sheet before using them to bake your sausages in the oven. These sausages have a tendency to leak, and you don't want to spend the entire day cleaning your pans afterward.
Working with leftover baked sausages – Leftover Italian sausages can be kept in a sealed container in the refrigerator for up to four days or frozen for up to three months.
You can save time by cooking a large batch of Italian sausages at once and using them in many separate dinners throughout the week. The baked sausages can be eaten the way they are or chopped and incorporated to a number of meals later in the week, such as in soup or casserole recipes.
You may choose to reheat the Italian sausages by baking them in the oven, cooking them in an air fryer, or just heating them in the microwave for some minutes until they get hot all over.
View this post on Instagram

Cooking Time for Italian Sausage in Oven
Generally, the time it will take to cook Italian sausages in the oven should depend on the temperature you choose to employ in the cooking process. Ideally, you should follow the timing guidelines in the table below to get delicious results when cooking Italian sausages in the oven:
| | |
| --- | --- |
| Cooking temperature | Cooking time |
| 350ºF ( 175ºC ) | 25 to 30 minutes |
| 375ºF ( 190ºC ) | 25 to 30 minutes |
| 400ºF ( 205ºC ) | 20 to 25 minutes |
| 425ºF ( 220ºC ) | 15 to 20 minutes |
Print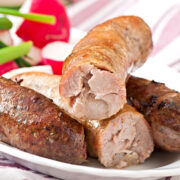 Baked Italian Sausage (5 Servings)
---
For the baked Italian sausages
1

19-oz package of sweet Italian sausage (this typically contains

five

sausages, you may decide to use more as desired)
For the Roasted Vegetables
1

sweet bell pepper (red, orange, or yellow-colored; optional ingredient)

1 tablespoon

of olive oil (extra virgin)

1 tablespoon

of Italian seasoning
salt and pepper, for added taste
---
Instructions
Cooking the veggies (if using them in the recipe)
Rinse the cherry tomatoes and cut them in half. The bell pepper should also be rinsed and cut into strips, then cut into 1-inch bite-sized chunks. Arrange the cut vegetables into a single layer on a baking sheet that has been covered with parchment paper.
Drizzle the olive oil over the vegetables, then season them with Italian seasoning. Toss the veggies properly to evenly coat them.
Cooking the Italian sausages
Adjust the oven's temperature to 400°F and leave it to heat up; in the meantime, prepare a baking sheet by lining it with parchment paper (you could also use aluminum foil).
Arrange the sausages in a single layer on the baking sheet (you may choose to include or exclude the already prepared cherry tomatoes and peppers); ensure that there is no contact between the sausages.
Bake the sausages for 20 to 25 minutes in the center rack of the oven, or just until the internal temperature of the sausages climbs to 160 degrees F.
Take the sausages out of the oven once they are ready and serve them right away.
This recipe for baked Italian sausages yields such flavorful results that you may decide not to cook sausages any other way. Another advantage is that this is a quick and easy process, with the entire cooking lasting for 25 minutes, including a prep time of 5 minutes and a cook time of 20 minutes.
If you're interested in more ideas for Italian sausages cooked in the oven, then you may want to watch this video recipe.