When you cook chicken in water, what do you call it? Poaching! And – yes – it is quite easy to poach chicken. It entails covering chicken pieces with water and simmering them on the stovetop until they are fully cooked.
It is as simple as bringing a pot of water to a boil, and when done right, boiling can result in a delightfully tender chicken piece. Moreover, the low temperature and moist-heat cooking method gently cook the chicken while preventing it from overcooking.
Read on to enjoy the detailed guide on cooking chicken excellently on the stove with water.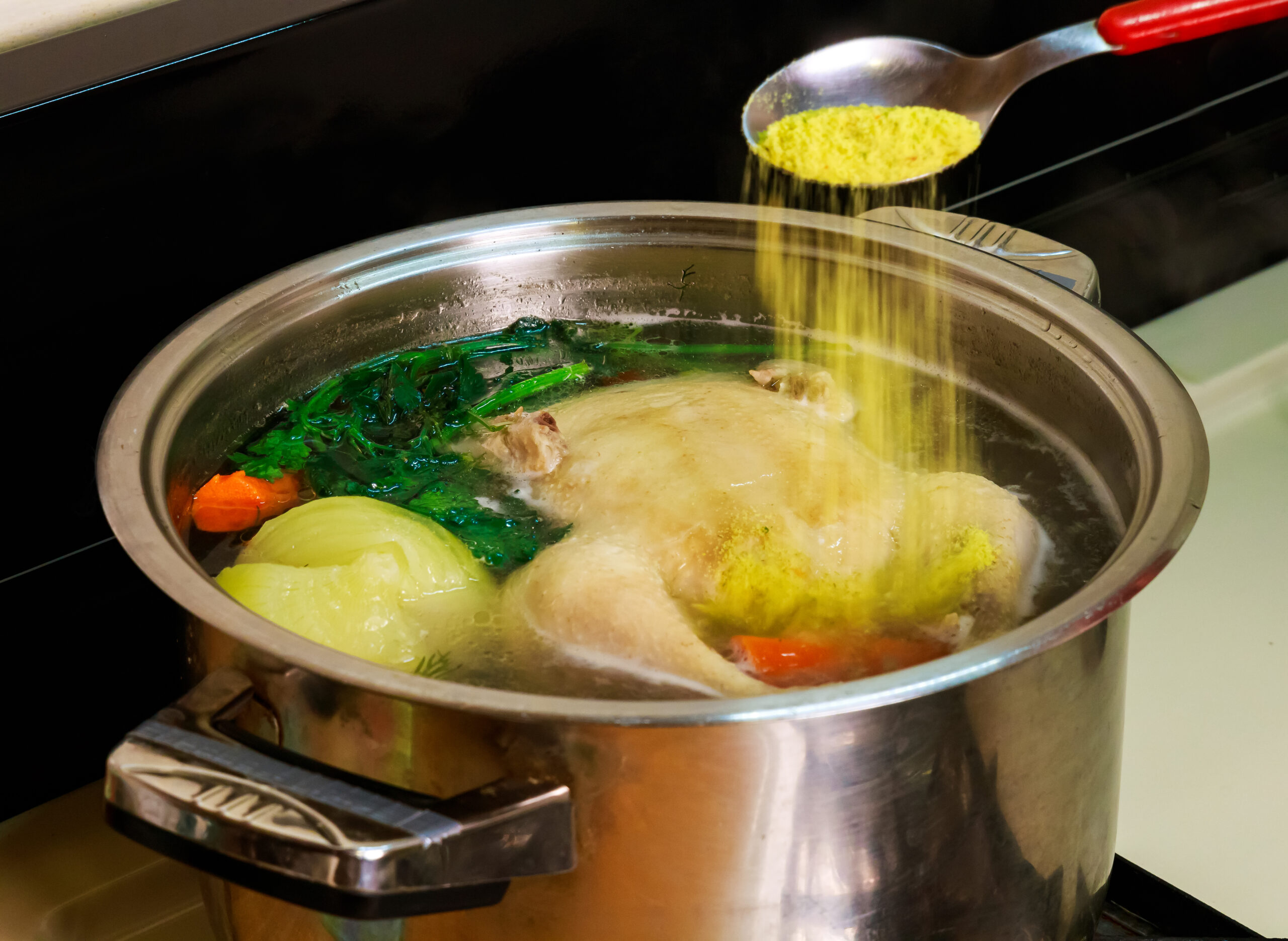 Chicken Nutrition Facts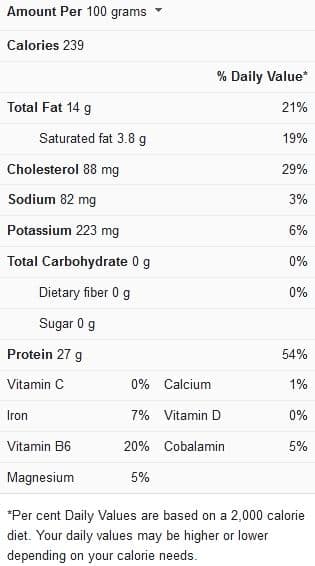 Why Should you Cook Chicken on the Stove with Water
Boiling chicken is a great way to get soft, juicy chicken that's easy to shred when you don't have time (or energy) to go to the supermarket. You can spice it up any way you like for pulled chicken sandwiches or chicken salad sandwiches.
Boiling takes a little less time and effort than cooking in a skillet.
Boiled chicken, whether in soup or on its own, is helpful for ill people because it contains cysteine – an element that helps mucus in the lungs and makes breathing easier. Since chicken is already a lean protein, cooking reduces its fat content.
Tips for Cooking Chicken on the Stove with Water
Begin with cold water. Cold chicken thrown into boiling water will result in a piece of fowl that is unevenly cooked. Instead, start by filling a saucepan halfway with cold water.
Using water instead of oil – pan fry the chicken breasts. In a Dutch oven or deep skillet, pour about 1/4 inch of water.
Boiling chicken is a straightforward process. This flavorful chicken can be diced or pulled and used in any dish that calls for cooked chicken. Even better, the water used to cook the chicken doubles as a stock that can be used in other dishes, such as this Turkey Noodle Soup.
You should season the chicken with salt and pepper after patting it dry. Get a large skillet and heat the oil over medium-high heat in it. Cook for 5 to 7 minutes, carefully adding the chicken to the heated pan. Cook for another 5 to 7 minutes until the chicken reaches 165°F.
Overcooking the flesh is one of the major reasons for rubbery chicken. Chicken should be cooked quickly over high heat. It's tough to cook boneless skinless breasts uniformly because they're not all the same thickness.
You can boil a whole chicken for 90 minutes and the chicken breasts for 15 minutes, or until no longer pink.
Use a thermometer to heat the oil to the proper temperature and check for doneness. Using a fork or skewer, pierce dense items like chicken breasts or thighs to allow the heated oil to permeate the skin. You will know when the chicken is done; it starts to float.
After poaching, a 12-ounce chicken breast will weigh around 8 ounces. When lightly packed into the measuring cup, this amount of meat yields around 2 cups of shredded chicken – or about 2⅓ cups if packed loosely. To put it another way, one typical chicken breast equals 8 ounces cooked, which equals 2 cups shredded.
Do not discard the cooking liquid! This recipe produces a lightly flavored chicken broth that may be substituted for chicken broth in other recipes or used to cook rice and other grains.
Use the chicken meat immediately away, cool it, and keep it in the fridge for up to five days. The chicken, after being cooked, can also be frozen for up to three months. Before freezing the chicken, I recommend that you should shred or slice it.
 

View this post on Instagram

 

How to Cook Chicken on the Stove with Water
Step 1
Get a pan in the bottom of a pan – arrange the chicken in a single layer: It's fine if the parts overlap a bit.
Step 2
Cover with a layer of water about an inch thick, then season with salt and other ingredients as desired.
Step 3
Over medium-high heat, bring to a boil. The foam will begin to form on the surface as the water heats up. You can skim the foam from the surface if you're utilizing the cooking liquid for something else. Otherwise, it's perfectly OK to leave it alone.
Step 4
Reduce the heat to low and cover the pan once it has boiled for 8 to 15 minutes. Cook for 8 minutes before testing to see if the chicken is done. Thin cutlets take about 8 minutes to cook, while huge chicken breasts can take up to 15 minutes.
The chicken is done when an instant-read thermometer reads 165°F in the thickest portion of the meat. However, you can still check for doneness by cutting into the chicken. Continue to cook the chicken, checking it every minute until it is done.
Step 5
Remove the chicken from the broth and lay it on a plate or cutting board to cool for a few minutes before shredding or slicing. When the chicken is cold enough to handle, shred or slice it as needed. Use right away, or cool completely and store in the fridge for up to 5 days. Chicken that has been shredded or sliced can be frozen for up to three months.
Print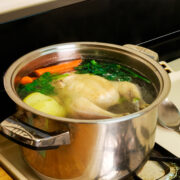 How To Boil Chicken (6 Servings)
---
Chicken breasts
Chicken broth or water
Kosher salt
Black pepper, freshly ground
---
Instructions
You can start by placing the chicken in a large pot over medium-high heat.
Season generously with salt and pepper and pour enough broth to cover the chicken.
Bring to a boil, then decrease the heat to medium-low and cover.
Allow 10 minutes for the chicken to cook through.
Then, remove from the pan and set aside for 10 minutes to cool. You can then use two forks to shred the chicken and use them as needed.
You can watch this video recipe on cooking chicken on the stove with water.