Fried chicken, often known as Southern fried chicken, is a dish made of chicken pieces that have been pan-fried, deep-fried, pressure-fried, or air-fried after being coated in seasoned flour or batter. The breading imparts a crisp coating or crust to the chicken's surface while keeping the meat's juices.
Fried chicken has become so popular that a restaurant chain is dedicated to serving it. This delicacy is filling and pleasant, especially when prepared properly. This article pushes to assist you in preparing the greatest and most desirable fried chicken for your needs, even if you have never done it before. Continue reading to learn more.
Fried Chicken Nutrition Facts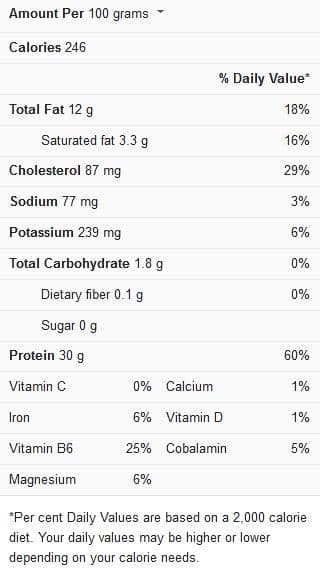 Why Fried Chicken?
In addition to the many other advantages that fried chicken carries, other benefits can be derived from the consumption of this dish. They include the following;
According to scientific data, it has many crunches- The crispy crunch of the layer over fried chicken has been identified as one of the key causes of its mouthwatering delicacy. The sound of crispy fried chicken has been revealed as a secret factor for its being delectable. The way we sound the food we eat aids our brain in emphasizing its texture and flavor features. Crispiness and crunchiness have been linked to how its consumers perceive good food!
It has a Variety of Recipes- Fried chicken and all of its accompaniments can be blended into various recipes, but it is relatively easy to cook by anyone. It does not necessitate any difficulties regarding the tastes to be utilized or the manner of preparation. The chicken absorbs the flavor of the mixture of ingredients and comes out crunchy and crispy.
It's simple to digest- Any meal's potential to benefit your body is determined by your ability to digest it. The nutrients found in a chicken will be easily absorbed and digested by the human body. The many advantages of eating fried chicken meat are thus preserved. Even better, chicken is one of the easiest foods to digest in your body.
View this post on Instagram

Tips for Cooking Fried Chicken
Right Cooking Oil and at Right Temperature- Because the type of oil used is so important, consider one with a high smoke point, such as soybean oil. Heat it until the oil reaches roughly 335°F, which is the optimum temperature for crispy chicken cooked through but still moist on the inside.
While using a thermometer is the best way to ensure that the oil is at the appropriate temperature, sprinkling a little flour into the heated oil is a simple way to do so without one. It's time to fry when the flour sizzles when it hits the hot oil.
Thoroughly add Seasoning to it- You've already brined the chicken in buttermilk, but that's no excuse for cutting back on the spices and salt. Adding salt to each phase of the fried chicken procedure can help eliminate blandness, and adding spices to the chicken's coating will enhance the flavor.
Add chili powder, garlic powder, cayenne powder, salt, and black pepper to the flour dredge for the breading station. Add any wet condiments to the milk, such as hot sauce or Sriracha.
Cooking a Fried Chicken
Let's look at some directions on making a delicious fried chicken now that we've learned about the benefits of its intake and the fact that anyone can create it.
Air Fryer
You'll need to marinate your chicken first. Use buttermilk to keep the chicken moist inside, while the spicy sauce provides flavor. You can marinate for one hour to twenty-four hours in the refrigerator.
Remove a single piece of chicken from inside the buttermilk mixture with tongs, letting it dry a little, and place it in the flour mix, using the tongs to ensure the chicken pieces are well coated.
In the Air Fryer, place a piece of parchment paper with perforations. On top of the parchment paper, place your floured chicken piece. Ensure that there is enough room between the chicken pieces.
Close the air fryer drawer and preheat to 390 degrees Fahrenheit with a timer set for 25 minutes. Open the Air Fryer after around thirteen minutes. Spray the flour areas with your Air Fryer oil spray bottle. Then take a pair of tongs and flip your chicken over. Spray the other side of the bird, ensuring all of the flour areas. Allow your Air Fryer to finish cooking by closing it.
Use a normal or quick-read thermometer to ensure your chicken is properly cooked to 165 degrees Fahrenheit once the cooking cycle is complete.
Slow Cooker
Combine the chicken and buttermilk in a mixing bowl, then cover and marinate in the fridge for at least 1 hour or overnight.
In the slow cooker, pour in the oil. In a food processor, blitz the Cornflakes, then transfer to a mixing bowl and combine with the paprika, cayenne, salt, garlic granules, and onion granules, Seasoning with black pepper.
Mix everything, then take a piece of chicken out of the buttermilk, shake off the excess, and toss it in the Cornflake mixture to coat. Repeat with the leftover chicken in the slow cooker. Place the lid on top.
Cook for three hours on high, gently flipping over midway through. At this time, the chicken should be deep golden brown on all sides. Cook for another ten to fifteen minutes with the cover off to allow excess moisture to steam away and the chicken to crisp up even more.
Print
Recipe for Crispy Fried Chicken
---
One and a half pounds of various chicken pieces, including chicken leg, thigh, and breast
To add taste, season with salt and ground pepper.

One teaspoon

of garlic powder

One teaspoon

oregano, dry

One cup

of flour made from whole wheat

4 tbsp

butter

Two tbsp

vegetable oil
---
Instructions
Combine the flour, salt, pepper, garlic powder, and oregano in a mixing bowl. Whisk everything together until it's completely smooth. Using a paper towel, pat your chicken dry. Using your flour mixture, coat them.
Heat the butter and oil in a skillet. Cook the chicken pieces until golden brown on all sides, about one to two minutes. Cook the chicken pieces in the crockpot on low for four to six hours, covered.
Enjoy your crispy fried chicken pieces with sauce on the side.
We have the importance of this delicacy for the body, and most importantly, we have looked at how long it takes to cook it using a different medium. This should help you stay afloat when making a delicious fried chicken. Watch this video here for more tips.