When it comes to easy hearty foods, the tater tot casserole is one of the best options packed with different layers of appetizing flavors from the savory ground beef, to the creamy mushroom soup to the extra crunchy texture of the tater tots.
It's very understandable why you'd want to make a tater tot casserole, it's convenient to prepare, inexpensive, satisfying, and incredibly delicious which is why it is so popular, especially at family dinners.
Well, if you're new to this dish it may seem a little complicated or tricky but once you're familiar with the steps involved in making one it would be the easiest comfort food you'll ever get tired of. So, without wasting much time let's get into these steps starting from some beneficial tips you'll need to the correct cooking time for tater tot casserole.
Tips to Note When Making a Tater Tot Casserole
When making a tater tot casserole, especially for the first time there are some helpful tips to note and I'll be sharing them below;
Grate the cheese; you may know this tip already but it is important to use freshly shredded cheese because this would allow it to melt properly and it would be best to grate the cheese yourself so you'll get a fresh batch free from preservatives.
Feel free to use any cheese you'd like; while the recipe comes with a common cheese type it is not restricted to that particular cheese only, you could always change it to the kind of cheese you'd like, you could also combine two or more cheese depending on your preferences.
Feel free to use any vegetable you'd like; just like the cheese you could mix up your favorite vegetables in your casserole because they would all work, you can also use canned or frozen green beans or mixed vegetables, anything that works for you and your family.
Use the cooking spray; using cooking spray on your baking dish before adding the casserole layers is a great way to reduce the mess after cooking, it allows you to easily clean up the baking dish when you're done cooking.
Use a low-sodium broth; you can control the sodium levels of the recipe by using a broth low in sodium.
Use milk to make the casserole moist; if the casserole looks a little dry try adding a half cup of milk or use more cream of mushroom soup, this would help it retain moisture and flavor.
If you don't have the cream of mushroom soup you could use other canned soup substitutes like; cream of bacon, cream of shrimp, cream of chicken, cream of broccoli, etc.
Add some flavor with spices and peppers; add a tablespoon of chipotle pepper, jalapeno, and bell peppers or some chopped chives, minced garlic or garlic powder, chopped bacon, and chopped parsley is a great way of incorporating unique flavors into your recipe.
Use barbeque sauce; some basic swaps like using barbeque sauce instead of the regular ketchup is an underestimated way of adding a sweet and smokey flavor to your tater tot casserole.
Freeze for later; uncooked tater tot casserole can be prepared ahead of time and stored in a freezer for longer or refrigerator overnight before baking it but remember to add some extra minutes since you'd be baking it from a cold state.
Also, if you end up with leftovers after baking the casserole, just preserve it in a refrigerator for about 3-5 days or in a freezer for about 3 months.
View this post on Instagram

Cooking Time for Tater Tot Casserole
The table below shows the cooking time estimated for a tater tot casserole dish.
| | |
| --- | --- |
| Cooking Method | Cooking Time |
| Cooking a tater tot casserole in an oven at 350°F | 30-40 minutes |
Print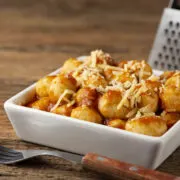 Tater tot casserole ( 6 servings)
---
1

lb. Ground Beef

10.5 oz

. low sodium cream of mushroom soup or

1

medium-sized cup of milk

32 oz

Tater tots

2 ½ cups

Cheddar Cheese

2½ cups

mozzarella cheese

8

medium-sized fresh eggs

1

onion of your choice (white or yellow)

2

minced garlic cloves

2 teaspoon

barbeque sauce or ketchup(optional)

3 teaspoon

yellow mustard (optional)

1 cup

diced bell peppers (optional)

½ cup

of chopped scallions

2 tablespoons

flour

1 cup

frozen corn (optional)

½ teaspoon

salt and freshly ground black pepper

¼ cup

sour cream
Fresh chives and dill

½ teaspoon

garlic powder

1 teaspoon

onion powder

1 cup

frozen green beans (optional)
Equipment
9

x13 inch baking dish
Bowls
Egg whisk
Spatula
---
Instructions
Start by pre-heating the oven to 375° F.
Spray the baking dish with a non-stick cooking spray and set aside.
Next, take a large skillet and place it over medium-high heat and add the ground beef or sausage to it, use a spatula to crumble and mix it evenly with some chopped onions.
After cooking for about 2 minutes, remove it from heat and let it sit aside.
Next, take the skillet or pot and add some olive oil, chopped onion, and cook until it starts to get soft and translucent, add some minced garlic, bell peppers, salt, freshly ground black pepper, barbeque sauce or ketchup, and sprinkle about 2 tablespoons of flour, stir thoroughly, and cook for about 2 minutes.
Add the cream of mushroom soup or some fresh milk, about 1¼ cups and stir them turn off the heat and add the cheddar cheese, ½ cup sour cream, some chopped scallions, and fresh eggs, and stir well.
Add half the size of the tater tots into the skillet or pot and mix thoroughly, then carefully transfer this into your baking dish.
Once you've spread them evenly in the pan add the remaining tater tots on top of in and sprinkle some cheddar cheese to your satisfaction but remember not to overdo it.
Next, pop this in the preheated oven and bake for about 40 minutes.
Then you could go ahead and make a ranch dressing, this step is optional but it adds a unique flavor to the cheesy and crunchy tater tot casserole.
To make this ranch dressing, put a ¼ cup of sour cream inside a medium-sized bowl and add 2 tablespoons of milk, pepper, some chopped fresh dill, and chives. Mix them and you'll use this to drizzle on the casserole when it's out of the oven along with some scallions, parsley, basil, or any garnishing of your choice.
Making a tater tot casserole is easy to do and if you'd like more ideas concerning this recipe then check out this video recipe