While there is no bad way to enjoy potatoes, you'll find that tater tots are one of the nicest potato-based recipe forms. When tater tots are cooked in the air fryer, they taste so much better than oven-baked tater tots (to no one's surprise). They also take significantly less time to prepare, are incredibly crispy and tasty, and are by far the ideal way to replicate deep-fried restaurant-style tots in the comfort of your kitchen.
In this article, you'll learn how to make tater tots using your air fryer if this is a cooking process you're not already familiar with. We'll also provide some helpful tips, suggestions, and timing guidelines to ensure that you get the best results out of your recipe.
Tips for Cooking Tater Tots in Air Fryer
The following tips, guidelines, and recommendations are necessary to keep in mind when cooking tater tots in the air fryer, so we advise that you pay close attention:
Seasoning suggestions – Even though air-fried tater tots are delicious, it's still always exciting to try something new, as with any other recipe. Here are some tasty seasoning ideas for tater tots cooked in an air fryer. The proportions listed are only guidelines; adjust seasoning to suit your preferences. Also, determine if the seasoning you're using contains salt, then modify or leave out the salt in the recipe.
Always preheat your air fryer, also toss halfway – To get tater tots that are as crispy as possible, ensure to heat your air fryer before you put the tater tots in. If you prefer even crispier results, add a few extra minutes or two to the cooking time. Gently toss or rotate your potato tots halfway through to ensure consistent cooking. Move the tater tots inside to the outside part and around.
Cook in batches – The most difficult part of cooking tater tots in the air fryer might just be avoiding the urge to overfill your air fryer. It will be tempting since you will want to cook as many as you can simultaneously. But you must resist the urge and cook in batches to allow for crispier results. Because tater tots cook quickly in the air fryer, you can easily create many batches in a short time.
Ideal cooking duration – Crispy tater tots take only ten minutes in the air fryer; however, make sure to check them and shake them halfway through the cooking process). Check the tater tots in the air fryer after 10 minutes, and if you want them crispier, extend the cooking time in 1-minute increments until they get as crisp as you like. Although they don't require any additional oil before cooking, a light coating of the cooking spray should give them a deep-fried texture.
Storage and reheating tips – If you have any leftover air-fried tater tots, store them in an airtight container, then move them into the refrigerator for up to two days. Using a bag is not advised because it might result in the tater tots getting considerably wetter.
Place your tots in a preheated air fryer at 400 degrees Fahrenheit and leave them for 2 to 3 minutes to warm when you're ready to eat the stored leftovers.
View this post on Instagram

Cooking Time for Tater Tots in Air Fryer
The ideal timing guidelines that will guarantee desirable results when cooking tater tots in the air fryer have been described in the table below:
Cooking Procedure
Cooking Time
Cooking tater tots in the air fryer at 400 degrees Fahrenheit
10 minutes
Print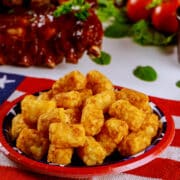 Air Fryer Tater Tots (4 Servings)
---
1

lb of frozen tater tots
cooking spray
coarse salt
---
Instructions
The first step is to heat your air fryer to 400 degrees Fahrenheit/205 degrees Celsius. For crispy tater tots, this first step is extremely crucial.
In the air fryer basket, pour in the frozen tater tots. Lightly spray them with cooking spray, then season them evenly with coarse salt. Afterward, toss the tater tots gently to coat them. If desired, season them with additional seasonings.
Cook the tater tots for 5 minutes, then stop and shake the basket before continuing the cooking process for another 5 minutes. Shake the basket frequently to prevent frozen potato tots from adhering together and ensure that all sides receive air exposure, resulting in crispness all around.
Check to determine if the tater tots have developed a sufficiently crispy quality to your liking. Cook for an extra minute at a time until they reach the perfect doneness and crispness, if necessary.
Serve the air-fried tater tots alone or with an accompanying dipping sauce. Traditional dipping condiments, such as ranch, ketchup, barbecue sauce, and even blue cheese dressing, are popular favorites you can explore. They have a neutral flavor and will go well with almost any sauce. If you prefer your food spicy, try a bit of sriracha.
This recipe for air-fried tater tots is extremely quick and easy, taking a total active cook time of 10 minutes. At the end of the cooking period, the delicious crispness of your tater tots will be unmatched, and don't be surprised if you find yourself stuck on this recipe for a while. Just follow the right cooking instructions to achieve desirable results every time.
If you'd like to see more recipe ideas and inspirations for making air-fried tater tots, then look at this video recipe.