Who could request anything more than juicy, tender, and delicious chicken thighs with the crispiest skin in less than twenty minutes? When you cook your chicken thighs in the air fryer, you're setting yourself up for a delicious and gratifying dining experience. Also, don't be surprised if you eat a lot more than you intended to because the results will be mouthwatering.
If this is a recipe you've never tried before, this article will teach you all you should know about cooking chicken thighs in an air fryer. Note our timing guidelines as they are crucial to achieving the right results. Also, please pay attention to our helpful tips and guidelines to further guide you through the cooking process.
Chicken Thighs Nutrition Facts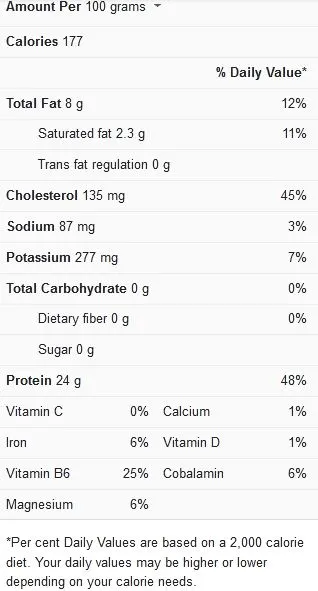 Tips for Cooking Chicken Thighs in Air Fryer
The following tips, guidelines, and cooking instructions are necessary to keep in mind when cooking chicken thighs in the air fryer
Get familiar with your air fryer – Each air fryer model is unique. As a result, you need to read the instruction manual with your air fryer and cook according to their recommendations. The recommendations in your favorite recipe are just that: recommendations. Make any needed adjustments to the cooking time and temperature for your specific make and model.
Pat the chicken thighs dry – It's critical to remove as much liquid from the chicken thighs as possible. This will aid in crisping them up nicely when they're cooking in the air fryer.
Ideally, you should pat each chicken thigh carefully using a paper towel and then leave them to sit for a few minutes before applying to season.
Explore different seasoning suggestions – One of the best things to love about chicken is how adaptable it is, and preparing it in the air fryer allows you to use it in various ways. Get creative with the spices and adapt them to your recipe:
Cajun: To make a quick jambalaya, season the chicken with cajun seasonings and toss it with sausage and rice.
Mexican: Substitute cumin, chili powder, and smoked paprika for the spices. Serve with Mexican rice and burrito bowls, tacos, or chimichangas. Italian: Season with a little more Italian spice and serve with marinara, pesto, or Alfredo sauce over pasta.
BBQ: Swap the spices for a BBQ rub and brush some homemade BBQ sauce on the chicken thighs during the last few minutes of the air frying process.
Mediterranean: Feel free to apply your preferred Mediterranean seasonings on the chicken thighs and serve with some tzatziki sauce in homemade gyros.
Asian: You may also serve air-fried chicken thighs with your preferred Asian sauce, vegetables, and quick-fried rice for an Asian twist.
Avoid overcrowding the air fryer – You don't want to overcrowd your air fryer and let the chicken thighs overlap too much in the air fryer basket because the air needs to circulate each piece of chicken. As a result of overcrowding, air will be restricted from circulating throughout the chicken, resulting in uneven cooking.
You may have to cook the chicken thighs in batches if you're working with quite a number. Cover any already air-fried batches with foil to keep them warm.
Cook skin side down, flip halfway through – You'll need to air fry your chicken thighs, making sure that the skin side faces downwards for a few minutes before flipping it and cooking the other side until it's fully done. However, when frying skinless chicken thighs, there is no need to flip them during the cooking process.
Ideal temperature – Ensure that the final internal temperature of your chicken thighs reaches 165 degrees no matter what the temperature you choose to cook at or how long you choose to extend the cooking period. To check, insert an instant-read thermometer into the thickest portion of the thigh; this is the best way to determine the chicken thigh's readiness for consumption.
View this post on Instagram

Cooking Time for Chicken Thighs in Air Fryer
The ideal timing guidelines to follow when cooking chicken thighs in an air fryer have been described in the following table:
Cooking Procedure
Cooking Time
Cooking chicken thighs in the air fryer at 400 degrees Fahrenheit
14 to 18 minutes
Print
Crispy Chicken Thighs in Air Fryer (4 Servings)
---
---
Instructions
Heat the air fryer to a minimum temperature of 400 degrees Fahrenheit and coat the interior of the air fryer's basket with non-stick frying spray.
Add the paprika, garlic powder, salt, dried thyme, and brown sugar to a mixing bowl.
Spread the dry rub all over the chicken thigh pieces after patting them dry using a paper towel. Make sure to apply the dry rub all over the chicken thighs. Place the seasoned chicken thighs in the air fryer with the skin side facing downwards, then sprinkle with olive oil. Based on the size of the air fryer you're using, you may need to perform this cooking procedure in two batches.
Cook the chicken thighs for 8 minutes in the air fryer, then flip them and cook for another 6 to 10 minutes, depending on the size of chicken thighs you're working with.
Afterward, take the chicken thighs out of the air fryer when the internal temperature reaches 165°F, and the skin develops a crisp quality. Cook the chicken thighs for a further 2 minutes if you want them crispier. Allow the chicken to rest for 3 to 5 minutes before serving.
As you may already be able to guess, this recipe for air fryer chicken thighs turns out so delicious and juicy, and it's also a healthy meal option. It's also quite quick and easy to prepare, and you can get it from start to finish in just 30 minutes, including a 10-minute prep time and a 20-minute cook time.
If you'd like to see more ideas or inspiration for cooking chicken thighs in an air fryer, you should enjoy watching this recipe.