In the winter, French onion soup is the ideal dish. It's pleasantly thick and rich, with sweet onion and tart thyme flavors, and the dense stretching cheese is eaten with a crispy baguette.
French onion soup is a popular and preferred soup among people of all ages. It is not only simple to prepare but also delicious and nutritious. It is an ideal meal for cold winter days because it warms both the body and the soul.
What kind of cheese can I use in French onion soup? Typically, French onion soup is made with Gruyere or Emmental cheese. However, We can use other cheeses such as Mozzarella, Gouda, fontina, Cheddar, or raclette. Traditionally, gruyere cheese is used to make French onion soup. But what can you use in its place?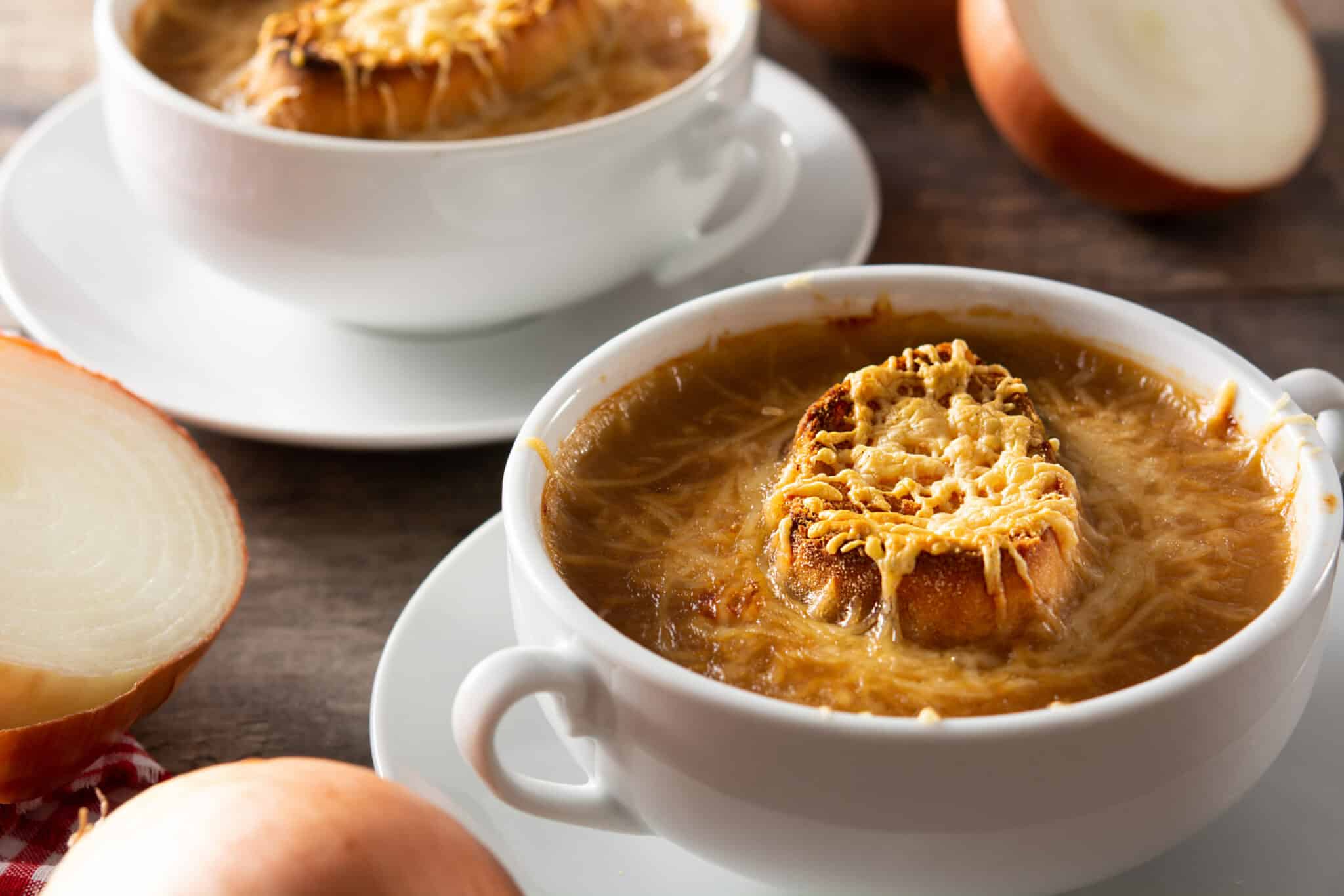 Parmesan cheese is a good substitute for gruyere cheese in French onion soup. Parmesan has a similar flavor to Gruyere and melts well, making it an excellent choice for this dish.
Cheddar cheese is a good option if you're looking for a more affordable option. Shred the cheese and stir it into the soup as you would Gruyere.
There are more cheeses available. Emmental, Monterey jack, Gouda, and more…
Top Gruyere Cheese Substitutes for French Onion Soup
1. Mozzarella
You can use Mozzarella instead of Gruyere in French onion soup because it melts well and has a delicate creamy flavor, just like Gruyere. Mozzarella will not overpower the flavors of the other ingredients in the soup, and Mozzarella will retain its fibrous texture and flavor of the soup.
Mozzarella is an essential ingredient in many traditional Italian dishes, such as casseroles, pizza, lasagna, and delicious pies with cheese fillings. In contrast to the spicy and rich parmesan, Mozzarella has a delicate creamy flavor. Its soft citrus-straw notes highlight but do not overpower the flavors of the other ingredients in the dish. Mozzarella complements vegetables, herbs, white wine or vermouth, ham, olives, and berries. Delicate Mozzarella melts while retaining its slightly fibrous structure. Mozzarella is delicious in French onion soup, pizza, lasagna, and various salads.
2. Emmental
Emmental is a Swiss hard cheese made from Alpine cow milk. It has a dense light brown crust on top, and the cheese is creamy yellow with large holes and a sweetish almond flavor. Emmental is most commonly used in salads and sandwiches. If you don't have Gruyere, Emmental cheese has a distinctive spicy, nutty flavor and is ideal for French onion soup. Emmental complements desserts and fruits, and it can be served as an appetizer with wine and in soups and main courses. This cheese is also used for fondue.
Emmental cheese is delicious in appetizers, sandwiches, breakfast and cheese platters, and fondue, where its rich and creamy flavor shines through. The sweet and nutty flavor of Emmentaler makes it extremely tasty. Unlike most hard cheeses, Emmental does not completely dissolve in sauces when heated, and the cheese has been grated and grilled to perfection.
3. Jarlsberg
Jarlsberg is a Norwegian cheese made in the Swiss style. It has a similar flavor to Emmental, but it is sweeter and stronger. Jarlsberg is made from pasteurized cow's milk and melts very well, so We can use it in Gruyere in French onion soup. Jarlsberg is also used in traditional cheese fondue with Gruyere, on a cheese plate, and as a sandwich cheese.
Jarlsberg is particularly popular in the United States and Europe. Jarlsberg got its name from the Norwegian town of the same name, where they first produced this type of semi-hard cheese in a cheese dairy. Jarlsberg can also be found in salads, snacks, and mashed soups, and Jarlsberg is frequently served with fruit and wine.
4. Gouda
It is good to use Gouda cheese for French onion soup because it is a light cheese with a soft creamy taste and excellent melting properties, and it is a less expensive substitute for gruyere cheese. Gouda is versatile and can be used in various hot dishes, salads, soups, sauces, baked dishes, and sandwiches. Mature Gouda is ideal for the cheese plate and pairs well with noble wines like Merlot or Shiraz. Gouda is commonly eaten as a snack in the Netherlands, dipped in local mustard. Extra-mature Gouda pairs well with strong light unfiltered beer, ale, or port.
5. Fontina
Fontina belongs to the semi-hard cheese family, but it has a soft texture ideal for French onion soup. Fontina cheese is an excellent standalone snack when served with red wine on a cheese plate, and We can also use it to make salads and appetizers. We can also use shredded fontina cheese in baking. Mature cheese melts well and is commonly used to prepare main courses. Young Fontina cheese can be served as an appetizer with red wine.
Fontina cheese is well-known not only for its flavor and aroma. This product boasts a vitamin and mineral composition that includes lactic acid microorganisms and vitamins, and other biologically active and beneficial compounds for the human body.
6. Provolone
Provolone is great for French onion soup because of its creamy, milky flavor and smooth texture. Provolone pairs well with bread and vegetables like radishes and olives. Honey, mustard, and fig jam complement the flavor of Provolone Dolce. This cheese complements sparkling and young fruit wines (Barbera, Novello, and others). Provolone Picante is frequently served with salami and is used to make scrambled eggs, pasta, pies, pizza, sandwiches, and other dishes. It is served with a long-aged red wine (Refosco, Amarone, and others).
7. Monterey Jack
Monterey Jack Cheese is a semi-hard American cheese made from cow's milk with a nutty flavor obtained through long aging in a pepper and cocoa mixture. Monterey Jack cheese melts well and has the consistency of soft cheddar cheese. Monterey Jack can be used in French onion soup because it has a similar flavor to Gruyere and melts well.
Cow's milk is used to make Monterey Jack. It melts easily, is soft and aromatic, and has a texture similar to Colby and Cheddar. It's topped with traditional fillings like jalapeno pepper and pesto. Monterey Jack is sometimes made with goat's milk. This cheese is popular in both American and Mexican cuisines. It has high moisture content and melts easily. As a result, it is used in sweet and salty casseroles, sandwiches, toasts, pasta, soups, sauces, meat, fish, and vegetable dishes, pizza, tacos, and other dishes. It is served in strips with fruits and vegetables, nuts, dried fruits, pies, crackers, bread, and fruit wines.
8. Parmesan
Parmesan has a grainy texture and a spicy, salty flavor. Parmesan is essential in Italian cuisine, which has long transcended its geographical boundaries and achieved international acclaim. Parmesan cheese is used in French onion soup, pesto sauce for pasta and lasagna, and served along with balsamic vinegar. It goes well with a cup of coffee in the morning and a glass of wine in the evening.
9. Cheddar
Spicy Cheddar is an excellent addition to a cheese plate, French onion soup, or as a standalone snack. Cheddar pairs well with rich, fruity red wines such as Merlot or Bordeaux, cider, or port. Cheddar-based dishes are always delicious and filling. Because the cheese melts easily, We can add it to French onion soup, various casseroles, pizza, hot sandwiches, and omelets without fear of contamination. Cheddar is also used to make sauces for fish or meat.
10. Raclette
Semi-hard cheese serves as the foundation for the Swiss dish of the same name. Raclette has a distinct flavor and aroma of mushrooms to complement French onion soup. Raclette is used in sauces, hot dishes, and casseroles, melted and sliced. Raclette cheese is also a tasty addition to stews.
11. Swiss Cheese
Another cheese option for your French onion soup is Swiss cheese, and Swiss cheese has a milder flavor than Gruyere but still adds a delicious and creamy flavor to your soup.
Because of its high-fat content, Swiss cheese is ideal for melting. When heated, the fat in Swiss cheese melts easily, making it ideal for fondue and other dishes that call for a smooth, creamy texture.
Swiss cheese also has a strong flavor that can stand up to other ingredients, making it a good choice in recipes where the cheese flavor is important.
What can you Make with Gruyere Cheese?
Spicy Fried Eggs with Cheesy Ham Bake
This make-ahead casserole is inspired by a Croque madame, a traditional French sandwich.
Quick French Onion Soup
Another popular French dish is French onion soup. Onions that have been burnished, a lovely broth, and bubbling cheese on top.
Artichoke Dip with Lemon-Rosemary Cheddar
This is a decadent snack or appetizer, and Gruyere heavily influences the flavor.
Cake with ham, cheese, and herbs
It can be difficult to think of a savory item that will travel well and serve beautifully when planning a picnic. This savory loaf is flecked with ham, Gruyere, and herbs.
Popovers with sourdough and Gruyere
Make these fluffy, cheesy popovers with your sourdough starter if you're looking for a new way to use them.
How do you Keep the Cheese From Sinking?
If you finely grate your Gruyére cheese on top, you should have an even layer of melted cheese with no sinking! Finely grated cheese is key to proper melting and preventing fall-through in your soup. If using a substitute, the bread topped on the soup before baking also aids in preventing cheese fall through.
Is French Onion Soup Good for you?
French onion soup is more decadent than broth-based soups, and this is due to the bread and cheese topper, which adds extra calories, fat, and carbs to the dish.
The cheese topping is unquestionably the most harmful component of the soup. Although Gruyére has a delicious flavor, it is not the healthiest cheese. One ounce (equivalent to one slice) of Gruyére contains 117 calories and 9 grams of fat. You're consuming 10% of your daily recommended fat intake with that fat content.
Is There Always Cheese in French Onion Soup?
Gruyére cheese is always used in classic French onion soup recipes. You can, however, alter your recipe to include or exclude the cheese. There are many vegan cheese-free recipes available online.
What is a Less Expensive Substitute for Gruyere?
A pale yellow cheese from Norway, Jarlsberg is an excellent substitute for Gruyere, especially when melting cheese on top of grilled vegetables. Any Alpine Gruyere-style cheese made in nearby Austria or France is another very affordable option.
What is the Best French Onion Soup Bread?
Many different types of bread can be used to make French onion soup, but the best bread is a baguette.
A baguette is a long, thin loaf of French bread that is crispy and soft on the inside, and it is the ideal bread for soaking up all of the delicious flavors of the soup.
Sourdough bread and rye bread are two other types of bread that can be used to make French onion soup.
Can I Use Provolone Instead of Gruyere?
In most recipes, you can substitute provolone for gruyere cheese. Because Gruyere is sweeter and more intense than provolone, the flavor of your dish may differ slightly if you use it instead. However, both types of cheese melt well and provide a similar texture to your dish.
What Cheese is Traditionally Used in French Onion Soup?
The traditional French onion soup is made with onions and cheese. The most common type of cheese used in this dish is Gruyère, but other types of cheese can also be used. This soup is typically served with bread or croutons on top.
Conclusion
To make a delicious French onion soup, use stringy cheese that melts well. Gruyere cheese is traditionally used in onion soup. However, We can replace Gruyere with a variety of other cheeses. Emmental, Gouda, Mozzarella, Cheddar, Raclette, or even Monterey Jack are all options. Your French onion soup will be delicious and unforgettable if you only use high-quality ingredients.