Notably, greens are a must-have ingredient in Southern cooking, since they serve as the perfect complement to any dish.
Whether you are at a BBQ where greens are served alongside smoked meats or you're eating black-eyed peas and collard greens on New Year's Day, the green may occasionally steal the show.
Mustard greens go with everything from roast chicken to takeout pizza and take only minutes to prepare. These mustard greens are coated in garlic, seasoned with red pepper flakes, and drizzled with balsamic vinegar.
Tender mustard greens are a simple side dish that everyone should be able to prepare. Read on as you learn how to cook mustard greens, paying attention to how long you will need to cook mustard greens.
Mustard Greens Nutrition Facts
Tips on How to Cook Mustard Greens
Preparing the mustard greens – Seriously, nothing is more unpleasant than grittier greens. You should rinse the greens completely, even if the packaging says they are clean.
You should fill a large basin with cold water to avoid grit in your greens. Swish the greens again, then replace the water. Repeat until there is no more sand on the bottom of the sink or container.
Flavoring – Mustard greens can be eaten fresh or prepared in a variety of ways, including steamed, sautéed, or simmered. Prepare mustard greens in the same way that you would spinach, but be prepared for a stronger flavor. Mustard is the most potent of the so-called bitter greens, with a pungent, peppery flavor that can sting like a strong radish.
However, one of the best things about mustard greens is that they can be tailored to your own tastes. You may vary the sweetness by adding or subtracting sugar, the spice by adjusting the amount of red pepper, and the acidity by reducing the vinegar. I enjoy experimenting with different types of greens to get a little distinct texture and flavor.
Oil and salt – Olive oil, coconut oil, butter, and ghee are all excellent choices for coating the leaves to soften their bite. If you are a frugal kind who saves bacon grease, I don't think I need to tell you that it's also a tasty option.
Bacon, speaking of which, is a staple in many Southern mustard green recipes since it adds both fat and salt. To counter the harshness of the mustard greens, other salty ingredients such as soy sauce, pancetta, capers, and anchovies can be cooked with them. Of course, a generous sprinkling of kosher salt will also suffice.
Avoid overcooking the mustard greens – The easiest method to keep the flavor and texture of mustard greens is to cook them for a short while.
The mustard greens will turn soft and mushy if they are overcooked. Combine mustard greens, cheddar cheese, corn, cornmeal, curry, garlic, ham, spicy sauce, lemon, onion, salt pork, and smoked turkey in a mixing bowl.
How to Cook Mustard Greens – Follow this step-by-step guide to help you cook mustard greens.
Prepare the garlic and mustard greens. 1½ pounds of mustard greens should have the thick bottom stems removed and discarded.
Proceed to chop mustard the greens coarsely – keeping the thin stems attached.
Rinse but do not dry in a colander.
Go ahead to heat 2 tablespoons of olive oil over medium heat until shimmering in a big, wide, high-sided sauté pan.
If preferred, you can add garlic and red pepper flakes.
Cook – stirring constantly – for about 1 minute until aromatic (do not let the garlic brown though)
You can now add a few handfuls of mustard greens at a time, stirring after each addition to allow them to wilt, until all of the greens have been added.
Go on and add the black pepper and the kosher salt.
Cover and simmer for 10 to 15 minutes – stirring periodically – until the mustard greens are soft.
Remove the pan from the heat and add 1 tablespoon of balsamic vinegar before serving.
Cooked greens are finest the day they are made in terms of texture, but they can be kept covered in the refrigerator for 3 to 4 days. Reheat gently with a splash of water or oil in the pan. You can eat them on their own, in a cooked pork sandwich, or chopped up in an omelet or frittata.
View this post on Instagram

How Long to Cook Mustard Greens
| | | |
| --- | --- | --- |
| Preparation Time | Cooking Time | Total Time |
| 20 minutes | 60 minutes | 80 minutes |
Print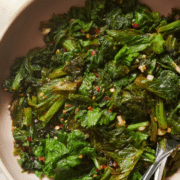 Cooked Mustard Greens (4 – 6 Servings)
---
2

bunches of mustard greens (washed well)

1

pound of fatback, ham chunks, or thick bacon
Sugar (optional)
Salt
Freshly ground back pepper
---
Instructions
Nothing is more unpleasant than grittier mustard greens, your mustard greens should be washed three or four times in freshwater – draining each time. Then separate the leafy section of the stems from the stalks and discard them.
Get 1 pound of fatback, thick bacon, or ham chunks and proceed to cook in a large Dutch oven or stockpot; you should add mustard greens to the pot.
You can fry the mustard greens- stirring constantly – until they begin to wilt.
Go ahead and cook for 1 hour or until the greens are soft, adding 2 cups of water as needed. As needed, add extra water.
Notably, some folks combine mustard greens, collard greens, and turnip greens in a single pot. If you want to sweeten the greens, you could add a teaspoon of sugar to the water.
Also, in order to prevent them from burning, you should stir them often over medium heat.
You can serve with cider vinegar or hot pepper vinegar and season with salt and freshly ground black pepper.
Enjoy the meal with your company.
You can serve the mustard greens with a spicy sauce or a pepper vinegar sauce. In addition, with black-eyed peas, sliced baked ham, and cornmeal, this mustard greens dish creates a tasty side dish.
This is a basic recipe for seasoned mustard greens, a favorite side item in the South. Use smoked bacon or ham with mustard greens, salt pork, pig hocks, or hog jowls. This recipe can also be made with collard greens or turnip greens. You can watch this video recipe to know how long to cook mustard greens.