If you're worried about the fat and calories that come with pork bacon, turkey bacon is something you should try. Turkey bacon possesses a similar flavor profile to pork bacon without the extra calories, and cooking it in the oven delivers unbelievably delicious results.
Cooking turkey bacon in the oven is an easy process, depending on how much you know about it. This article has provided all the details you need for the best results and some tips that'll put you at a pro-level. Pay close attention, and you'll be surprised at how much you'll find out.
Turkey Bacon Nutrition Facts
Tips for Cooking Turkey Bacon
Cooking turkey bacon is made much easier if you're familiar with the following tips:
Watch your bacon – When baking the turkey bacon for the first time, keep an eye on it to ensure it gets the crispiness you desire. Keep track of how long it takes, and you'll always get excellent turkey bacon from the oven.
Some pepper might do you some good – To add more flavor to your turkey bacon, sprinkle 1 teaspoon to ½ tablespoon of black pepper on the uncooked turkey bacon before putting it in the oven.
How to get a wavy texture on your bacon – Turkey bacon does not curl up while it cooks due to its decreased fat level, leaving you with perfectly straight strips of bacon. This isn't a problem if you're preparing the bacon bits for a salad or as a sandwich filler, but it appears considerably different next to scrambled eggs on a dish.
If you want the health advantages of turkey bacon but would rather not forgo the wavy texture, make firm ridges out of a piece of heavy-duty aluminum foil and place it beneath the turkey bacon in the oven. As the bacon strips bake, they will retain the shape of the ridges, giving them that distinct wavy texture.
Different methods of cooking turkey bacon – There are three main methods to choose from when cooking turkey bacon: the oven, microwave, and skillet.
Oven method: Bake turkey bacon for about 15 minutes at 400 degrees on a sheet pan. Depending on whether you prefer chewy or crispy bacon, add a bit more or less time. Halfway through, flip the bacon pieces for extra crispiness. To make cleanup easier, line the sheet pan with foil.
Skillet method: In a skillet, cook a single layer of turkey bacon on medium heat for 7 to 10 minutes, flipping frequently.
Microwave method: Arrange a single layer of turkey bacon on a microwave-safe dish coated with paper towels. Microwave for 2-3 minutes on high. The time it takes to cook varies depending on the microwave's power. For those who enjoy chewy bacon, this method is ideal.
For glazed turkey bacon – You can glaze your turkey bacon before baking it in the oven if you want it to have a little more flavor.
View this post on Instagram

To make glazed turkey bacon, you need the following:
Turkey bacon slices
A baking sheet
A pastry brush or a spoon
A small bowl
A whisk or a spoon
Oven mitts
Follow these steps to glaze your turkey:
Preheat the oven to 375 degrees Fahrenheit (190 degrees Celsius).
Place wax paper on your baking sheet and smooth it out.
Arrange the turkey bacon pieces in a single layer on wax paper. Make sure the slices don't overlap, as this will prevent them from crisping up.
¼ cup of light brown sugar and 3 tablespoons of pure maple syrup should be measured in a bowl.
Using a whisk or a spoon, dissolve the sugar in the syrup.
Dip a pastry brush in the glaze and generously apply it to the turkey bacon strips. You can even use a spoon to drizzle the glaze.
Season the turkey bacon with freshly ground pepper.
Bake the bacon until it reaches the desired crispiness on the baking sheet in the preheated oven. It will take approximately 20 to 25 minutes to complete the baking process.
Remove the prepared glazed turkey bacon using oven mitts and serve immediately.
Cooking Time for Turkey Bacon
The time to cook turkey bacon generally depends on your method of choice. According to the method you choose to use, the timing guidelines are described below:
| | |
| --- | --- |
| Cooking method | Cooking time |
| Oven method | 15 minutes at 400 F |
| Skillet method | 7 to 10 minutes on medium heat |
| Microwave method | 2 to 3 minutes on high |
Print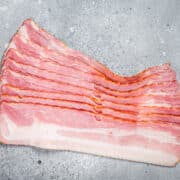 Oven-baked Turkey Bacon (24 Slices)
---
---
Instructions
Set your oven to 400 degrees Fahrenheit.
Line a rimmed cookie sheet with parchment paper in a single layer (big enough to handle all of the bacon you want to fry).
Place the bacon in the oven and let it cook for 10 minutes.
If you want floppy turkey bacon slices:
Take the turkey bacon out of the oven. Place turkey bacon pieces on a plate coated in paper towels to absorb any bacon oil with tongs. Enjoy your meal!
If you want crispier turkey bacon slices:
Slide-out the oven rack carefully and flip slices over (using tongs), then return the rack to the oven to bake for an additional 5 minutes or until desired crispiness is achieved.
Keep an eye on the bacon slices to ensure they don't overcook and burn. Also, while baking in the oven, the bacon will be crispier than it appears. Before deciding to cook it longer, you could wish to pick a piece out to test it.
Notes
For this recipe, take note of the following:
Remember that turkey bacon has a thinner cut than conventional pork bacon slices, thus it takes less time to cook.
Turkey bacon can also be cooked in the microwave, in a frying pan, or even in an air fryer.
Turkey bacon slices can be a healthier substitute for pork belly slices.
For added taste, sprinkle black pepper on top of bacon slices before baking.
This recipe takes a total of 14 minutes to prepare, including a prep time of 2 minutes and a cook time of 12 minutes. If you'd like to find out more ways to cook turkey bacon, check out this video recipe.