Beef short ribs are delicious, and there's no denying that. The hiccup with the recipe, however, is the lengthy cooking time. When you combine the preparation time with the numerous ingredients it calls for; you'll find yourself needing almost 5 hours to finish a recipe. And for lots of people, such a requirement is synonymous with asking for an arm or a leg!
So, it's a good thing that a recipe that helps you prepare quick beef short ribs exists. Yes, it may still take some hours, but the difference from the traditional methods is glaring. And, you'll end up with such a tender, mouth-watering result; you'll barely miss the old ways.
Cooking Beef Short Ribs Fast
Most recipes require you to braise or smoke the short ribs to get the best flavors. While these methods are agreeably fantastic, they take a long time to complete. Plus, the braising recipes can be pretty complex, especially for beginners. And some even call for expensive ingredients which you may not be able to afford at the time.
So, to save time and money and still end up with an exquisite serving of tender beef short ribs, follow these tips;
Salt and Cook at Once
While salting overnight allows more flavor to infuse with the meat, it extends your prep time by at least 24 hours. For this reason, you can salt the short ribs and cook them once you're ready to. And if you've got an extra hour, let the salted short ribs sit for that long before you toss them in the oven.
Cook at 350°F
Many beef short rib recipes cook at low temperatures, which means the process is slower. They come out very tasty, mind you, so it's not a complete waste. But if you want fast short ribs, you might need to kick the temperature up a notch. And an oven temperature of 350°F will get your ribs ready in less than 3 hours.
Use a Dutch oven
The oven heat plus the heat-retaining properties of the Dutch oven work to soften the beef faster. Dutch ovens cook quickly, even on the stovetop, which makes them ideal for this fast recipe.
Use Fewer Ingredients
You don't need a highly complex mixture of spices and ingredients to get your recipe tasting great. So, skip the expensive sweet wines and the excessive herbs and spices.
Other Helpful Tips for Beef Short Ribs
Though these suggestions won't significantly reduce cooking time, they still help you develop delicious beef short ribs. And for enthusiasts of this recipe, that's a plus.
Spice Generously: While you may not be using a wide range of complex spices, it's crucial to add enough of those you are. So, be sure to rub in a generous sprinkling of your spice mix into the short ribs before you cook.
Use Lots of Beef Stock: The beef stock helps to tenderize the meat and infuse an extra dose of flavor and moisture. So, when you use lots of it, you guarantee these effects in your recipe. Make sure the beef broth is enough to cover the short ribs halfway.
Print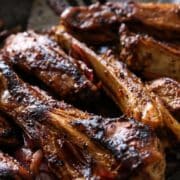 Easy Oven Style Braised Beef Short Ribs (6 servings)
---
Six beef short ribs

Three tablespoons

olive oil, extra virgin
Four garlic cloves, sliced into rounds
Two medium yellow onions, chopped

4 cups

beef broth

One teaspoon

black pepper, ground

One teaspoon

paprika

One teaspoon

rosemary, dried

½ teaspoon

onion powder

½ teaspoon

oregano, dried

½ teaspoon

thyme, dried
Parsley, freshly chopped
Kosher salt
---
Instructions
Bring your oven to a temperature of 350°F. At the same time, salt the ribs, and set them aside. Heat the oil in a Dutch oven at medium-high heat. Brown the ribs in the oil in batches.
Reduce the oil and the heat to medium-low, and pour in the chopped onions. Cook until the onions brown a bit. Put in half of the garlic and cook for about a minute.
Add the short ribs to the pot, bone side facing down, and sprinkle the spice mix over it. Rub the spice mixture evenly into the ribs. Pour in the rest of the garlic and enough beef stock to cover the ribs halfway.
Cover the Dutch oven and toss it in the oven. Braise the short ribs for 2 ½ hours. Check for doneness with a fork- the meat should almost fall off the bone at a gentle pull. Once ready, transfer the ribs to a platter and serve with your favorite sauce, gravy, or side dish.