"Muy deliciosa", which translates into "Very delicious", is the first statement I always say after a meal of chorizo and egg. Not only is this breakfast meal delicious, but it is something I always relish for its flavor and spiciness.
My mother is of Hispanic ancestry and appearance; despite the fact that she does not speak a word of Spanish, she continues to cook the traditional dishes taught to her by her mother and relatives while growing up in New Orleans. As a result, we were the only ones on our block who had chorizo or Mexican sausage scrambled with eggs. Until I was in my twenties, I had no idea that chorizo was the name of the sausage and not the dish.
If you've never had chorizo before, you'll thank me once you try this recipe. It's a breakfast favorite in our house. The aroma of cooking sausage fills the house and draws everyone to the kitchen, eager to devour it!
Chorizo Nutrition Facts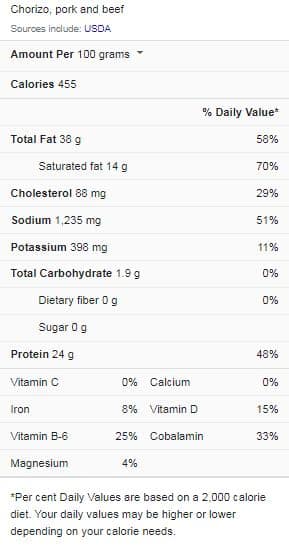 What is Chorizo?
Chorizo is a spicy, flavorful pork sausage, and it is available in two varieties: fresh (or raw) sausage and cured (or dried) sausage. It can be found in many cuisines, including Spanish, Mexican, Puerto Rican, South American, and Portuguese. Both versions are heavily seasoned and can be spicy (the level of spiciness varies depending on who makes it).
Fresh chorizo, also known as Mexican chorizo, has the texture of Italian sausage. It is available in casings and bulk. Spanish chorizo is dried chorizo that resembles hard salami. There is no need to cook it before slicing and eating it.
Handy Tips in Preparing the Best Chorizo and Egg
Begin by removing the casings from fresh sausage. Cook until the fat melts and the sausage is browned in a hot pan with the raw sausage. While it's cooking, break it up with a spoon. Check the pan after the sausage has finished cooking. Consider removing some of the rendered fat if there is a lot of it. Some fat is beneficial and has a variety of flavors. However, if you use too much, the eggs will become greasy.
Now for the eggs, use medium-low heat to make the best-scrambled eggs. Before adding the eggs, wait a minute or two if the pan is still hot from cooking the sausage. Once the eggs are done, serve the entire dish family style with fresh lime, cilantro, a sprinkle of salty cheese, and warm tortillas.
Print
How to Cook Chorizo and Eggs
---
5

–

6

eggs

1

pound of Mexican chorizo sausage
Flour tortillas (optional)
Cilantro (optional)
Lime wedges (optional)
Extra virgin oil or bacon fat

1/3 cup

of chopped onions

3 tablespoons

of raisins
Salt
---
Instructions
Warm a large nonstick skillet over medium-low heat, add the chorizo, and cook for 5 minutes, breaking up the chorizo with a wooden spatula. Stir in the chopped onions and cook, stirring occasionally, until the sausage is cooked through and crispy, 5 to 6 minutes more.
Meanwhile, as the chorizo is being cooked, crack the eggs into a mixing bowl, season with salt, and whisk until well combined.
Remove the pan from the heat for a minute to allow it to cool slightly. Examine how much fat has been rendered from the sausage. Remove some from the pan if it is more than a tablespoon.
Return the pan to medium-low heat. Pour in the eggs and immediately swirl in small circles around the pan with a silicone spatula, without stopping, for about 30 seconds, or until the eggs appear slightly thickened, and small curds begin to form. Change from making circles to making long sweeps across the pan for about 20 seconds, or until you see larger, creamy curds.
Remove the pan from the heat and leave for a few seconds to finish cooking the eggs when they are softly set and slightly runny in places. Finish with one last stir and serve with the tortillas and a few lime wedges, as well as some cilantro leaves and cheese sprinkled on top.