Smoked Sausage Baked Beans Recipe

Smoked sausage is a delicious addition to baked beans. This recipe makes a great side dish to go with all kinds of different meals. I served it with grilled chicken. Canned pork and beans are mixed with various ingredients and then baked in the oven. The smoked sausage is first cooked in the pan and then mixed with the beans. If you want you can prepare this recipe in a Dutch oven. This recipe gets a lot of flavor from ingredients such as molasses, apple cider vinegar and mustard. Enjoy.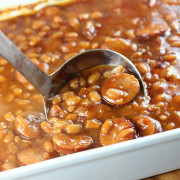 Smoked Sausage Baked Beans
Ingredients:
2 tablespoons canola oil
1 large onion, finely chopped
3 cloves garlic, finely chopped
1/2 pound smoked sausage, sliced
Three 16-ounce cans pork and beans
1/2 cup ketchup
1/2 cup light molasses
1/4 cup light-brown sugar
2 tablespoons apple-cider vinegar
2 tablespoons prepared mustard
Dash of hot sauce, preferably Tabasco
Directions:
Preheat the oven to 350 degrees F. In a large skillet heat oil over medium-high heat. Add onion and garlic and sauté until the onion is tender, about 3-4 minutes. Add the sausage and cook until the meat is browned, about 4 minutes more. Stir in the beans, ketchup, molasses, sugar, vinegar, mustard and hot sauce. Transfer to a 9x13 inch baking dish.
Place into the oven and bake for 45 minutes, uncovered, until the mixture is bubbly and thick.