Marinated Grilled Chicken Recipe

If you are looking to add a little bit of delicious flavor to your grilled chicken, a marinade is an excellent way to do that. This marinade gives the chicken a lot of flavor from ingredients such as soy sauce, garlic powder, brown sugar, fresh thyme, and lemon juice. You will probably have most of these ingredients on hand already. You will want to marinate the chicken for at least 8 hours for the best flavor. Once the chicken is grilled you can serve it as is or you can slice it and use it in salad or wraps. Enjoy.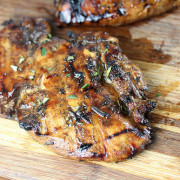 Marinated Grilled Chicken
Ingredients:
½ cup vegetable oil
½ cup balsamic vinegar
1/4 cup soy sauce
¼ cup Worcestershire sauce
1/8 cup lemon juice
¾ cup brown sugar
2 tablespoons chopped fresh rosemary
2 tablespoons Dijon mustard
1 teaspoon ground black pepper
2 teaspoons garlic powder
6 boneless skinless chicken breasts
Directions:
Combine all of the marinade ingredients in a large ziplock bag. Add the chicken and seal the bag. Shake a little bit to coat the chicken with the marinade. Place into the refrigerator and allow the chicken to marinate for at least 8 hours to overnight.
Lightly grease the grates of an outdoor grill. Heat the grill to medium-high heat. Remove the chicken from the marinade and grill, turning at least once for 5-6 minutes per side or until fully cooked (the internal temperature has reached 165 degrees F.).